With 15 whopping seasons under its belt, Keeping Up With the Kardashians has given us ample time to love and hate the smorgasbord of personalities that is the Kardashian/Jenner clan. 
I like watching Keeping Up With the Kardashians. There! I said it! It's eye-rolling, frustrating reality TV drama at it's best/worst. The ridiculous plot lines, the self-inflicted drama, the pedalled-out chant of 'family first' that is dutifully recited at the end of every episode. I'm a shameless fan. Still, though, some members are more palatable than others, and with the latest season dropping this week, we thought it high time to definitively rank each family member from least to most insufferable.

Khloe
The sister we need, the sister we want to be. Khloe is the funniest, the 'real'est, the most quotable. The other members of the family are also all quick to point to Khloe when asked who their favourite sibling is. Despite being the most down-to-earth, she's also, it seems, the one plagued with partners that just aren't good enough for her: from Lamar's cheating and drug abuse, to Tristan cheating on her while pregnant. We forgive her for taking the losers back because she's just so damn entertaining.

Kourtney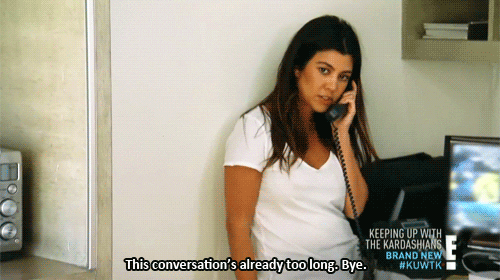 Kourtney serves as a goddamn inspiration to all those broken-hearted souls wandering the planet. You can dump your loser of an ex-boyfriend and the father of your three kids, get happy, get fit, and start dating 25-year-old French model. She has unexpected moments of humour, too, delivered in that ridiculous, nasal, deadpan voice. I love Kourtney, though I can do without her gluten-free dairy-free all natural yammering.

Kim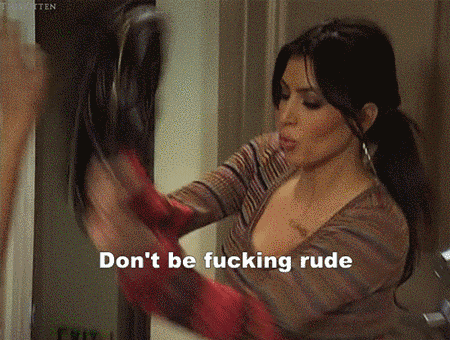 Ah, the star of the sex tape that launched the empire. While Kim has been knocked out of her top-earning sibling ranking by King Kylie, her influence and reach is undeniable. She's come a long way since hitting Khloe with an oversized Coach purse, nowadays choosing to focus on being a grounded mother to her ever-growing clan with Kanye. The business mogul that started it all: the Kornerstone of the enterprise.

Kris
The matriarch, the momager, the insane head of the Kardashian clan. Kris is just as ridiculous as her children, which, of course, makes for excellent TV. Yes, she's annoying, and yes, her blatant favouritism for Kim is wild. But under her Chanel sunglasses, you can see a genuine love for her children. Or at least, love for the 10% cut she gets from them.

Kendall
Without a doubt the most beautiful, though, too, probably the most boring. A hectic schedule keeps Kendall to the sidelines of the show for the better part of its run, and her sporadic appearances don't really get me going. I'm really struggling to think of anything so say here. The Pepsi incident was pretty horrific, but quickly hushed and swept under the rug. Every once in a while the show cuts to a clip of Kendall talking about her anxiety, to remind us all: Stars! They're just like us!

Kylie
Despite being the 'self-made' almost-billionaire, I just can't get behind Kylie. Have you ever seen a better physical embodiment of the word 'bland'? It's clear that being persecuted to public scrutiny from the age of nine has resulted in a fear of presenting any real aspect of her personality. She admitted on her show Life with Kylie that she feels more comfortable interacting with the world through Instagram and Snapchat than actually going out into it. It's… almost heartbreaking, though I suppose she can wipe the tears away with hundred dollar bills.

Rob 
Is Rob alive? Where is Rob? Now that his (bizarre) stint with Black Chyna is over, he has once again faded into the background. The only thing of note this man seems to have done is start his own sock line (?) and briefly date a Cheetah girl (??). I can only imagine what growing up with three powerhouse sisters must have done to this man psychologically, but seriously. Is he alive?

Caitlyn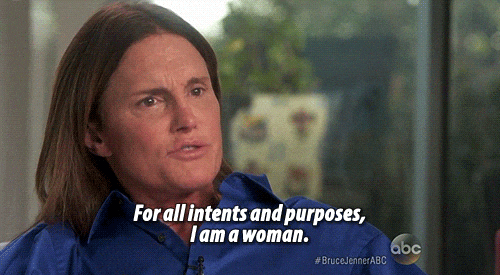 I'm not even really sure to start with Caitlyn. As Bruce, there was something impishly charming about the simple "everyman" who was standing up to his wife and demanding his own ATM card. While the very public transition to Caitlyn was, without a doubt, a feat of bravery, Caitlyn's myriad comments about the LGBTQIA+ community and being a die-hard Republican is just as confusing as it is problematic.
Love or hate the Kardashians? Let us know in the comments.