The 2000's were marked by a growing number of comic adaptations. From superheros to graphic novels, comics have lately been the go-to source for action, adventure and drama. Comic adaptations increasingly came to make history; not only have they introduced a peculiar procession of super-trendy super-powered figures, but also promoted a change on cinema's language.
Ever since its origin, cinema affected the art system and had a decisive role on how arts evolved. Cinema issued a challenge to drama and literature, compelling them to redefine their positions. Since its simultaneous appearance in the last years of the XIX century, cinema and comics slowly imposed themselves as the two competing forms of visual narrative. Comparing them became somewhat commonplace.
Cinema affected not only dramatic arts such as drama and literature, but also visual arts like photography and painting, which far from establishing any sort of rivalry between them, stimulated a fertile artistic dialogue, offering a new reflection field on inter-semiotic translation procedures, namely movie adaptations.
The adaptation process for comics is different from that of novels. For example, Robert Rodriguez did not use a script for Sin City but used actual panels from writer/artist Frank Miller's series as storyboards to produce what Rodriguez considers a "translation" rather than an adaptation. On the other hand, several comic book series are produced for many decades and featured substantial variations of the characters. Films based on these series frequently try to capture the back story and focus on reflecting the tone and the tension, rather than simply adapting the source material. Even though it is a comic book superhero, Batman is not an adaptation of one particular comic book, but the character first appeared in comic books, not in another medium.
Comics, just like cinema, are hybrid genres; both depend on appealing visual images and strong scripts. The aesthetics of motion picture and film editing created a new language and a new artistic expression inaccessible to any other art but comics or photo-novels. Movies impregnated the artistic sensibility and became the matrix of all visual narratives.
The first comic book superhero depicted in a movie adaptation was Captain Marvel, the Fawcett Comics hero created by C.C. Beck and Bill Parker. "Adventures of Captain Marvel" released in 1941, was a twelve chapter serial released by Republic Pictures, a company that specialized in producing B-movie westerns and action adventures.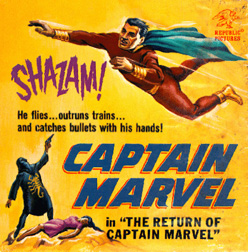 Curiously, the man-in-flight effects techniques used in The Adventures of Captain Marvel were originally developed for a Superman film serial that Republic never produced, and was released six months before Fleischer Studios' Superman cartoons. (E Witney, William. In a Door, Into a Fight, Out a Door, Into a Chase: Movie making Remembered by the Guy at the Door)
Comic book characters, particularly superheroes, have long been adapted into film, Superman like Batman, has appeared in various films since his inception. After being introduced to cinemas first in a series of animated cartoon shorts in 1941, and two serials in 1948 and 1950, the first Superman feature film, Superman and the Mole Men, starring George Reeves, was released in 1951. Since then it seemed that the formula to success have been found. The late 70's and 80's were marked by several adaptations of super heroes. Spider Man, The Incredible Hulk, Captain America, and Wonder Woman lived, among others, in what seemed to be a constellation of idols that promoted a super America in the hangover of the post-World War II tensions with the Soviet Union.
In the early 2000s, blockbusters such as X-Men (2000) and Spider-Man (2002) have led to dozens of superhero films. The success of these films had a huge impact in the industry and since then other comic books, not necessarily superheroes stories, have been adapted for the big screen, such as Ghost World (2001), From Hell (2001), American Splendor (2003), Sin City (2005), 300 (2007), Wanted (2008) and Whiteout (2009), Scott Pilgrim vs. the World (2010). Some of them are among the best films of all time.
What's your favourite adaptation?