A Bruce Weber photo is as distinctive as it is ordinary, as familiar as it is mysterious, as nostalgic as it is modern. We look at five things you didn't know about Bruce Weber.
Once described by Interview magazine as presenting "an idealised version of America, one that's both tantalising close and impossibly romantic" Weber has created a new standard for photography. His diverse body of work spanning five decades ranges from campaigns for Calvin Klein, Ralph Lauren and Abercrombie and Fitch in the 80s and 90s that made him into a household name to magazine covers and more. As prolific as he is diverse, Weber has shot everything from travel photography to high fashion shoots for Versace and Louis Vuitton to portraitures of David Bowie, Kate Moss and Jane Goodall.
It was Weber that spearheaded the rise of the image of "all-American" beauty with his campaigns for Calvin Klein and Ralph Lauren. Capturing the zeitgeist of a moment is no easy feat and with his deceptively simple photography Weber transformed both these fashion brands but also tapped into a collective consciousness that demanded or longed for a new standard of beauty and way of exploring sexuality. Weber's singular vision featuring strapping, athletic and often barely dressed, beautiful young men and women, carefree and prosperous appeared everywhere from giant billboards in the financial districts of New York to the glossy pages of men's fashion magazines and fuelled the fantasies of a new generation. In Weber's stories, summers are endless, men are always square jawed, clean shaven and gym toned while a sense of optimism and camaraderie reigns. It is difficult to know whether Weber through some innate sense of the zeitgeist created these fantasies or if his dreamy look at the gilded and golden American youth merely catered to them in a way that lined up neatly with already existing desires. At any rate, Weber did more to transform the image of Calvin Klein and Ralph Lauren than anyone else and along the way, moved countless polo shirts and boxer shorts and changed the idea of male sexuality forever.
Today, Weber has over thirty books to his name, including the All American series, many monographs, an ever increasing number of film credits and well over sixty exhibitions globally. Not only can he boast of producing some of the most progressive and controversial campaigns within the fashion industry, but he can also claim that his one of a kind vision of American youth has stood the test of time and has formed the backbone of some of fashion's most well known brands internationally. As the fashion industry gathers together in London to celebrate at the British Fashion Awards, they will also be gathering to honour Bruce Weber, photographer extraordinaire with the Isabella Blow Award for Fashion Creator. We thought we would share with you five lesser known things that make up the Bruce Weber legend.
1. HE SHOT BRAZILIAN JUI JITSU ICON RICKSON GRACIE IN HIS BOOK "O RIO DE JANEIRO"
While Weber may be best known for his defining work for Calvin Klein and Ralph Lauren he is also a well established travel fiend and along the way has published some truly great photobooks. His 1986 photobook "O Rio de Janeiro" is a stunningly edited collection of images from the lives of models and citizens of Rio. Sensual and languid, the collection is filled with images of tanned and lithe men and women at the beaches, hotels, restaurants and nightclubs of Rio. The sepia tones heighten the sense of heat and sun kissed skin where the only way to escape the sun for a while is to give in to an erotic adventure. It's no wonder this book ignited in so many a yearning to travel to Brazil and a life long love affair with the culture of Rio de Janeiro.
One of the most eye catching aspects of the collection is the extended section on Brazilian Jui Jitsu legend, Rickson Gracie. One of the most famous men from Brazil, Rickson is known for his 400-0 record and exquisite technique. Not only does the photography capture the sheer physicality of Rickon Gracie, but also gives an intimate look at the famous extended Gracie family. In one image, Weber captures the exuberance and happiness as Rickson throws up his son (the fabulously named Rawkson) into the air and they smile at each other in pure unadulterated joy. Stripped of all the glamour and hype that comes along with Vale-Tudo (No Holds Barred) fights, Weber captured something of the essence of the man. Rickson would go on to appear in Weber's 2001 film "Chop Suey". "O Rio de Janeiro" is one of Weber's most influential books, intoxicating, light-hearted and super sensual, it captured the city's youthful hedonism like no other, but also something very human and vital about the inhabitants of Rio. Without a doubt, Weber revealed a new Rio and paved the way for further photographers to put Rio on their destination list.
2. ALTHOUGH TIMES ARE CHANGING, WEBER'S WORK IS STILL CONTROVERSIAL TODAY
Weber's work in the past has been controversial, particularly in his depiction of male bodies. His progressive attitudes to sexuality and the portrayal of men certainly shocked some when his early work was published in the avant-garde now defunct, SoHo Weekly. The spread featured men stripped to underwear only, imagery that was designed to subvert America's puritanical obsession with sex. Weber's famous 1982 image of Olympic pole vaulter Tom Hintnaus wearing nothing but a pair of tight white Calvin Klein briefs has been deemed the fashion advert that changed America and as photography critic Vince Aletti put it "made Weber the most visible iconographer of the 1980s and established his particular type of buff beef as the new all-American idol."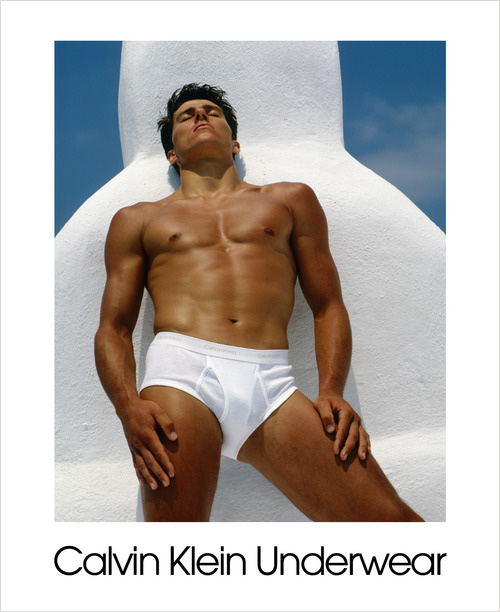 Credited with launching America into a new obsession with male sexuality, people were not always comfortable viewing his images. In an interview with BOMB, Weber confirmed long circulating rumours that he was told by members of the fashion industry that he would never work again, post the SoHo Weekly spread. The negative reaction did not deter Weber from continuing to shoot men and he has never denied or shied away from his role in pushing the boundaries of commercial photography. Weber suggests that people feel particularly uncomfortable when viewing images of particularly good looking men with their bodies on display. The focused gaze on the male form turns upside down our visual lexicon in which it is usually women who subjected to this kind of close scrutiny or sexual gaze. Don't get us wrong though, Weber is not some kind of hell raiser, bent on destroying the establishment, instead he meets the controversy with a shrug and a slightly bemused look of one who doesn't understand what all the fuss is about.
Don't for a second think that his work isn't still controversial. We have not come so far as a society that the sexualisation of the male body is viewed remotely like its female equivalent. When asked by BOMB, if he was surprised that his work was so quickly accepted by the fashion establishment, Weber was quick to rebut that he doesn't get to work editorially in a large number of magazines as they consider his work to be too risky to publish even in this day and age. As for the suggestion that much of the shock and backlash comes from his pictures revealing something that people are secretly and shamefully attracted to, Weber tells The Guardian that we confuse sexuality with character, "sex is something that we do, it is not who we are". Although he doesn't make it his life mission to shock people, its a fair bet that Weber will continue to shoot exactly the way he likes to.
3. HIS LOVE OF PHOTOGRAPHY STARTED ON THE OTHER SIDE OF THE LENS.
Like most people in the early twenties, Weber found himself slight adrift and uncertain of what direction he wanted his life to take while simultaneously financially under pressure to support his NYU films school education. Almost accidentally, he found himself thrust into the world of modelling, going on to work with Richard Avedon, Saul Leiter and Francesco Scavullo. In his interview with art director Sam Shahid, Weber talks about where it all began. "I really started modelling out of necessity at first…I kind of knew that I wanted to do something that was visual, that I could look at, and I could have contact with other people. I was really shy, and the camera for me was sort of like a handshake or a hug." Weber, in a wry self-deprecating fashion goes on proclaim that he "was the worst model in the world" and to overcome his sense of uncomfortableness, he would drag his Hungarian Puli dog to set.
Fortunately for all of us, while Weber may have been a terrible model, this led him to discover his actual passion, photography. He explain to Sam, "I was like this troubled model. I would've never hired me if I was the photographer. But I thought, Wait! Something really interesting is happening here! I want to be on the other side. I mean, this is a good way to learn. By modeling, I learned what photographers felt. They were all different. And I finally started taking pictures." Along the way, industry professionals like Avedon and Diane Arbus recognised the spark of talent and passion in Weber and nurtured it by encouraging Weber to train in photography with Lisette Model. And aren't we all so glad that he did!
4. A MASTER OF BOTH STILL AND MOVING IMAGES
As all true visionaries, Weber's sense of direction and style has never been bound to only one medium. We've already mentioned Weber's humble beginnings as a model, and while that didn't come naturally to him, film directing did. Making the jump into the field of directing moving images seemed a natural shift for Weber and it produced some of his greatest pieces of creative work. While it seems like his subjects from musicians to olympians are random, what connects them is Weber's passion for exploring the inner lives of these individuals and building an intimate rapport with them that translates into film. Weber explains to Interview, "it's part knowing what your real feelings are about somebody, and not being embarrassed". Highlights of Weber's impressive filmography include 1987's Broken Noses, a series of monochrome short films that documented the life of ex-Olympian boxer Andy Minster as he coaches teenagers at Oregon's Mount Scott Boxing club, his 1988 Academy nominated film, "Let's Get Lost" which chronicles the life of troubled jazz trumpeter Chet Baker, and his 2004 documentary about his dogs, A Letter to True.
The best showcase of Weber's ability to find and tap into a rich vein of emotional truths in a visually stunning way, is his 2001 film, Chop Suey. The film is a beautifully constructed exploration of some of Weber's longstanding and more recent obsession: the life of lesbian show singer Frances Faye; the sepia toned memories of 92-year-old English explorer Sir Wilfred Thesiger; and the personal transformation of one of Weber's muses, wrestler and model, Peter Johnson. While, the premise my seem self-indulgent, the result like most of Weber's work is intelligent and moving. In addition to these documentaries, Weber naturally has many fashion film credits, working for such brands as Yves Saint Laurent, Moncler and Versace. Rounding out the diversity of Weber's portfolio is his music videos for the Pet Shop Boys' "Being Boring" in 1990 and "I Get Along" in 2002.
5. A SOCIAL AND HISTORICAL CONSCIENCE TO GO WITH HIS HEART OF GOLD
One of the qualities that makes Weber's work so captivating and disarming is his readily apparent sensitivity towards other cultures or an awareness of how his subjects may be exploited. When he was asked by Interview magazine if he considers himself an outsider when he travels to other cultures for the purposes of photography, Weber brings up his uncomfortableness with going to Vietnam to shoot Kate Moss for American Vogue. He explains to Interview, "how do I rationalise that I'm going to a country where so many men and women have dies for America? And there I'm going and doing pictures of a girl in a dress". It didn't seem right to him to be photographing Moss, in a place so steeped in conflict and with the blood of both Americans and the Vietnamese. To square this away with himself, Weber took some time to research the American philanthropic efforts in the region and came away with a desire to meet Christina Noble, founder of an orphanage and hospital in Vietnam for street kids. While in Vietnam, Weber and his crew spent an afternoon at the hospital, meeting and talking to the children there.
Weber also displays a sense of sensitivity towards the political exploitation or commercialisation of images and subjects. While shooting the Olympics in 1984, he found himself in conflict with the US Olympic Committee and different sports people as they were distrustful of the intentions of photographers and wary of allowing them in. Weber states to BOMB that the patriotism and commercialisation of the event was something that bothered him and his team as they felt it always got in their way. As Weber found himself developing closer relationships with some of the athletes, he says the process became painful the more aware of how sheltered and insular the lives of these athletes were. He draws a comparison between living in New York and being surrounded by kids who are street and pop culture savvy and the young athletes he encountered who had devoted every day of their lives to excelling in a very specific area and essentially lived in a bubble. He states that he felt like the "sort of politics (that surrounded the Olympics) had really hurt a lot of people" and that he was very aware that this is part of the daily lives of athletes. All of this belies the sensitivity in which he approached his subjects.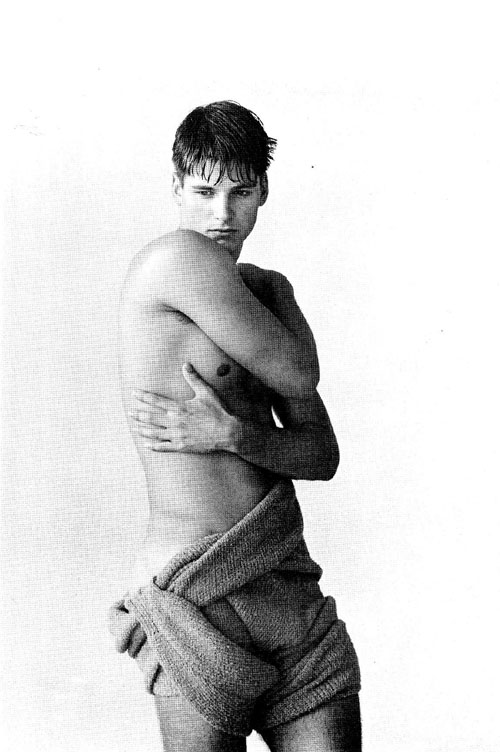 Bruce Weber life can be traced by his images but the man behind the camera lens is just as interesting as the intelligent and beautiful images he produces. Weber has created some of the most indelible images of the fashion industry and through his Calvin Klein and Ralph Lauren campaigns, can single handedly claim credit for creating the image of the youthful and carefree All-American beauty that has embedded itself in everyone's consciousness forever. Yet, from his film work to his character studies of everyone from Rickson Gracie to Jane Goodall to Kate Moss, Weber reveals depths of thought and a unique sensitivity.
To discover more about photography legend, Bruce Weber see FIB's Master of Photography, Vol 50. Living Legends available worldwide at Amazon or all good bookstores.