The fashion industry has no shortage of famous families who have built multi-million dollar empires out of their names. Gucci. Prada. Armani. But with the exception of perhaps Gucci, no other family can rival the tragedy and drama of Versace. FIB takes a look at the fascinating history of the Versace dynasty from the dizzying heights of the Miami years, to the murder of its eponymous founder in 1997, the period of strife and the current reign of Donatella. 
For millennials who are not quite up to scratch on their fashion history or those just being born into the world today, Versace is helmed by the brilliant, blond, dramatic and cigarette toting Donatella Versace. The image of Donatella is so permanently seared in the minds of people that it takes some effort to remember that this was not always the case. For those of an older generation, who could possibly forget the inflection point of 1997 with the murder of then creative director and founder Gianni Versace and the hush and sense of importance presiding over the next fashion season as the fashion world witnessed Donatella Versace ascend to become one of the world's most powerful female fashion designers. While some questioned if she would have the fortitude and strength to shore up the fashion house and continue the Versace empire running, history rules in Donatella's favour.
While the brand is often referred to simply by the family name, Versace, its official title bears the name of its 1978 founder, Gianni Versace S.p.A. The first Versace boutique was opened in Milan's Via della Spiga in that year and was an almost immediate success. In 1982, the company expanded into accessories, jewellery, interior furnishings and fine china industries. The fashion house continued to establish itself under the guidance of Gianni and reached a high point around what is known as the Miami Years. In the early 1990s Versace was producing ranges of trademark siren dresses and he became known for using innovative material such as aluminium mesh or utilising cutting-edge techniques like "neo-couture" laser technology to fuse leather and rubber together. In 1993, Gianni arrived in the flush with new money and boasting a lively sense of hedonism, Miami and immediately brought a mansion on Ocean Avenue which he spent an enormous expense restoring to a fitting level of garish opulence. The emblem of this house named Casa Casuarina was Medusa, which became a recurring image of many of Versace's clothing items and accessories. This sunny, carefree summer of 1993 would see Versace's reputation as a designer and his influence on pop culture approach its zenith. It was also a time in which Versace's domestic life mostly closely resembled it's gilded portrayal in Gianni and Donatella Versace's book, "South Beach Stories" a tribute to their life in Miami which featured dreamily languid family photographs set in South Beach by photographer Bruce Weber.
During this time, celebrities began to flock to Miami attracted by the lifestyle and endless summer. Frequent guests at Casa Casuarina included not only fashion royalty but those in the entertainment business, such as Gwyneth Paltrow, Elton John, Cher, Madonna and Sting.
Speaking to the New York Times, Donatella says "All of a sudden, what was going on in L.A. moved here [Miami] when Gianni came…All the fashion shoots were happening here. Music people, fashion people, actors — he attracted everyone here. He had that power. In the courtyard, right here, you'd see Italian architects, writers, Richard Avedon, Madonna, a mix of people".
Casa Casuarina became a modern day Jay Gatsby's mansion. Gianni Versace became known for designing for celebrities and a year later he designed the dress that would launch the brand to international fame. Although, Versace has a long history of designing barely there, super sexy dresses, it was the punk inspired, black slit gown held by strategically placed large gold safety pins and worn by Elizabeth Hurley to the premiere of her boyfriend Hugh Grant's movie Four Weddings and a Funeral in 1994 that made the biggest stir. The dress was splashed all over newspapers and magazines around the globe and became known as "that dress". It was credited with launching the career of Hurley and gained an iconic status as Versace's best known piece.
If there ever was a fashion figure ripe for a bio-pic, it would Gianni Versace, who's life was tragically cut short right at the peak of his powers. Gianni was gunned down by Andrew Cunanan on July 15th 1997, outside his South Beach home. Several services were held for Versace, including one at the prestigious New York's Metropolitan Museum of Art. Fashion's elite from Anna Wintour to Ralph Lauren to Marc Jacobs attended, and fitting for a man with so many celebrity friends, performers at the memorial included Whitney Houston, Jo Bon Jovi and Elton John. Following his death, his sister Donatella took over as creative director and brother Santo Versace became CEO. Keeping it in the family, Allegra Versace, Donatella's daughter also inherited fifty percent of the company. It was a mammoth task facing Donatella as the size of the Versace empire meant that the work was not just limited to the high-end ready to wear line. Versace consists of several lines including: Atelier Versace, Versace Couture, Versace Jeans Couture, Versace Home Collection, Versus, Versace Sport, and Versace Collection. Donatella became responsible for overseeing and guiding each design team for the seperate lines. 
It was a strange and memorable time for fashion as two connected figures who had impacted the lives of so many in the industry – Gianni Versace and Diana, Princess of Wales, both died violently. In turn, the surprise and violence of these events drove away the shock tactics and avant-garde posing of many fashion houses to produce a yearning for genuine beauty and a softer approach. For Donatella who assumed the mantle of Versace, it was a difficult period. Speaking to the New York Times in 2016, Donatella stated, "I have started over a few times in my life. After Gianni died and I took over the company, I made a lot of mistakes", indirectly referring to a period of strife in which she appeared to all intents and purposes to be spiralling out of control. Donatella Versace's cocaine addiction became an open secret within the industry and with each successive poorly received collection, the pressure mounted. For nearly a decade, the corporation which was valued at $870 million at the time of her brother's death, haemorrhaged fiscal value and creative capital or cache. 
Donatella did of course continue her brother's legacy of utilising celebrities to promote the brand. Fans of Versace range from Elton John to Axl Rose to the late Princess Diana and Tupac Shakur. Meanwhile, some celebrities featured in advertising campaigns for the brand, including Madonna who was paid $10.5 million and given free Versace clothing for two years in exchange for her 2005 Versace campaign. The celebrities chosen to be the "face" of Versace ranged from pop stars and actors: Ashton Kutcher, Ian Somerhalder, Demi Moore, Britney Spears, Christina Aguilera to more recently models, Gigi Hadid and Karlie Kloss.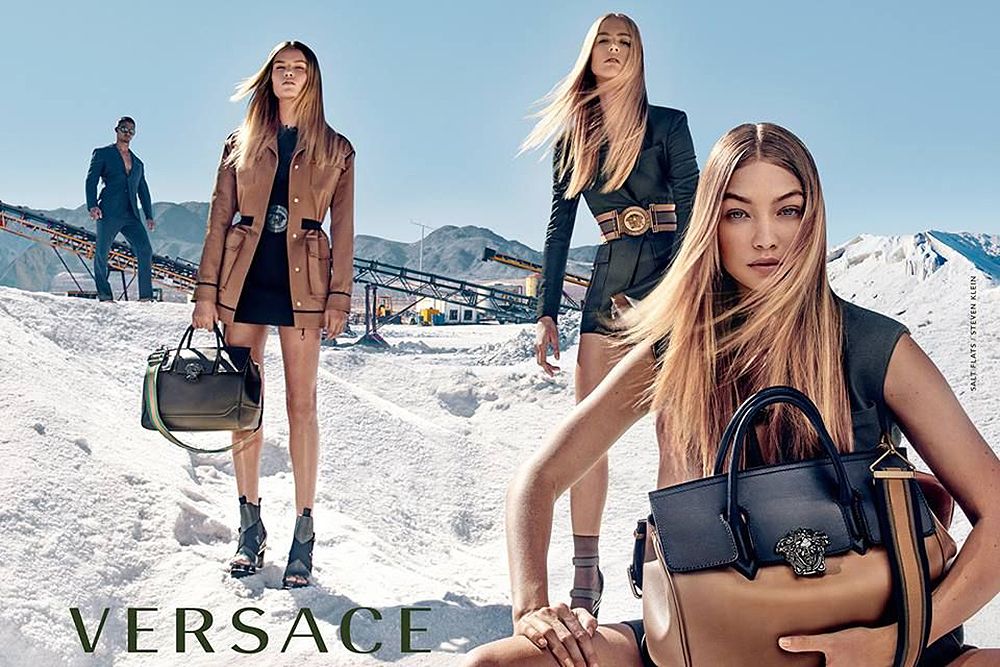 The fashion house continued to suffer financially until very recently when sales began to rise under the direction of CEO Gian Giacamo Ferraris. In 2014, Versace sold twenty percent of company to Blackstone for 210 million euros and in the same year they opened forty new stores. The following year saw thirty new stores open including in new locations in Brazil, South Korea and Manila, as well as the revamping of their Fifth Avenue flagship store. Gian Giacamo Ferraris was replaced in 2016 by former Alexander McQueen CEO, Jonathan Akeroyd, a decision that the Versace family said was precipitated by the company entering a "different chapter" and needing a fresh approach. To match the upwards financial trajectory of the company, the design team also experienced a renewed sense of positivity. Donatella Versace's turning point came in Versace's spring 2016 collection which garnered almost exclusively rave reviews and ecstatic reactions from front-row attendees. The looks included the return of the military jacket but with a sexy twist – cinched at the waist and paired with tiny shorts, along with little sporty dresses and casual camouflage suiting, suddenly making the sexiness of the brand a little more accessible.
Today, Versace is one of the world's leading international fashion houses and an enduring symbol of Italian luxury. In an industry famous for its ephemerality, the brand has outlasted many others and remained more or less immovable. Versace is timeless, it's pieces offer the comfort and security that only the best tailoring can provide while the bold patterns and loud colours scream exuberance and decadence. It's a kind of boldness that is well matched to the fascinating history of its famous family.
To read more about this turbulent history check out FIB's Masters of Fashion vol 33 Italians available now at Amazon and all good book stores!
Also, look out for FIB's five minute web-doco on Versace coming soon!