Lana Del Rey and the Weeknd want you to take off all your clothes in their new collaboration, Lust for Life, the title track for Lana's album. 
The track features layered ethereal vocal tracks by both Del Rey and the Starboy himself, The Weeknd. They both sit atop the 'H' of the Hollywood sign, in a longing embrace. The entire video is shot in black and white, except for Del Rey's pink dress, which stands out beautifully amongst the Hollywood hills. The city is full of life in the night with the twinkling lights of passing cars and buildings shining under an abnormally large moon. It looks like an other-worldly noir painting, halfway between reality and a dream, similar to Del Rey's announcement video released last month.
The Hollywood sign is featured prominently in both the lyrics and the video itself. It seems the Los Angeles landmark could play a key role in Del Rey's new album as it is a recurring theme. Last month in her album announcement, she was shown to be living inside the 'H' of the Hollywood sign surrounded by various floating objects whilst looking out into the City of Angels amidst a lightning storm.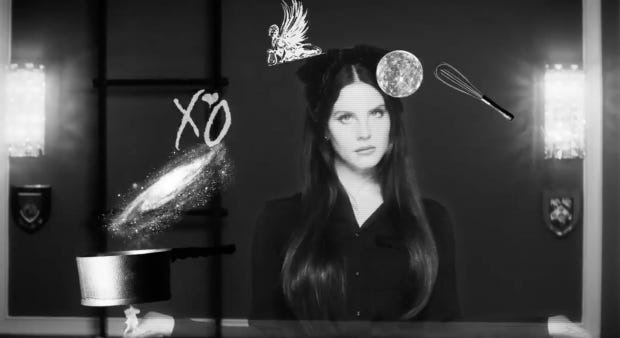 So far, the album flows like a picturesque story that Del Rey is depicting to us from some kind of dream. Compared to her previous albums, it seems like she is aiming for a spiritual and ethereal representation of youthful playfulness and innocence.
In a conversation with Courtney Love for Dazed, Lana Del Rey spoke about the song, "Maybe that's kind of weird to have a feature on the title track, but I really love that song and we had said for a while that we were gonna do something; I did stuff on his last two records."
Check out 'Lust For Life' below and look out for the album of the same name later in the year.