Once again we're overwhelmed by the celebrity glamour that flooded the Oscars' Red Carpet today. Our favourite actors and actresses have dressed, slayed and conquered – with the exception of a few that drew questionable glances. Why don't you take a peek at this year's most notable looks and decide for yourselves!
The Oscar for Best Dressed goes to…
Rita Moreno basked in her own timelessness, re-wearing her gown from 1962 when she accepted the Oscar for West Side Story. The black and gold number was only slightly altered from it's original debut. Paired with sleek black gloves and a statement necklace, Moreno proved she's only grown more demure with age.
I, Tonya Actress Margot Robbie was simply angelic in a sophisticated Chanel gown. Has our favourite Aussie export ever not absolutely slain a red carpet? Margot opted for a simple and refined look, but the beaded detailing on this haute couture gown provided a tasteful alternative to the temptation of clunky statement jewellery. However, delicate detailing does rate the wearer at higher risk of a Red Carpet wardrobe malfunction… thankfully, Margot made it inside the venue before tracking down the necessary supplies to sew an unruly strap back on. Incredible actress, ice-skater and a seamstress? What can't this gal do!
Although the oversized bow may have caught some criticism, Nicole nonetheless radiated sapphire elegance in Armani Privé. The bold, electric hue of this gown is show-stopping, and certainly compliments Kidman's delicate complexion.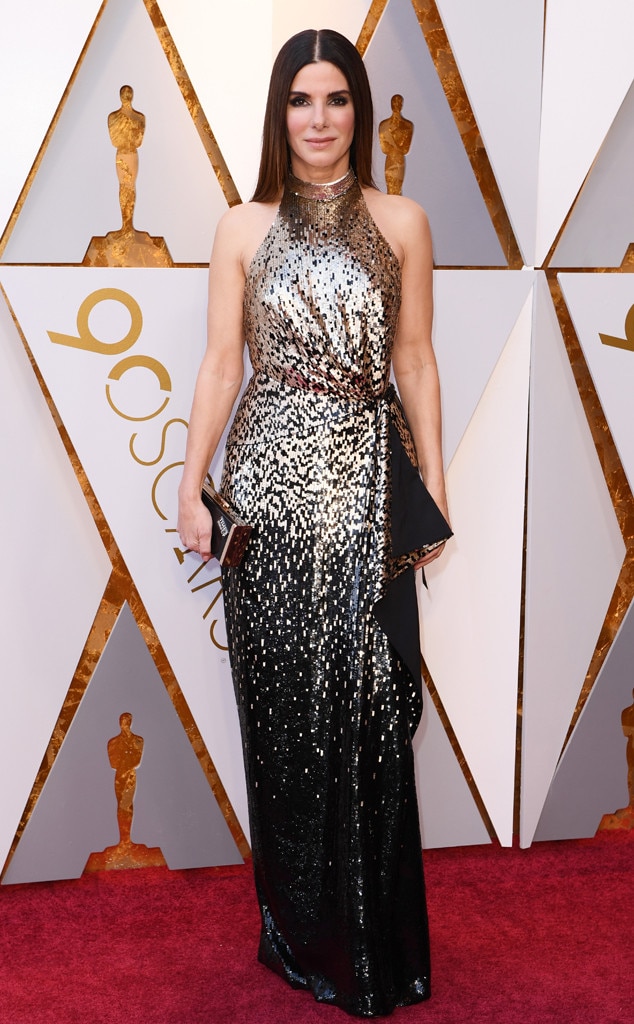 Sandra Bullock glimmered in a high class Louis Vuitton sequinned gown. The almost ombré transition from gold to black narrowly dodged an impersonation of a certain overused feline print, but the 53-year-old took this number from near-meow to 'WOW'. And we'd be remiss not to say – this little ditty fit Sandra's to-die-for figure like one of Rita Moreno's sleek gloves.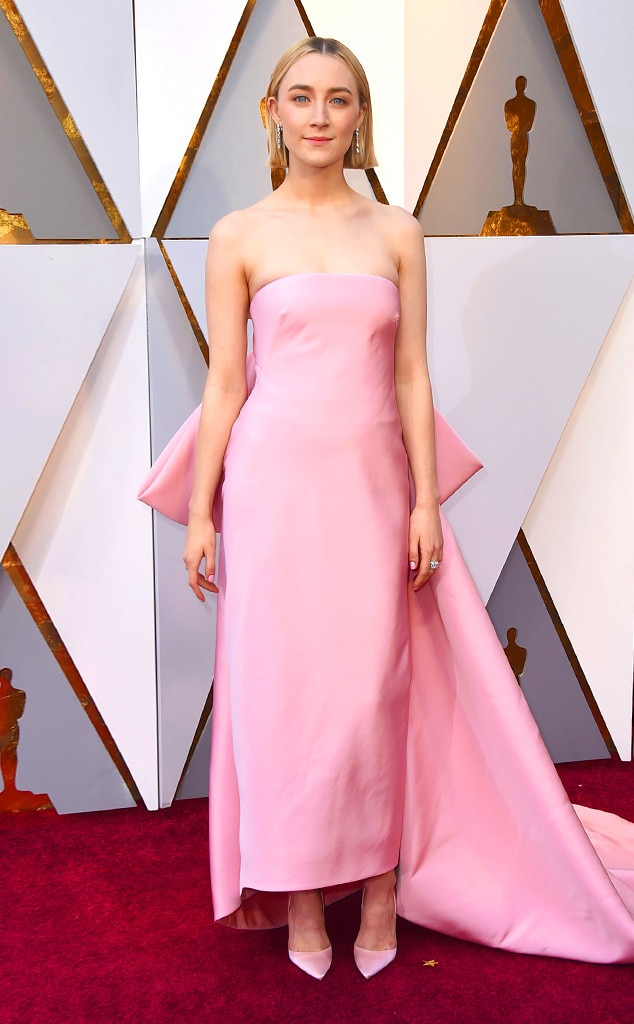 It was all bows and bubblegum for Saoirse Ronan, who donned a baby-pink Calvin Klein By Appointment number with matching pointed pumps. Ronan's publicist Elizabeth Saltzman told Vogue the dress 'needed to be about Saoirse, as a person', whilst also functioning as designer Raf Simons' statement on 'elegance, femininity, and what it means to dress as a woman on the awards show circuit'.
Jennifer Lawrence rocked the Red Carpet in none other than Dior. A loose-fitting sequin-embellished gown is a bold choice, but as the ceremony went on this number proved to be a rather fitting decision for the high-spirited actress. Many of the tabloids have since reported on a lively Lawrence necking wines and hurdling over chairs, so it only makes sense her inner 'Gail' chose functional fashion on this occasion.
Absolutely breathtaking. Jane Fonda is bold and composed in an all white Balmain Gown by Olivier Rousteing. It's powerful, clean and chic as all hell – it's basically Grace Hanson in gown-form.
Lupita Nyong'o looked like an Oscar trophy herself, as she opted for all gold in a one-shoulder Atelier Versace gown. But it's Lupita's hair that has proven to be the showstopper here, woven into what's known as an Amasunzu hairstyle in traditional Rwandan cultures. Some could argue that the addition of a golden thread woven through her 'do borders on excessive, but we think Lupita looks a portrait of royalty.
Comedic actress Tiffany Haddish honours her late father and Eritrean heritage with an authentic African princess gown. Another candidate for 'Best in Black and Gold', we're glad Tiffany ditched her infamous $4000 Alexander McQueen gown for this richly embroidered slice of heritage!
Zendaya looked absolutely flawless in Giambattista Valli Couture, showing off her statement diamonds and a flowing chiffon gown.
Emma Stone took a casual approach to the Oscars in sleek black Louis Vuitton pants and blazer. Pink bows are on trend this year, it seems!
Olympic figure skater and gay icon, Adam Rippon blurred the lines between dapper formalwear and bondage in an "edgy" Moschino harness and tuxedo on the Red Carpet. If this doesn't scream Jeremy Scott, then I don't know what does!
Get Out Star Allison Williams arrived in a stunning Armani Privé gown that just oozes Classic Hollywood glamour. Soft waves and a sheer neckline lend Allison a sense of darling chic and delicacy – most unlike the irksome Marnie Michaels, indeed.
And now, the questionable…
Salma Hayek definitely turned heads when she arrived in a purple Gucci dress complete with chains. Notwithstanding the heinous parfait of faux-glimmering fabric, the heavy chain detailing alone gives the usually glam Salma a lil' (and somewhat distasteful) pump of 'Gucci Gang'.
Annie Clark, aka St Vincent, went for a classy Alt-Rock get-up, but we can't help but wonder if this look was Oscars-appropriate? Some sideway glances on the carpet, and a litany of 'Worst Dressed' noms to follow weren't particularly surprising.
Blanca Blanco dared to bare! The famously 'unpolitical' actress made an interesting choice, landing on red for yet another awards engagement. Having donned an all-red gown in a sea of #TimesUp black at The Golden Globes, Blanco gave reason for Sunday's provocative dress,
"The colours I selected were important to me because those colours symbolise equality, new beginnings and passion."
Blanco certainly has the figure to pull this particular look off, and it may have been a good idea in theory, but a plunging neckline teamed with a thigh-high split rarely make a tasteful Red Carpet combo.
Now that you've taken a look at some of the Oscars' most memorable, who do you think made the fashion cut this year? Let us know what looks you loved, and those you loathed!