In the last week, a social media storm has sent a new gust of Taylor Swift news to the forefront.
It's been a big year for Taylor Swift, with the release of her seventh album Lover, under new label Universal Group. It has sold the most copies in its release week since Swift's previous album, Reputation. It is predicted to be nominated for Album of the Year at the Grammys, and the loud, fun, gay-rights anthem You Need To Calm Down a front-runner for Record of the Year nominations.
The announcement that she has been named the American Music Award's "Artist of The Decade" comes as no surprise. She is the first female artist to receive this honour, and joins the likes of The Beatles and Michael Jackson. Since her album Fearless, which is the most awarded country album in history, she has cemented herself as one of the century's most prolific song writer/singers.
She was the first woman to win Album of the Year twice at the Grammys and has had multiple number 1 songs, most notably Love Story, Shake It Off and Blank Space. In fact, 2019 marks 13 years since her self-titled debut album was released. With ten Grammys on her shelf, Taylor is certainly deserving of her success.
In her inspiring 2016 Album of The Year acceptance speech, Swift remarks that "there are going to be people… who try to undercut your success or take credit for your accomplishments or fame." Unfortunately, Taylor seemed to foreshadow her most recent adversity. The six albums that precede Lover, whilst written and sung by Swift, are not owned by her, but her former label Big Machine Label Group. 
This year, the man Swift accused of "incessant bullying" acquired the company and consequently, her music. In a power play, Scooter Braun and BMLG have prevented Swift from singing her old songs on television and this means she cannot celebrate her own music that she wrote and has won her "Artist of the Decade."
On November 14th, Taylor Swift released a statement on Twitter titled "Don't Know What Else To Do" explaining that she has been honoured with the title of "Artist of The Decade" and has been "planning to perform a medley of [her] hits throughout the decade on the show."
Unfortunately, the team Big Machine Label Group that owns her masters for her first six albums, which she put her blood, sweat and tears into writing; have denied her the right to perform those songs on television because "they claim that would be re-recording [her] music" before her contract ends in November, 2020.
Don't know what else to do pic.twitter.com/1uBrXwviTS

— Taylor Swift (@taylorswift13) November 14, 2019
Taylor implored her fan-base and other artists in the open letter, penned on Tumblr to "talk some sense into the men who are exercising tyrannical control over someone who just wants to play the music she wrote."
In an effort to gaslight Swift, the label's response was "Taylor, the narrative you have created does not exist." They continue to vaguely explain that "at no point did we say Taylor could not perform on the AMAs…In fact, we do not have the right to keep her from performing live anywhere." This statement conveniently excludes the mention of Taylor performing her "old music" live, which is what has been the issue at hand.
Tree Paine, Taylor's publicist, published the email written by the Vice President of Big Machine Label Group which supports Taylor's claims that she cannot perform her old music. It explicitly states:
"Please be advised that BMLG will not agree to issue licenses for existing recordings or waivers of its re-recording restrictions."
Swift received multitudes of support from her fanbase and other artists alongside her, Halsey, Lilly Allen, Ruby Rose and Hillary Duff, just to name a few (let's not name the artists who did not, despite releasing collaborations with her recently: Shawn Mendes, Ed Sheeran…). The hashtag I Stand With Taylor was the number 1 trending tag on Twitter this weekend.
Long-time best friend Selena Gomez posted this on Instagram: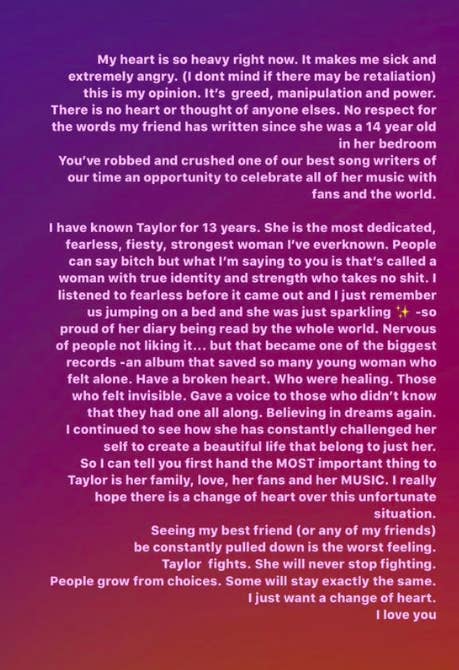 The storm that ensued has successfully achieved its goal, when, this morning, BMLG publicly wrote:
"The Big Machine Label Group informed Dick Clark productions today that they have agreed to grant all licenses of their artists' performances to stream post show and for re-broadcast."
The above statement now gives Taylor Swift the right to perform all her old music at the AMAs, however we can be sure that as November 2020 approaches, the men who own BMLG will attempt to control and persuade Swift against rerecording her albums so that the masters they own will not lose their value.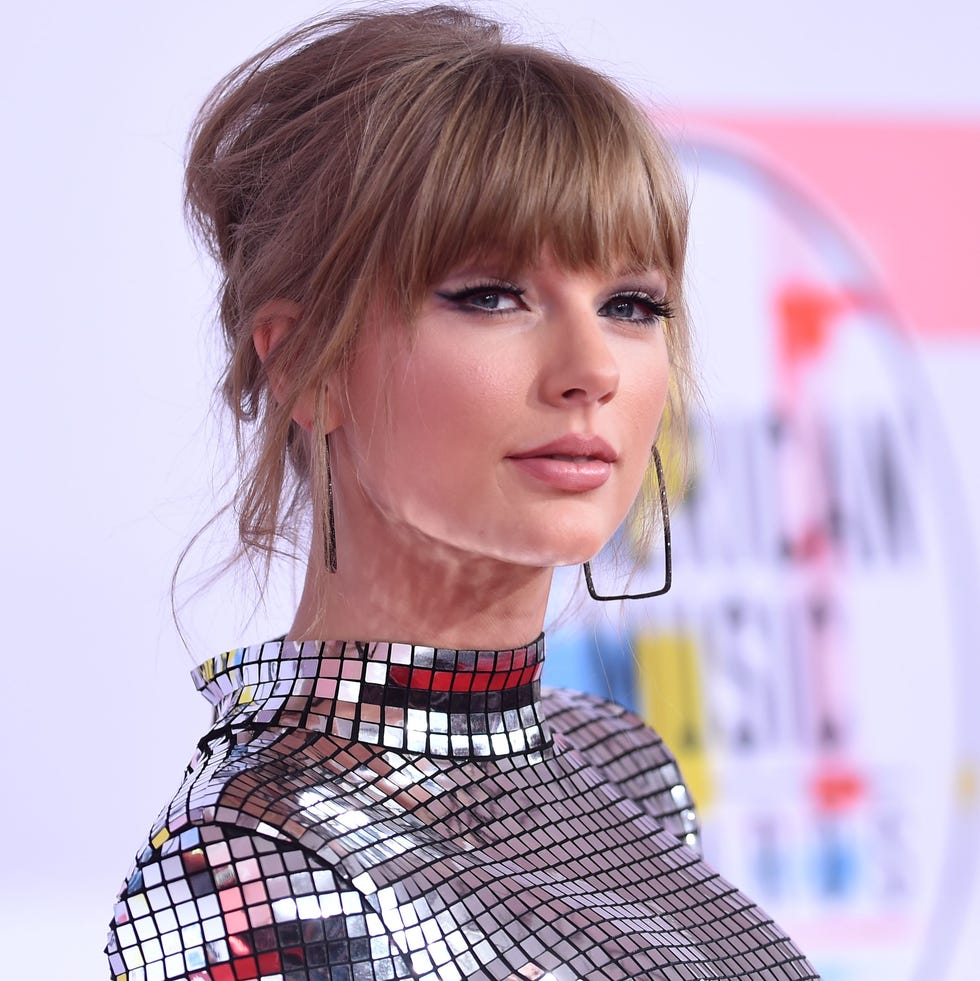 Whilst Swift's case is a unique one, it is an important one. It warns individuals in the creative industry to be careful when reading and signing contracts and to ensure that their rights are protected. Perhaps the biggest thing we can take from this storm is how imperative it is to own your own work.
Are you standing with Taylor? Let us know what you think in the comments down below!