It's Elon Musk's world and we are just living in it. The billionaire revealed his newest Tesla project in California last week, the Cybertruck, and it's..angular? This is the first foray into the Pick-up truck business for the American-automotive company and although the response was mixed online the internet has been buzzing ever since.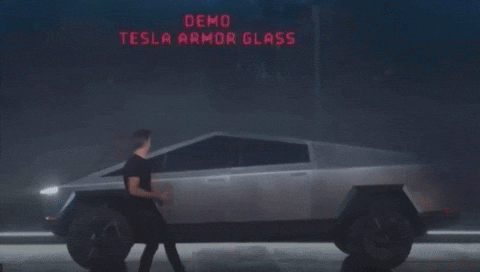 I may not know much about Cars but even this automotive plebeian can get behind a car pulled out of an N64 game. In a live demonstration Elon showed off some of the features you would want in a pick-up truck, you know the usual like hitting it with a sledgehammer, shooting it with a 9mm pistol and throwing metal balls through its windows. Although the windows weren't meant to break onstage, Elon provided reasoning online after the presser.
Yup. Sledgehammer impact on door cracked base of glass, which is why steel ball didn't bounce off. Should have done steel ball on window, *then* sledgehammer the door. Next time …

— Elon Musk (@elonmusk) November 25, 2019
Although not everything went smoothly at the presentation the numbers don't lie, so here are the features and stats for all you car enthusiasts. The Cybertruck is built with an exoskeleton using Ultra-hard 30X cold-rolled stainless-steel with windows that are made from what tesla have dubbed 'Tesla armour glass'. The Utes tray is covered by a 'magic' retractable tonneau cover that's strong enough to stand on.
The Car can carry a load of up to 3500 pounds (1587.57 KG) with adaptive air suspension that can self-level to any need. It has an impressive towing ability of over 14000 pounds (6350.3 Kgs) as well as 100 cubic feet (2.83 cubic meters) of external storage, the perfect place to hide your booze at the next camping festival. The all-electric vehicle also has an acceleration from 0-60 mph (96.56 Kph) in under 3 seconds, so you can still live your 'Fast & the Furious' fantasies.
Musk also tweeted some features that haven't been advertised including solar panels on the roof that charges the car as it drives, a new matte black finish and even a smaller version of the vehicle, so you can go matching with your mum to next years Christmas party.
Although looking like a block of Toblerone left out in the sun, pre-orders are at a staggering 200,000 as of Sunday the 24th of November, with 41% of orders being for the higher-end $69,900 USD boasting a triple-motor set-up, that's function I assume is to break up into smaller cars and mine for Energon?
Musk tweeted that the company has taken out "no advertising & no paid endorsement." And all pre-orders were as a result of internet hype. The Cybertruck won't be hitting roads for a while though with production starting in 2021.
If you're anything like me though the best take away are the memes:
What do you think about the Tesla CyberTruck? Let us know in the comments down below!