Isolation can be hard, boring and you probably feel trapped. Well here are some classic, groovy movies to sing and dance along to. There's a mixture of new and old movies that will transport you out of misery and into joyousness.
The Sound of Music (1965)
Starring: Julie Andrews and Christopher Plummer.
This beloved and iconic movie has been a favourite of mine and others for many years and continues to. You could easily write an essay on it. The film follows Maria (Julie Andrews), an aspiring nun. Who is sent as a governess to take care of seven motherless children. Soon her jovial and loving nature tames their hearts and the children become fond of her. She soon becomes fond of the captain (Christopher Plummer). This movie came out 55 years ago and still to this day I always sing along to unforgettable songs like "The Sound of Music," "My Favourite Things," "Do-Re-Mi,",  "Sixteen Going on Seventeen" and many more.
Gentlemen Prefer Blondes (1953)
Starring: Marilyn Monroe, Jane Russell, Charles Coburn and Elliott Reid.
Lorelei Lee (Marilyn Monroe) and Dorothy Shaw (Jane Russell) are two best friends who also happen to be showgirls embarking on a trip to Paris. When one of them is entangled in a jewel heist their trip becomes unforgettable. The film is filled with comedic gags and musical numbers to sing along to like "Bye Bye Baby" and the classic "Diamonds are a Girl's Best Friend". And with over-the-top costumes, this film is a classic and forever will be.
Dreamgirls (2006)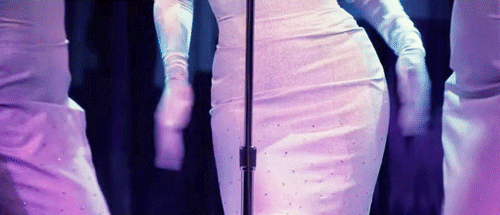 Starring: Beyoncé, Jennifer Hudson, Anika Noni Rose and Jamie Foxx.
Also known as the movie that launched Jennifer Hudson into international stardom. But Dreamgirls is so much more than that, it's a classic. The film takes its inspiration from the history of Motown and The Supremes. The story follows a girl group known as The Dreams and their manipulative record executive. The film shows the marvellous yet merciless world of the music industry. Filled with songs to sing along to like "I am changing", "Dreamgirls" and "One night only", I highly recommend watching this.
My Fair Lady (1964)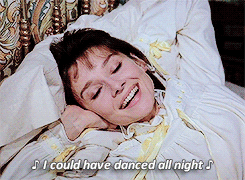 Starring: Audrey Hepburn, Rex Harrison and Stanley Holloway.
"My Fair Lady" was based on the play Pygmalion. A story about the haughty Professor Henry Higgins (Rex Harrison) who makes a bet that he can transform a low-class flower seller Eliza Doolittle (Audrey Hepburn) into a lady in just a few weeks. The film is a classic with amazing fashion and unforgettable songs like "The Rain in Spain" and my personal favourite "I Could Have Danced All Night". I'm telling you, I really "could have danced" and watched this musical all night.
Sister Act 2: Back in the Habit (1993)
Starring: Whoopi Goldberg, Lauryn Hill, Maggie Smith, Jennifer Love Hewitt, Robert Pastorelli and Ryan Toby.
The sequel to the amazing Sister Act (1992), might be one of the best musical films of all time. Whoopi Goldberg reprises her role as lounge singer turned nun Sister Mary Clarence. This time she is helping St. Francis Academy stay open by turning her class of rowdy misfit teenagers into a legit show choir. A young Lauryn Hill stars in the film as a moody student with powerhouse vocals. With the most lit rendition of the Christmas classic "Joyful, Joyful" ever to be made and many more songs to sing along to I highly recommend you watch this.
Into the Woods (2014)
Starring: Meryl Streep, Anna Kendrick, Emily Blunt, Chris Pine, Billy Magnussen and James Corden
A baker (James Corden) and his wife (Emily Blunt) wish to have a child but cannot do so as a witch (Meryl Streep) curses them. The Witch is able to lift the curse and allow them to have a child, but only if the Baker and his Wife obtain four critical items for her to make a potion: a white cow, a red cape, a yellow strand of hair and a golden slipper, none of which she is allowed to touch. This tale mixes your favourite stories all into one, an unforgettable tale filled with songs to sing along to. Such as "agony", "your fault" and Meryl Streep's amazing "last midnight".
Moulin Rouge! (2001)
Starring: Nicole Kidman, Ewan McGregor and Richard Roxburgh.
Baz Luhrmann, is there anything this man can't do? The movie musical follows Christian (Ewan McGregor), an English writer who travels to Paris to join the Bohemian revolution. He visits the city's biggest night club, The Moulin Rouge, and falls in love with its star performer and courtesan, Satine (Nicole Kidman), whom a jealous duke (Richard Roxburgh) covets. The film is stunningly beautiful with exploding colours of romance and stunningly beautiful costumes. With unforgettable songs like "One Day, I'll Fly Away," "El Tango de Roxanne," Sparkling Diamonds" and my personal favourite "Lady Marmalade."
Fame (1980)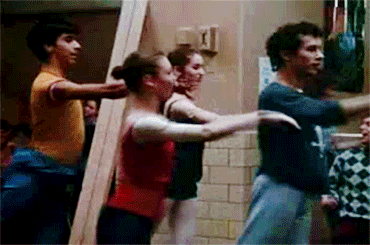 Starring: Eddie Barth, Irene Cara and Lee Curreri.
This movie musical is based on the real-life LaGuardia High School of Music & Art and Performing Arts. It follows a class of talented dancers, actors, and musicians from their freshman year to graduation. Showing the struggles and triumphs of life, this musical gave us hits like "Out Here on My Own," and "I Sing the Body Electric." But most importantly it gave us the unforgeable, show-stopping 80s megahit "Fame" by Irene Cara. This musical "gonna live forever".
Hairspray (2007)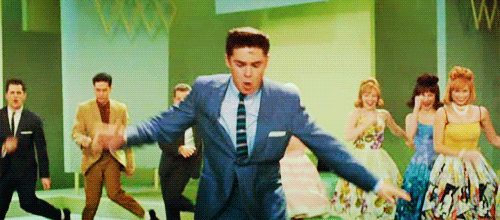 Starring: Zac Efron, Nikki Blonsky, Queen Latifah, Amanda Bynes, John Travolta, Michelle Pfeiffer and James Marsden.
Tracy Turnblad (Nikki Blonsky) emerges from being an overweight teenager to a television superstar. However, her journey is interrupted when she becomes a victim of racial discrimination and decides to fight back. And with the help of her friends and the dreamy Link Larkin (Zac Efron) she starts a TV revolution. Get ready to dance and sing to this one because you really "Can't Stop the Beat". With amazing songs like "run and tell that", Queen Latifah killer song "Big, Blond and Beautiful" and the classic show-stopping "You Can't Stop the Beat".
Mamma Mia! (2008)
Starring: Meryl Streep, Amanda Seyfried, Pierce Brosnan, Colin Firth and Stellan Skarsgård.
What could be better than a gorgeous Greek scenery? Well maybe add the amazing Meryl Streep and an all-star cast. Mamma Mia! is a non-stop feel-good movie centring around a young bride Sophie (Amanda Seyfried) who's marrying Sky (Dominic Cooper) but before she marries him she's embarking on a spirited quest to find out who her father is. Which might sound simple but the problem is there are three potential candidates Sam (Pierce Brosnan), Harry (Colin Firth) and Bill (Stellan Skarsgård). She's got to figure out who it is. Filled with unforgettable Abba classics "Mamma Mia," "Money, Money, Money," "Honey, Honey," "Take a Chance on Me" and "Dancing Queen." The list goes on.
Mamma Mia 2: Here We Go Again (2018)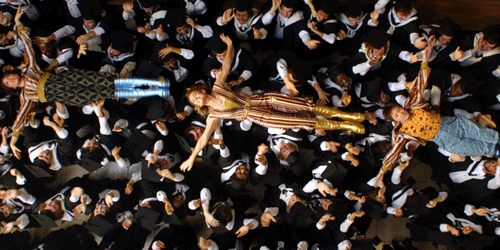 Starring: Amanda Seyfried, Lily James, Meryl Streep,  Pierce Brosnan and Cher
For those who loved the original as much as I did you'll be happy to know there's more where that came from. Here We Go Again serves as both a prequel and a sequel to the iconic first film. The plot is set after the events of the first film and also features flashbacks to 1979, telling the story of young Donna (Lily James) arrival on the island of Kalokairi and the first time she meets her daughter Sophie (Amanda Seyfried), three possible fathers. With even more Abba classics like, "why did it have to be me" "I've been waiting for you", Meryl Streep's tear-jerker "My love. My life" and Chers and Andy Garcia's "Fernando".
Beauty and the Beast (2017)
Starring: Emma Watson, Dan Stevens, Luke Evans, Josh Gad and Kevin Kline
This once animated classic comes to life in the latest version of Beauty and the Beast. You all know this tail, It's a tale as old as time: a girl Belle (Emma Watson) meets The beast (Dan Stevens), Belle falls in love with beast and beast turns into a prince and they live happily ever after. But this tale has even more songs to sing and dance to all along the way. With classics like "Beauty and the Beast," "Gaston," "Something There" and the unforgettable "Be Our Guest". So "be our guest" and relive the classic tale of Beauty and the beast.
La La Land (2016)
Starring: Emma Stone, Ryan Gosling and John Legend.
Struggling to make it in Los Angeles, jazz aficionado Sebastian (Ryan Gosling) and actress Mia (Emma Stone) fall in love. As their careers begin to take off, their relationship struggles. The film won the Academy Award for the best original music score, best cinematography and best production design. And it's clear to see why with amazing songs like "City of Stars," "Audition (The Fools Who Dream)" and "Another Day of Sun".
Disney Descendants (2015)
Starring: Dove Cameron, Sofia Carson, Booboo Stewart, Mitchell Hope and Cameron Boyce.
The film follows Dove Cameron as Mal, daughter of Maleficent, Sofia Carson as Evie, daughter of the Evil Queen, Booboo Stewart as Jay, son of Jafar and Cameron Boyce as Carlos, son of Cruella de Vil. The children of popular and fearsome villains receive a once in a lifetime chance from the prince Ben (Mitchell Hope) to attend a prestigious school Auradon Preparatory. This Disney film shows us what life is like after your happily ever after. With sing-along tunes like "did I mention" "Rotten to the Core" and the Disney classic "Be Our Guest".
Funny Girl (1968)
Staring: Barbra Streisand, Florenz Ziegfeld, Jr., Anne Francis and Omar Sharif.
Follows the life of the 1930s comedienne Fannie Brice (Barbra Streisand), from her early days in the Jewish slums of New York to the height of her career with the Ziegfeld Follies. This movie was deemed "culturally, historically, or aesthetically significant" by the United States Library of Congress, and selected for preservation in the National Film Registry. And it is easy to see why the attention to detail with the costumes and the amazing songs like "Don't rain on my parade" and "Funny Girl" truly make this a classic and a must-watch.
A Star Is Born (2018)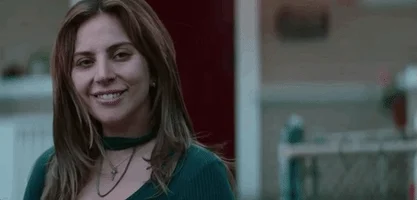 Starring: Bradley Cooper, Lady Gaga, Sam Elliott, Rebecca Field and Dave Chappelle
Arguably the best remake of the original 1937 film. The 2018 remake co-written and directed by Bradley Cooper and stars none other than Lady Gaga. It's about a hard-drinking musician (Bradley Cooper) who discovers and falls in love with a young singer (Lady Gaga) and her rise to stardom. The film is filled with performances that will break your heart, like "'ll never love again", "maybe it's time" and the song that we all tried to hit the high note too "Shallows".
High School Musical (2006)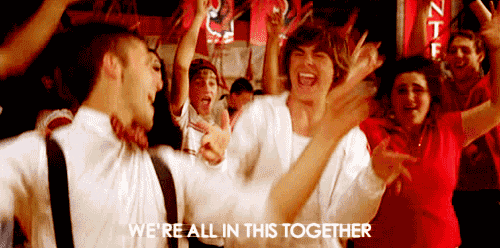 Starring: Zac Efron, Vanessa Hudgens, Ashley Tisdale, Corbin Bleu, Lucas Grabeel and Monique Coleman.
Ok, imagine the year is 2006, you and your friends are gathered in front of the TV. suddenly you see Zac Efron appear on the screen, you scream (maybe just a little). Why are you screaming? Well maybe because you and your friends are watching the premiere of High School Musical, that's why!
This Disney musical follows the journey of a popular jock Troy (Zac Efron), who finds his love Gabriella (Vanessa Hudgens) and his voice. Much to the displeasure of his friends and family. Sing and dance along with your favourite wildcats. Yes, we still know the choreography to "We're All in This Together". while you're at it why not watch all three. HSM marathon Yes please. "we're breaking free" from quarantine with this Disney classic.
Now we've given you a list, go on make some popcorn, move some furniture stretch and warm up those vocals. And sing and dance your heart away during this quarantine.
Subscribe to FIB's Weekly Alchemy Report for your weekly dose of music, fashion and pop culture news!