Last month, CBS announced a brand-new Star Trek series, Star Trek: Strange New Worlds. The series is set as a sequel to Star Trek: Discovery and a prequel to Star Trek: The Original Series.
There is hope that a bisexual Captain Kirk will be gracing our TV screens in a new, upcoming Star Trek series from CBS. If rumours and online buzz are anything to go by, then maybe!
Heard they are toying with the idea of making Kirk bi in the new series

— Daniel Richtman #BlackLivesMatter (@DanielRPK) June 13, 2020
According to a tweet from writer and TV insider Daniel Richtman, the network is apparently "toying with the idea" of the iconic character being bi in the recently-announced series Star Trek: Strange New Worlds.
During his runs on Star Trek, Captain James T. Kirk has always been known as an overly sexualised character and for his rampant womanising, having also been depicted as the 'epitome of masculinity' by show creator Gene Roddenbery.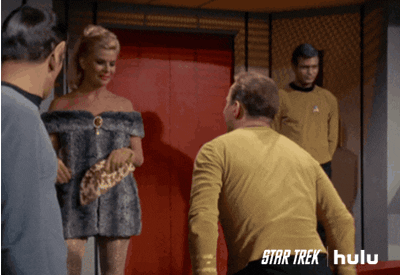 Formally revealed last month for CBS's All Access streaming service, Strange New Worlds is an upcoming addition to the Star Trek universe that serves as a sequel to the queer-inclusive Discovery and will "follow Captain Pike (Anson Mount), Science Officer Spock (Ethan Peck), and Number One (Rebecca Romijn) in the decade before Captain Kirk boarded the U.S.S. Enterprise, as they explore new worlds around the galaxy," the show's official description reads.
The Captain Kirk character is set to make appearances in Strange New Worlds, and according to Richtman, he might be bisexual.
LGBTQ+ representation for the series was thought of all the way back in the 1960s. Star Trek has a history of featuring LGBTQ+ characters, with George Takei's Mr Sulu having a husband and children in one of the movies, Dr. Culber and Paul Stamets in Star Trek: Discovery, and recently Star Trek: Picard confirmed that Seven of Nine was in a same-sex relationship.
And it's also safe to say a lot of queer Trekkies would totally be here for a bi Kirk…
Wait! They're considering to make a series where Captain Kirk is bisexual?
Good!
And it would be even better if Chris Pine could keep playing him (I know it's unlikely, but let me imagine an entire series with Chris Pine as Kirk. God I would love it😊)

— 🐚🦇Kiara📚Sol🦇🐚trusts Bellamy (@KiaraSol8) June 14, 2020
Anyway Captain Kirk is extremely bi, he and Spock are Space Husbands and that's that on that

— bi kirk|thirteen twelve (@TremereBestClan) June 15, 2020
I mean I always assumed he'd sex anything that moved so this makes sense

— Coach Shawn Calvin (@TheShawnCalvin) June 13, 2020
Although it's just a rumour at this point, considering all of the progress recent Star Trek titles like Discovery and Picard have made in recent years regarding LGBTQ+ representation. As well as the longtime media franchise's already queer AF history, it wouldn't be too far-fetched for showrunners to include queer characters within the confines of Strange New Worlds.
It's unknown who may be playing Captain Kirk in the upcoming series and whether on not Captain Kirk will be Bisexual. Even though nothing hasn't been confirmed yet, it's okay for us to be excited and maybe, possibly freak out a little, right. This new iteration could boldly be going where no Captain Kirk portrayal has gone before. Well, only time will tell.
Subscribe to FIB's Weekly Alchemy Report for your weekly dose of music, fashion and pop culture news!