It's the mononymous name that continues to be whispered with reverence in today's fashion world: Halston.
Written by: Joshua Croasdale & Zoe Dela Plana
Legendary designer Roy Halston Frowick was a quintessential figure in American fashion during the late '70s—notably, the Studio 54 era, together with Andy Warhol. His clean, minimalist designs fashioned out of uber luxurious materials such as cashmere and ultrasuede worn by the likes of Jacqueline Kennedy and Bianca Jagger was what catapulted him to fame. At the height of his career, he had a brick and mortar store on Madison Avenue in New York and a star studded clientele. Unfortunately, this was also during the height of HIV/AIDS epidemic in 1990, which caused his untimely death. His legacy lives on thanks to his archive, friends and famous muses such as Broadway superstar Liza Minelli.
Halston, as the world came to know him – is largely considered to be the first American star designer, and one of the most crucial designers of the '70s, famed for blurring the lines between the glitz of Hollywood and the glamour of the New Manhattan fashion scene. His designs came to define the quintessential 70s woman, and eventually would transform fashion's relationship with the everyday consumer.
Halston's success was meteoric, but there's an air of mystery surrounding his journey. Born in Des Moines, Iowa, he grew up with a passion for sewing and hat making for his family. This passion took him to the Art Institute in Chicago in the early 1950's. His 20's also saw Halston beginning to focus more on designing hats within his leisure time. He additionally worked as a fashion merchandiser during this time. His hat designs would go on to be sold at famous milliners in New York. However, hats would not be the item of clothing to grant him fortune.
In 1958, Halston moved to New York and worked as a milliner for European milliner, Lily Daché. During this time, he would design hats for many prestigious milliners, retailers and boutiques. The pillbox hat is the famous catalyst of Halston's fast trajectory in the fashion world. In 1961, first lady Jackie Kennedy donned a pink pillbox hat at John F. Kennedy's presidential inauguration. Designed by Halston, the pillbox hat was an item that would come to define Jackie Kennedy's signature style. The structured, domed nature of the hat, as well as the signature Oleg Cassini coat, was in stark contrast to the mink coats, heavy furs and wool hats that was typical for a high-class woman at the time. Since then, many brands and designers have attempted to mock or replicate the design. The humble beginnings of crafting hats in his spare time, had evolved into something much grander.
Halston's success as milliner led him to become the head milliner at the iconic luxury department store, Bergdorf Goodman, the epitome of Fifth Avenue opulence. At this point, Halston had already built up a loyal, star-filled clientele, including the likes of Kim Novak, Deborah Kerr, as well as Dianna Vreeland, then editor of Vogue. The designer infamously spoke little of his early life to his friends, but his story is that of an All-American man, coming up from nothing and making a name of himself.
Following the success of the pillbox, all eyes were on Halston. His time at Bergdorf was extremely successful, and it was the first instance in which the department store promoted a designer as a personality – he was the store's first designer to have his name printed in the hats. The humble beginnings of crafting hats in his spare time, had evolved into something much grander. Halston also continued to work at Bergdorf Goodman for several years. However, as trends changed, Halston moved beyond hat-making in the mid-60s, and had ventured into womenswear.
The sixties were defined by the desire for social change: the Civil Rights Movement was bringing race to the forefront of society, and ideas of women's liberation began to spread. The fashion world had also changed: by the 60s, French couture like Saint Laurent and Givenchy had opened up ready-to-wear boutiques. Inspired by these designers and the on-going social revolution, Halston launched his ready-to-wear line, Halston Limited, in 1969. He left Bergdorf behind and opened his own salon on Madison Avenue.
Halston's most noteworthy saying is that "You're only as good as the people you dress." His clientele entailed some of the most famous names of celebrities and social figures alike. As time went on, his connections with superstars advanced, as did his craft.
Halston Limited birthed the signature Halston aesthetic – clean and simple, yet luxurious and elegant. The expansion of his business saw the inclusion of both ready-to-wear and couture. His store boasted: dresses, furs, scarves, leather, shoes and jewellery. Roy Halston's love of suede, corduroy and materials of the same nature also helped to amalgamate his personal aesthetic. One might say that his trademarks became more famous than he did himself.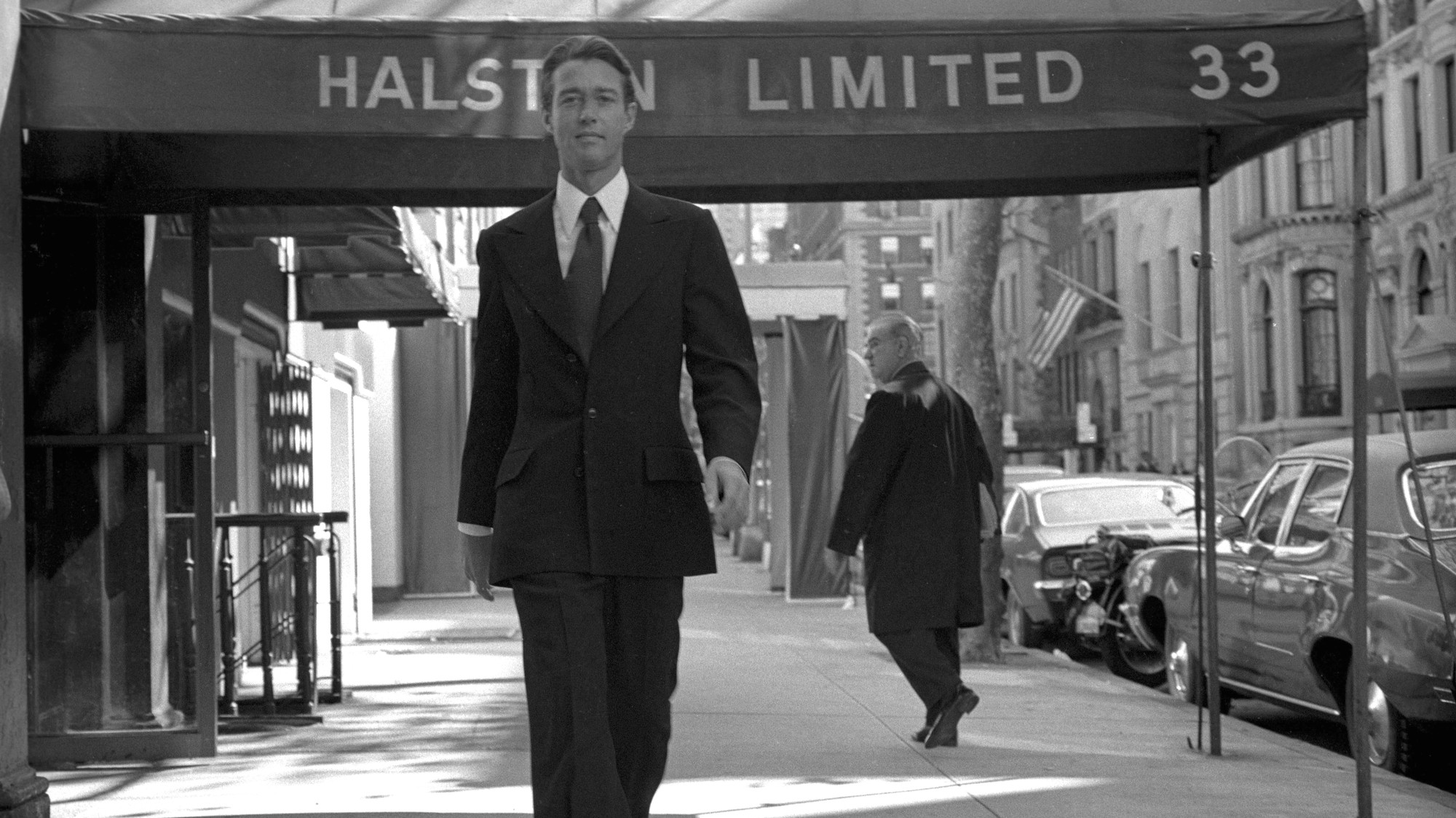 He's often dubbed the master of minimalism, but there was an inherent glamour in Halston's designs. The looks closest to his namesake were incredibly simple while still fluid enough to be palatable. The designer was known for his slinky halter gowns and flowing kaftan dresses — pieces that would perfectly flatter the feminine body, but without restricting the woman wearing it. These dresses were often cut on the bias and sometimes even constructed using only one piece of fabric, but this effortless glamour did not necessarily mean effortless construction. Halston became known for his meticulous craftsmanship, and even pioneered the "Ultrasuede" fabric, which was a synthetic microfibre that mimicked the feel of suede.
His designs were based on complete understanding of what the contemporary woman wanted – he knew that women were conservative and were taking on more roles in society, but also sold them this idea of glamour and elegance in dresses that elevated the everyday woman. He perfectly balanced functionality and elegance, and even challenged the gender norms ingrained into the fashion of the times. One of his most famous pieces was an Ultrasuede dress, which took the shape of a man's shirt. Halston also famously re-introduced pants for women, claiming that "Pants give women the freedom to move around they've never had before." He introduced the idea of day-to-night to the fashion world: pieces that simply work for a woman regardless of what she's doing.
"Today's woman is a mother, she's an older woman, she lives in the South, she lives in the North. She does all kinds of different things. I think you have to really say, what do you do and what do you need for your daily toil, and what would make you loo more attractive at night?" said Halston.
Halston's vision harmonised a new look, an emerging representation of a different lifestyle. This new lifestyle of his, was one without compromise, no sacrifice of comfort, no sacrifice of luxury either. A way of dressing that Halston now imagined, was truly original, easy and homely. His blend of sportswear, ready-to-wear and luxurious materials, was a bizarre combination that worked.
With Halston, the world of celebrity and fashion became one. His salon was frequented by many stars and socialites, including Bianca Jagger, Liza Minelli, Anne ford and even Patricia Nixon. Halston and his salon became a hang-out spot for New York's elite, and he would host parties amongst the clothes. The opening of legendary nightclub, Studio 54, in 1977 launched the New York social scene into a period of debauchery, exhibitionism and pure excess. Halston was one of the Studio 54 regulars, alongside Andy Warhol, Liza Minelli, Bianca Jagger and Grace Jones, to name a few.
Halston, much like his close friend Andy Warhol, realised the power of celebrity and used it to build his brand, leading him to be considered the first celebrity designer. Halston also transferred this celebrity power to his models – the "Halstonettes" referred to Halston's clique of regular models, including Alva Chinn, Pat Cleveland and Karen Bjornson. The Halstonettes were renowned for their ethnic diversity, and they were trailblazers for future African-American models on the runway.
As the 70s raged, so did Halston's reign. The 1970's saw the inception of his trademark looks, strapless dresses, rayon dresses, knits, asymmetric pieces and spiralled pieces. Previously biased towards leathers and suede, Halston had transitioned into a love of the bias cut and single-seamed dresses. Halston's modern, pure uniform was adored even by designers completely estranged from him. Donna Karen stated he was not only one of the most influential designers, yet also that he "represented all that was modern and pure. What more could a designer hope to be?"
He had made a foray into menswear, handbags, lingerie and even perfume, after a deal with Max Factor in 1975. He'd been commissioned to make everything from flight attendant uniforms to the U.S Olympic team's uniforms. His success peaked in 1978, when he moved his offices into New York's Olympic Tower on Fifth Avenue, a perfect symbol of Halston's rule of the city. He'd also helped the United States establish themselves as a key player on the global fashion stage, seen in Halston's involvement in the famous 1973 Versailles fashion show, where five American designers showcased their pieces alongside five French designers. Halston had an immense impact on fashion both globally and locally, and his desire for more would ultimately be his downfall. Halston famously once proclaimed, "I want to dress all of America."
In the coming years, Halston lost more and more control of his company. In 1973, Halston and his partners pioneered the risky decision to sell his business and trademark- Halston Limited- to Norton Simon, effectively surrendering the company and his name. His success still managed to be on the incline in the mid '70s. Magazine articles would question whether Halston was ever going to fully take over the world of fashion. These ill-advised decisions would later return to be the demise of his career. 1975 saw the introduction of a unisex line that was progressive and inclusive and 1976 saw the introduction of the designer's enormously successful first perfume. 1977 signalled Halston contracted to design pilot uniforms by an International Airline. Yet, the beginning of the 1980's foreshadowed the end of Halston.
Halston's demise may be attributed to the exhausting task of producing 10 collections per year. Halston's workload was inhumane, in addition to 10 collections, he had to oversee the aforementioned uniforms, menswear and other items production. Halston's success was now dwindling and his inspiration waning.
Other's attribute the demise to a multitude of licensees eventually derailing the company. In 1983, Halston signed a six-year deal with department store chain J.C Penney, in which he would launch an affordable clothing line. The prices of the pieces were between 24-200 dollars, a vast change that permanently tainted Halston's image. At the time, this controversial decision was slated by retailers. That same year, Esmark acquired Halston, under Norton Simon. These two acquisitions by conglomerates that had no understanding of the fashion world, as well as Halston's own personal battles, led to a loss of creative control and he was eventually barred from creating designs. The luxury attached to the brand had soured following the J.C Penney deal – with many thinking that his designs were now 'cheap' and Bergdorf even dropped his collection from their stores.
Halston's personal and social stature also overtook his hunger for fashion. Ostensibly, he started to spend more time socialising, along with using drugs that fuelled a downward spiral in his personal character. In 1984, Halston took a two-week holiday from the Enterprise but never returned. Halston continually attempted to buy back portions of the company but he was not successful.
However the downfall of the designer's career was due to his notorious wild drug fuelled parties in his New York home. He eventually spiralled down into drug abuse and later lost control of his company and died of AIDs complications.
And now Halston's life Is being transformed into a miniseries starring Ewan McGregor which is reported to be set to run on Netflix in 2021. The actor will star in and executive produce a series based on the life of the legendary designer, written by Sharr White of The Affair and directed by American Crime Story's Dan Minahan. The show, called Simply Halston.
We expect Halston's legacy to be in good hands – director Dan Minahan was behind several episodes of American Crime Story: The Assassination of Gianni Versace, which depicted the murder of the Italian designer in 1997. As for McGregor, it's hard to deny the physical resemblance between the two.
The legendary celebrity designer Halston was truly ahead of the curve, pioneering branding techniques that are still used in the fashion world today. He built the first American fashion empire, and while it might've seemed like an unrealistic dream, he paved the way for today's fashion conglomerates.
Halston even bridged the gap between high fashion and retail, allowing collaborations like H&M X Moschino or Target's collaborations with Missoni and Jason Wu. Despite his demise, Halston's challenging of the status quo in the 60s and 70s can be felt today, leading to a complete re-invention of what it means to be a designer.
Discover more of Halston's life story in Fashion Industry Broadcast's Masters of Fashion Vol. 32 "Americans". Available via Amazon – worldwide!
Subscribe to FIB's Weekly Alchemy Report for your weekly dose of music, fashion and pop culture news!