When you hear, 'Rapper', do you visualise a person with body full of tattoos, drifting in a Lamborghini, surrounded by size zero models in their bikinis, performing a steamy dance?
Well, its time to change this. If you are ready to let go off your misconception, start with Alyona Alyona, the Ukrainian rapper who is breaking stereotypes.
In 2018, a music video featured a woman in a plus-size bikini embracing her body beautifully while spitting lyrics like a fierce dragon that broke-free from the traps in a dungeon. That's the 29-year-old Ukrainian rapper, Alyona Savranenko who goes by the stage name Alyona Alyona. Her hit single, Rybki  meaning Little Fish compares herself to being the fish behind a glass in an aquarium that is apathetic towards people's opinions. The lyrics in the song go, "You throw words on the water/ They fall like stones/ Straight to the bottom."
Alyona grew up like a normal child who loved to watch cows graze and mushroom picking in the forests of a small region named Kirovogradskaya in central Ukraine until, she first heard "Gangsta's Paradise" by Coolio at age 12. Since then, her life transformed. In a conversation with Prio.Org, she mentioned that, "The first raps I heard were probably American — Eminem. I started translating them."
The hip-hop culture in Ukraine was popular by the late 1990s, though it was hard for Ukrainian-genre rap to become famous amidst English language and the Russian sphere, Alyona made a mark of her own. Following the footsteps of one of hip-hop's rap gods, Eminem, Alyona would often find meaning in his texts, then would memorise it and develop a flow in her rap. Her curiosity towards rap paved way to create her own singles that are powerful and enthralling.
Initially she began writing songs that focused on drug abuse and the street life she witnessed around her. This was her primary attempt to be accepted by the Ukrainian rap culture, however, it didn't convey the real 'Alyona Alyona.'
It was essential for her to hold onto her dual identity, a kindergarten school teacher and an Ukrainian rapper. Her vocabulary in the Ukrainian language was so strong that her eloquence in rap occurred naturally.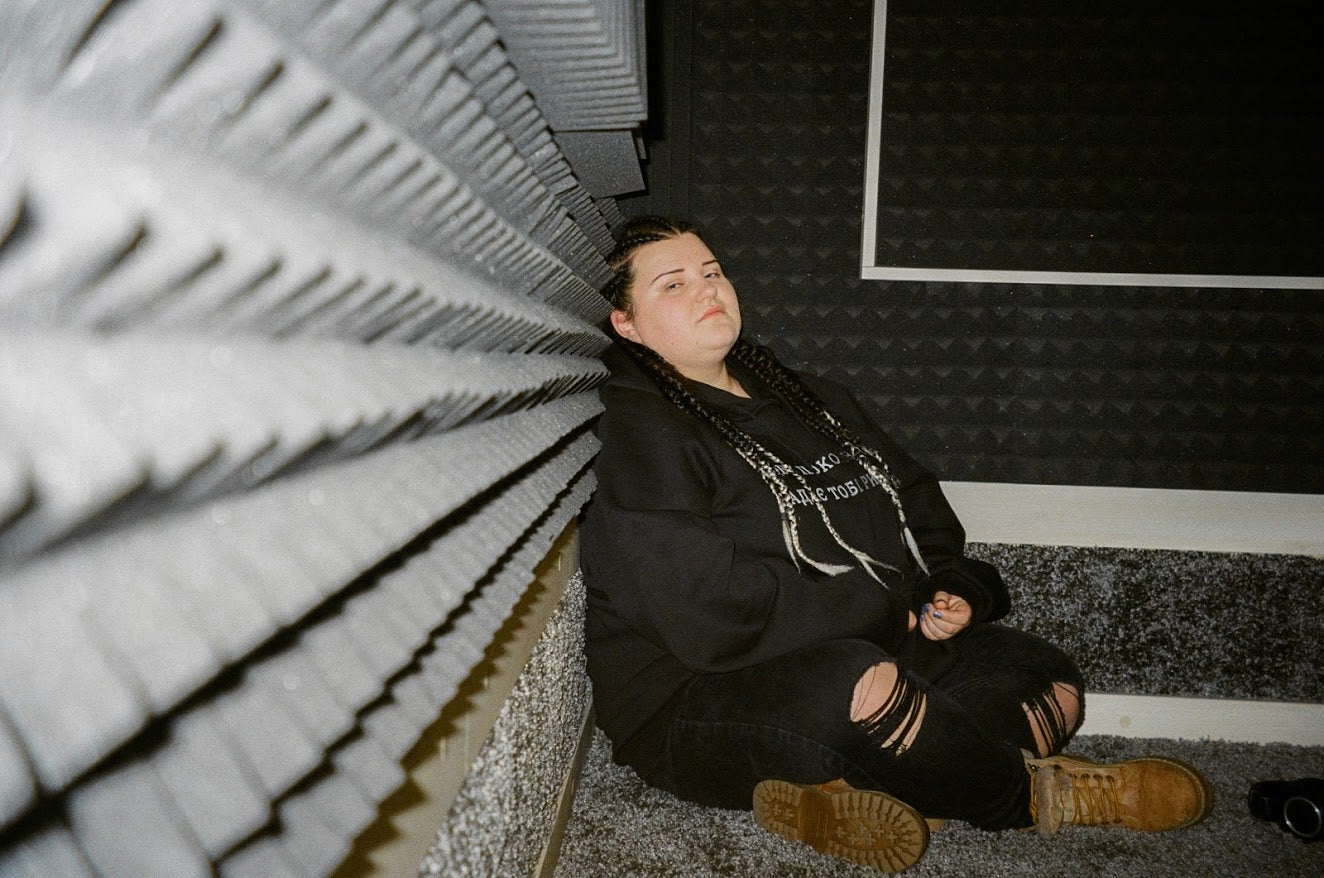 Music has no language and Alyona utilises this effectively in her rap. Just like her single, Rybki which talks about fishes that swim in water, it has an underling meaning to it. Contradicting the ordinary, Alyona's rap is not about drugs, money or drama, but it's as simple and relatable as her. In a talk with the Vogue, she stated:
"I speak about myself and about people who I know, who are next to me, normal Ukrainian people and young people. I speak that people need to accept us as we are and need to believe in us and let us do what we want to become and do what we want. I talk about how we become tired of telephones, and how we want to run away somewhere where we can play music. I talk about how I moved and left our homes and we are sad and miss our homes. Normal things."
One doesn't need to learn Ukrainian to learn about Alyona, her rap portrays the magnitude of her personality.
Her rap impeded an important stereotype that lurks around female rappers in the west. The kind that is hyper-sexualised and unnecessarily provocative. Alyona's exterior is not subjected to a specific aesthetic. High heels, tight-fitting clothes, low-cut neckline revealing breasts is not her thing, rather shorts or baggy jeans, leggings and sneakers is her identity. 'Rybki' being the exception.
Her popularity grew immensely for two things: Her style of rap & optimism in them. Her next single, titled Pushka helped Alyona re-define the expectations of a female rapper in Ukraine. Her album is every bit of celebrating your self than anything. The word translates to 'Gun' but as a slang, it is 'Pishka!' or 'The shit'.
One of the lyrics goes as follows: "Tattoos on my face aren't my thing. I'm simply the shit. Pishka!" This word in Russian refers to a round, sugary fried doughnut and a plus-size woman. She takes pride in calling herself, the 'Pishka!'
Music was merely a hobby for Alyona, until she used rap to spread the message of accepting and cherishing one's own personality. The inspiring factor about Alyona is she adorns diverse hats such as a nursery teacher and a rapper. Both being poles apart. No wonder the village kids admire her spirit at its entirety. Who wouldn't love a teacher turned rapper? Every class would be like a rap song; Alyona with her riveting vocals teaching each paragraph like the stanza in a song.
The reason Alyona holds a special place in the people's heart is due to her humble nature. Despite being an ambassador for change in the Ukrainian rap culture, she believes that deep down, she is a simple, kindergarten school teacher than earns $200 a month.
It is rightly said that teachers are the biggest inspiration to students and Alyona is not just a worthy teacher in a classroom but an advocate for change in representing female rappers in the rap culture.
Subscribe to FIB's Weekly Alchemy Report for your weekly dose of music, fashion and pop culture news!