Bob Mackie, born Robert Gordon Mackie on March 24 1940, is a renowned American costume and fashion designer, mastermind behind lists of charismatic entertainment icons. From his personal humour to outrageous glamorous glittering capabilities, the world has not seen enough of the legendary costume designer.
Nicknamed "the sultan of sequins" and "the rajah of rhinestones", Mackie deems "a woman who wears my clothes is not afraid to be noticed". A nine-time Emmy winner, three-time Oscar nominee as well as an induction into the Television Academy Hall of Fame, there is nothing Mackie hasn't accomplished in his five decade career.
Born in California, and raised by his maternal grandparents, Mackie completed high school but didn't complete a degree from neither Pasadena City College nor Chouinard Art Institute. He desire was always to make a footprint in the entertainment industry, even if he didn't originally want to become a costume designer. "I wanted to be in show business" Mackie says. He had learnt how to sew with a sewing machine gifted to him by his grandmother, and began to create costumes for small, local theatre groups, in hopes of building a portfolio. With his never-ending bursts of creativity, he landed his first job sketching for Frank Thompson at Paramount Studios shortly after high school, then worked as a novice designer and assistant under designer Ray Aghayan, who became his partner professionally and personally.
Mackie's professional career kicked off in 1961, as a sketch artist for Jean Louis. He then moved to being a designer for Edith Head at Paramount Studios. Notable for her work in The Sting, Roman Holiday and several Alfred Hitchcock films, Edith Head was the most famous costume designer of the time, having won a record eight Academy Awards between 1949 and 1973. Working under two of the most influential and inspired designers in an assistant position, marked the beginning of his renowned fashion career.
His first creative project, in 1963, was a costume designer for The July Garland Show at age twenty-three. Several years later, in 1966, Mitzi Gaynor, an American actress, singer and dancer, hired Mackie to design her new stage for her Las Vegas Review as well as her television appearances. Over the next half century, Mackie continued to design Gaynor's television specials and live stage shows. Worn by Gaynor, his sleeveless, off-the-shoulder floor-length gown made of flowing pink material with lace sequined appliqués hugged by a large sparkling rhinestone belt buckle is now a collector's piece. He received two Emmy Awards for Outstanding Achievement in Costume Design for Music-Variety for Gaynor's TV specials.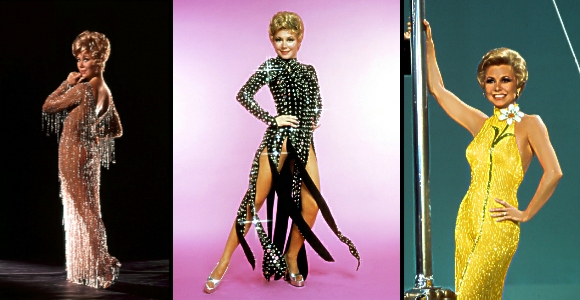 Mackie continued to work in costume designing including working with Diana Ross from 1969 to 2010 for her last tour. Ordering beaded costumes with matching boas and headdresses to yellow and ruby red feathers, Ross was a frequent caller. The television productions involved elaborate and intricate sets, which Mackie overlooked. Tina Turner amongst many has also turned to Mackie, in which he made a series of firebird-style sequined dresses.
Carol Burnett and TV producer Joe Hamilton recruited Mackie after seeing the success of Gaynor's Las Vegas shows. He was allocated the task of designing the entire wardrobe, for the first Carol Burnett Show. Time magazine has listed the comedy variety hour, The Carol Burnett Show as one of the "100 Best TV Shows of All Time". From there, for eleven successful years, Mackie was dubbed the show's costume designer.
It was on the Carol Burnett Show in the "Went with the Wind" parody of "Gone with the Wind" that the iconic "curtain dress", also known as the "Starlett O'Hara" gown was showcased. Born from Mackie's sense of humour, the glamorous dress, created from a window curtain, involved a curtain rod that was worn between shoulders. The "curtain dress" eventually became one of the greatest sight gags in the history of television and went down in fashion history. He was able to win the audience over, with the longest audience laugh recorded on television at the time.
Today, it lives on in the collections of the National Museum of American History in Washington. The Carol Burnett Show welcomed new guests every week, giving him the chance to bring about designs that were once on paper. It's worth noting Mackie's extensive theatrical credits during this time, including Lorelei with Carol Channing, On the Town with Bernadette Peters, Platinum with Alexis Smith, amongst many.
What originated as a guest styling relationship between Mackie and Cher on the Carol Burnett Show with Sonny Bono (her then husband) in 1967, eventually became one of the greatest designer-celebrity collaborations. Having first seen Cher, Mackie had initially no idea how to dress the girl who was "beautiful and slender with long black hair". "I love beads" she had said, "I'll come back to you when I can afford it". It wasn't a long wait, before Cher had her own show as The Sonny and Cher Comedy Hour in 1971 where Mackie had up to 20 costumes for her for an hour-long show. Cher's beauty and Mackie's visual fantasies were a perfect match, in which his designs ultimately ended up being an integral part of her image.
Alongside glittering constellations of evening gowns and minidresses, as the decades passed, his creations were becoming more memorable. From Cleopatra costumes to Viking goddesses to feather headdresses, Mackie's inventions were limitless. As equally well-known as the "curtain dress", the "naked dress", worn by Cher at the 1974 Met Gala, has set the bar for many red carpet dresses today. Walking hand-in hand with Cher, the sheer beaded gown and white feathered sleeves and skirt revealed much of the body. The fabric almost looked as if it were stuck to her body, given it was entirely see-through. Mackie's talents were once again proven in Cher's 1986 Oscars ensemble, in which Cher was nominated for her role in Mask. Cher's desire to "do something Indian – I want a big headdress" lead to the creation of an unmissable one-of-a-kind feathered Mohawk headdress. Paired with black stretch pants, a loincloth, knee-high boots and a black chain linked top, Mackie's designs were bold and Cher.
The compatibility of the pair are still evident in recent times as Cher turns to Mackie in 2008 for her three-year run at Caesar's Palace in Las Vegas in 2008 to The Broadway musical, "The Cher Show" in 2018. "The Cher Show" features over 600 costumes, designed by the fashion legend himself, Mackie. From sparkles to feathers to towering headpieces, the musical recounted more than Cher's career, but her life and fashion evolution.
Amongst many other icons, Whitney Houston is another one of Mackie's top clients. She debuted many of Mackie's splashy evening gowns at concerts and award shows, including her gold beaded gown at the Billboard Music Awards in 1991.
The 1970s was also a time where Mackie was sought out by Elton John. "We created highly amusing costumes together" Mackie said himself. Dressing Elton in jumpsuits with cut-outs and long fur and feather capes to sequinned baseball uniforms and the Donald Duck costume, the glamorous decade of the '70s was a costume designer's dream. Treating Elton like a "male showgirl", Mackie could not make clothes fast enough. Two notable costume designs included an elaborate black sequined tuxedo with tails, as well as an elaborate suit with a silver beaded fringe jacket for a concert performance. From fabulous to outrageous outfits, Mackie covered Elton head to toe in costumes.
In the early 1980s, Mackie himself made an appearance on The Love Boat, in an episode where they had invited several designers to put on a mini fashion show. "I'd like to point out that I've never been much of an actor" Mackie reflects.
Mackie's high-end ready-to-wear collection launched in 1982 ranging from clothing to home furnishings sold on QVC, a cable shopping channel. Closing it down after a few years, Mackie claims "I really despised having to create collections, organise shows and adapt my vision to ready-to-wear designs", stating he is more driven by the energy of shows and spectacles. Having created a mini-empire and brand to his name, there is still a range of Bob Mackie sportswear, perfume, luggage and furniture that can still be found on products.
The early 1990s saw a line of limited edition Barbie dolls designed by Mackie in collaboration with Mattel. The Mattel x Mackie collaborative partnership lasted for two decades with at least one Barbie per year, who would be wearing outfits that were sometimes inspired by those worn on stage by Cher or Diana Ross. Today, these Barbies have become collector's items.
Mackie was honoured by the Museum at The Fashion Institute of Technology in 1999 for his enormous contribution to fashion and costume design. "Unmistakably Mackie", home to over 125 of Mackie's designs, sketches, photos and careers from his career, became one of the most highly attended exhibitions in New York City history.
Mackie's work is constantly being recognised as time goes on. Recent achievements include the TDF Irene Sharaff Lifetime Achievement Award for theatrical costume design in 2007 and the "Charlie" (Chaplin) Award for Fashion Arts in 2008 by the Hollywood Arts Council, in acknowledgement of his contribution to arts in Hollywood. The Otis College of Art and Design, where over two decades Mackie has mentored students for, honoured with him the Design Legend Award and an Honourary Doctorate Degree. His most recent achievements include the Designer of Excellence Award in 2016 as well as a Geoffrey Beene CFDA Lifetime Achievement Award in 2019.
Today, Mackie works "10 hours a day, six days a week" leaving time to design brand new costumes for stars who reach out. As he himself is not wrapped in glamour, Mackie defines true glamour as "flourishing as a person and being at one with yourself".
Set for release in 2020, a documentary directed by Matthew Miele is set to cover Mackie's 50 year career in the showbiz industry.
Discover more of Bob Mackie's life story in Fashion Industry Broadcast's Masters of Fashion Vol. 40 "Americans". Available via Amazon – worldwide!
Subscribe to FIB's Weekly Alchemy Report for your weekly dose of music, fashion and pop culture news!