When it comes to character traits of a lady, it is often associated with beauty, then follows purity (or being a virgin) and intellect? Its optional. Subjected to such societal evils and hailing from India myself, I've faced many derogatory instances as a woman. And that is why I take pride in the Indian Novelist, Amrita Pritam whose radical stance against the patriarchal system in the 60s gives me goosebumps!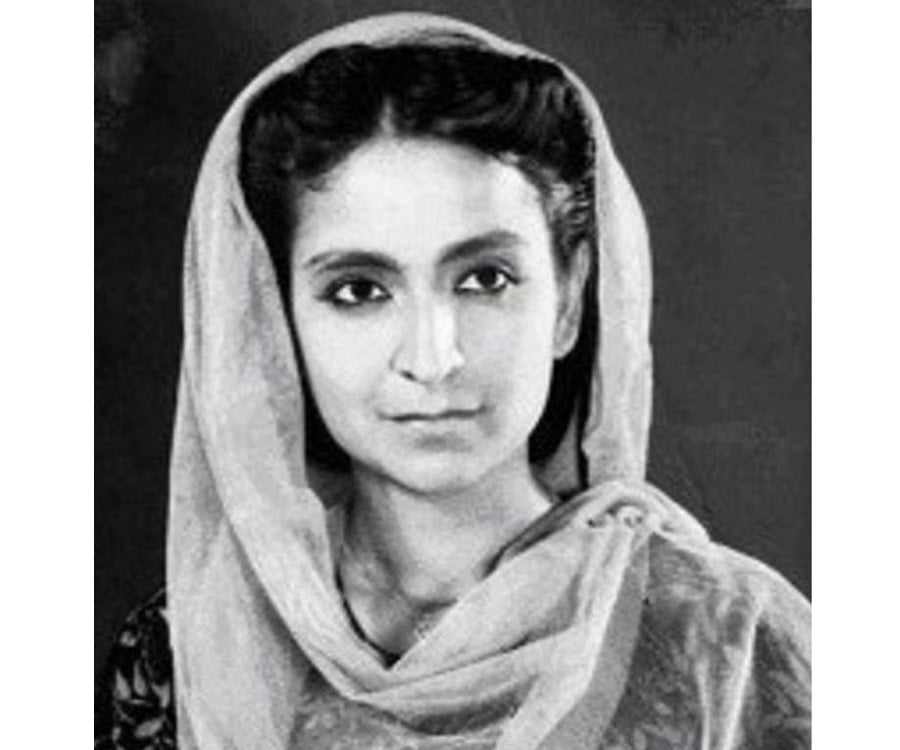 For years, women have faced the backlash of societal stereotypes. Especially during the past when the society glorified the notion of an 'ideal woman', the one who remains within the realms of social standards and is submissive to toxic masculinity. The Feminist movement declared a new wave of accomplishment for women.
In the present generation, after years of sabotaging the face of women, we see tales of women breaking the boundaries of the 'ideal women'. And yet in the 21st century, it is saddening to see women continued to be deprived off their basic right to choose and embrace.
Born on 31st August 1919 as Amrit Kaur in Mandi Bahauddin, Punjab (present-day Pakistan), that officially marks 101 years of Amrita Pritam and her literary works that still circulates the hall of fame.
Brimming with Naivety, she lost her mother when she was just 11 and was plagued with loneliness that pushed her to find comfort in writing. Her first anthology of poems, Amrit Lehren (Immortal waves) was published in 1936. Such was her unwavering passion towards writing poetry. Around the same time, she got married to Pritam Singh, this was in her early childhood when families cared less about the bride's consent and thought of the girls as a 'Burden'. Her marriage lead to the name she carries today, Amrita Pritam.
Her work involved several poems, short stories and novels. And she is renowned for her melancholic poem, Ajj Aakhaan Waris Shah Nu (Today I Invoke Waris Shah), a poem that adheres to the 18th century Sufi poet, Waris Shah. Her poem excessively spoke about the devastating time in Punjab during the India-Pakistan partition. This period was a massacre in history and Amrita witnessed this partition. Her words depicted the horror that engulfed the women of this time. She called out to Waris Shah to become the chronicler of the brutality inflicted upon women.
She was not just an essayist, a novelist or merely a poet, she was all-in-one progressive woman that became the voice of those voiceless women that faced the wrath of partition.
Her work as a romantic poet involved serene and tranquilizing lines that could easily transform a stone-hearted criminal. Her pen was her medium and the world her canvas to depict love. Her Punjabi poem Men Tenu Phir Milangi (I Will Meet You Yet Again) invokes such strong feelings in the hearts of everyone. It seems like those lines were meant for the world to relinquish hatred and accept love forever.
A short except from the poem:
I will meet you yet again
How and where
I know not
Perhaps I will become a
figment of your imagination
and maybe spreading myself in a mysterious line
on your canvas
I will keep gazing at you.
Soon her stance as a romantic poet changed to becoming an integral part of 'Progressive Writers' Movement' which was a liberal literary movement during pre-partition India. In 1944, her poetry collection titled, 'Lok Peed' (Anguish of the Public), Amrita criticises the depleting economy due to World War II, and the disaster caused by the Bengal famine in 1943.
Since then her work primarily broadened into highlighting the vulnerability of masses and openly showcasing her rebellion towards socio-political atrocities.
One of the things that stood out in Amrita's works was her courage to speak the unspoken. Those statements that would trigger the government and put them on a pedestal, it was her severe polemics about the futility of pseudo-nationalist, flag-waving patriotism that  triggers many emotions even to this day.
'Brave are the people of my nation
Brave are the people of your nation
They merely know death and assassination
Offering heads as sacrificial libation
That the head is never one's own
Is a separate conversation
This Man is a corpse
Rare like God's own corpse
So when in the midst of Man
This piece of God's own land
Dies
Then its disliked odour
Does not rise ever
There is no lover
And neither is proximity a fear
No danger of pain
Just a border which is bigger domain
It makes them a subject of ridicule
Remove those borders which do not suit the rule
So the entire victory is free of disruption
And the whole feast is free of obstruction
On the lip of time a smile
And fixing on their bosom
Many medals of valour, impotent, unwholesome'
From an unpublished interview conducted by Mukti Verma in 1992 revealed a bold and fearless Amrita speaking her mind about nation and its constitution. This extended cut of the interview was published on The Live Mint.
"It was a good phase that got even better when it ended because nobody was willing to answer my most fundamental questions at the time. The Vedas say that if you do not familiarise yourself with the root, new leaves shan't sprout. You must welcome the new leaves. But today there is an attempt to gain power and wealth in the name of democracy."
Her charisma and valour know no bounds and she even went on to become the first woman who won a Sahitya Akademi Award. This was in 1956 for her celebrated poem 'Sunehade' (Messages). The poem is renowned to be her magnum opus.
Amrita's works highly focused on the empowerment of feminine desire and consciousness that was forced to be submissive within the society. She was a brutally honest and a rebellious writer who was unafraid to touch on taboo subjects. Not just that, her works also highlighted the notion of masculinity and its related constructions much before 'toxic masculinity' was discovered to exists.
She was so ahead of her time. Her literary works are a masterpiece and though her physical presence has ceased to exist, her legacy continues to spread through her many poems that encourages us to 'Love Big' and be courageous to question the purpose of life.
I find it hard to conclude this article because Amrita's works are legendary. I leave you with this calming balm she wrote for her love, Imroz:
When the body perishes
all perishes
but the threads of memory
are woven of enduring atoms
I will pick these particles
weave the threads
and I will meet you yet again
Subscribe to FIB's Weekly Alchemy Report for your weekly dose of music, fashion and pop culture news!