Almost immediately after his eponymous label exploded onto the American fashion scene in 2005, Alexander Wang became the proxy uniform maker for a youthful hipster tribe of New York City females. A tribe he bequeathed the acronym the "M.O.D", or model-off-duty. And a bevy of "it-girls" like Erin Wesson signed on to become his loyal muses.
Written by: Paul G Roberts & Patrick Ross Wang's tribe were everything the other established designer's patrons were not. They were hip, savvy, and young, really young, like no one over 30, which was a seismic age shift from the society matrons and Hollywood stalwarts like Lauren Hutton and Tom Ford's go to, Julianne Moore who were the usual designer front row suspects.
This same age, demographic who populated the front rows at Tom Ford, Ralph Lauren, and Marc Jacobs. These ladies were antiques compared to Wang's posse, who came with Nirvana's "teen spirit".
With Wang there was no  particular look, but rather a youthful hip attitude and sense of effortless easy cool that had that quintessential Wang from the West Coast. Wang was a Californian transplant by way of Taiwan, Wang grew up steeped in genuine beach culture; rather than as some elitist purveyor of status and fantasy, he aimed for something that's even harder to deliver: "Clothes that girls want to wear." This uniquely fresh purpose was what, no doubt, attracted the powers behind the house of Balenciaga when he was appointed creative director from 2012 to 2015.
Alexander Wang was a breath of fresh air to the fashion scene, and has since established himself as one of the most adventurous designers in the industry. He brings his iconic style and finesse to his sportswear collections, and is now considered a revolutionary of sportswear fashion. It is a name for the everyday.
He influences people with his charismatic way of elevating normality, to bring style to the lounge room and nightlife alike. His career may be short, but the impact he has had on modern fashion can not be questioned. Alexander Wang is the name for the future, and by following his simple mantra of: "live life without regret", he is clearly not holding anything back.
Alexander Wang was born the day after Christmas Day in 1983 – surrounded by colour, frivolity, and excitement was a sign of what he would bring to the world of fashion. At the young age of 15, Alexander Wang attended a summer design program at Central Saint Martins, and from there he was hooked to fashion like a coat to a hanger, and soon after hosted his very first fashion show at his brother's wedding, showcasing 35 different outfits he designed for the bride. From there, he became a proficient and iconic American fashion designer at the forefront of the current creative climate, his young age never restricting his obsession to make the world of fashion his own.
At the age of 18, Wang moved to New York City to attend the prestigious and highly rated Parsons School of Design, and after only 2 years, he decided to make it on his own and launched his own fashion label with a knitwear collection that soon blossomed into a complete ready-to-wear collection on the New York catwalk that brought Wang's talents to the forefront of the fashion industry. From stunning the masses, Wang went on to be awarded the Council of Fashion Designers of America and Vogue Fashion Fund in 2008 that includes a generous $20 000 reward to go towards the expansion of his business. His name was gaining traction and he wasn't letting go.
He began to make a name for himself in urban designs, reflecting on individuality, obsessed with defying stagnation. After designing a Fall 2008 collection using black as the predominant colour, he then followed it with his Spring 2009 collection using bright colours like orange, dusty purple, aqua, and hot pink as to really showcase the wonders of the natural world. As of late, Wang has reverted back to his black-fabric roots of design, but the constant want to change, and his outstanding tailoring skills, is what makes the Wang brand an iconic staple of modern fashion.
In 2009, Women's T by Alexander Wang was launched and brought elegance and youthfulness to staples of urban designs, and was awarded the winner of the CFDA's Swarovski Womenswear Designer of the Year Award, showing that his own peers recognised his immense talents of fashion design, and was also awarded the Swiss Textiles Award that acts as a spotlight for younger designers.
A year later, he would launch the Men's T range and his very first handbag collection, resulting in him being awarded another Swarovski Designer of the Year Award in the Accessory category, proving that he could adapt his style. In 2011, Wang was awarded the Best Menswear Designer of the Year by GQ US, and won the CFDA's Best Accessory Designer Award, again proving that his talents were not restricted to menswear, and shows that the need to adapt is crucial to a designer's influence on world fashion. In 2013, Fashion Group International honoured Wang with the Fashion Star. He was stitching his legacy into world fashion.
The opening of Alexander Wang's first store in SoHo, Manhattan, on February 17 2011 was seen to be a catalyst for a rejuvenation of Lower Manhattan's fashion, now 700 stores worldwide stocked his lines. Luxury stores like Bloomingdale's, Barney's New York, Neiman Marcus, Bergdorf Goodman, Dover Street Market, Browns and Net-a-Porter. Along with the wholesaling of his collections, Alexander Wang has also opened 16 of his own signature boutiques across 7 countries, including France, Japan, and Denmark.
Alexander Wang was growing, not just in name but also in design, spreading his wings to jewellery where he collaborated with designer Betony Vernon. They designed Second Skin cuffs that would bolster Wang's Autumn/Winter collection with perforated details that would hint at what Alexander Wang had in store for sportswear.
His Resort 2012 women's ready-to-wear collection was inspired by the competitors of the London Olympics, especially the competitive swimmers, cyclists, and girls prepping for marathons. The collection featured perforated track vests, patchwork windbreakers, and utility track pants accessorised with heeled sneaker-sandals, all translated for his urban loyalists with extreme skill and in intrinsic Wang style.
It was a largely confident and focused collection from the young designer, which brought with it acclaim from Vogue.com stating that "although Alexander Wang isn't designing uniforms for the 2012 Olympics, his phone will likely ring off the hook next time around now that this collection's out". A fashion designer relies on the constant chase for intrigue and Wang embodies this brilliantly, as he reminisces on sports: "I never really did sports growing up, maybe that's why they intrigue me. The technology that goes into that clothing is steps ahead, so it's always been something I look towards".
His interest in sportswear and his keen eye for design screamed out for someone to take notice, and it was not until 2018 when Adidas collaborated with Alexander Wang to design the latest collection of athletic apparel, which launched in 2019.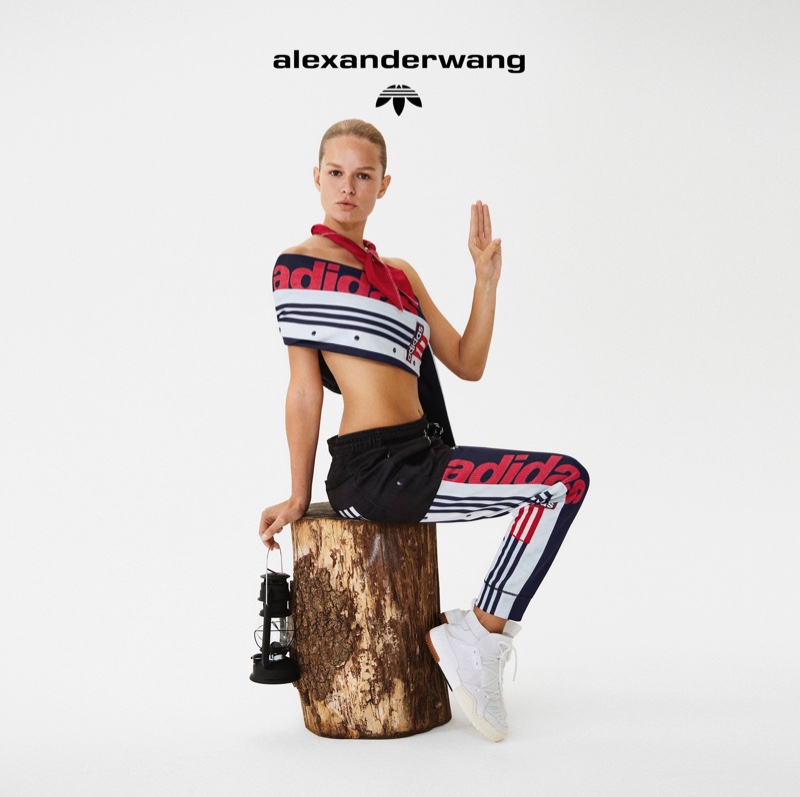 From a young fashion designer, Wang became the Creative Director at Balenciaga from 2012 to 2015 after Nicolas Ghesquiere departed. Alexander Wang was evolving from a talented young designer to a world-class star of the fashion world. His first collection was faced with a cold response, as European designers were concerned whether the prestigious brand could uphold its reputation with Wang at the helm of creative control. The collection featured jackets and coats with strong, curving shoulder lines, with narrow pants that were reminiscent of Ghesquiere's style with hourglass coats and column dresses. As much as his career as the Balanciago Creative Director was short, his return to New York proved he still hard a burning ambition to show more of what he could do under his own name.
He focused on the women's and men's ready-to-wear and accessories lines, building on his already established expertise of design.
In February 2013, Wang's debut Fall-Winter Balenciaga collection took place at the historic Balenciaga salons, and a year later, he released a collection for the Swedish-based fashion retailer H&M, available at a selected 250 stores worldwide and online, with the pieces being for both men and women. This collaboration showed that Wang was a designer for the people, the everyday person, and the urban dweller. He was not creating for name's sake, but to bring elegance to the masses.
Again awarded for his influence on fashion, he was included as one of HypeBeast's HB100, which honours the top 100 influencers of the fashion industry, as well as being included on Time 100, a list of the most respectable influencers that dominate society and culture. It was clear that Wang was taking hold of the fashion world. He was appointed the CEO of the Wang brand, succeeding his mother, Ying Wang, and sister-in-law Aimee Wang.
Despite the positive media, rumours of poor working conditions in his workrooms began to appear, and regardless whether true or not his name was still being tainted. Through Wang's career, approximately 30 workers have come forward to criticise the conditions of their working environment. Along with these complaints, Alexander Wang was charged with an approximate $50 million lawsuit for operating a sweatshop in Chinatown, Manhattan. Wenyu Lu, one of these workers, came forward and announced that he had to be hospitalised because he was forced to work more than 24 hours continuously, with other workers complaining about working for over 15 hours per day in an area with no air ventilation. His identity and company were on the defense, but in 2012, the allegations were deemed to be false.
The Wang name was again under attack in 2015 from over 45 defendants operating 459 websites that sold counterfeit goods bearing his name. A name that has cemented itself in world fashion, a name that thrives for individuality and adaptability, that influences the young designers of world fashion to pursue a life of change. He was awarded $90 million in damages and his name was flourishing in the fields of fashion once again.
Wang has continued to prosper with his 2020 Spring collection alluring us with nostalgia for the fashion pioneers of the past, like Calvin Klein, Ralph Lauren and Donna Karan. It is a fashion show that pays homage to the American fashion industry and the strong, confident, and sexy women that it represented. The bold shoulders and bodysuits were reminiscent of the empowering style of Karan, the sexy aesthetic of '90s denim and logo tees embodied the influence of Calvin Klein, and the wild combination of flannel, corduroy and suede brought the irresistible charm of Ralph Lauren to the Wang catwalk. Wang reflected on the past to convey the beauty of the future by deliberately casting multicultural models to emphasise the power of women and the power of difference, as well as fixating on the colour white as to symbolise the suffragettes and to convey a sense of hope during a time of of restlessness and despair.
At the still young age of 35, Wang embraced his playful side and using his social influence, collaborated with Trojan condoms with his capsule collection "Protect Your Wang" as a way to both celebrate the LGBTQ community, with proceeds going towards the New York City LGBT Center, and to spread awareness for sexual health. The collection featured T-shirts, socks, hats, bandanas, and, of course, condoms, to educate the masses on the importance of inclusivity.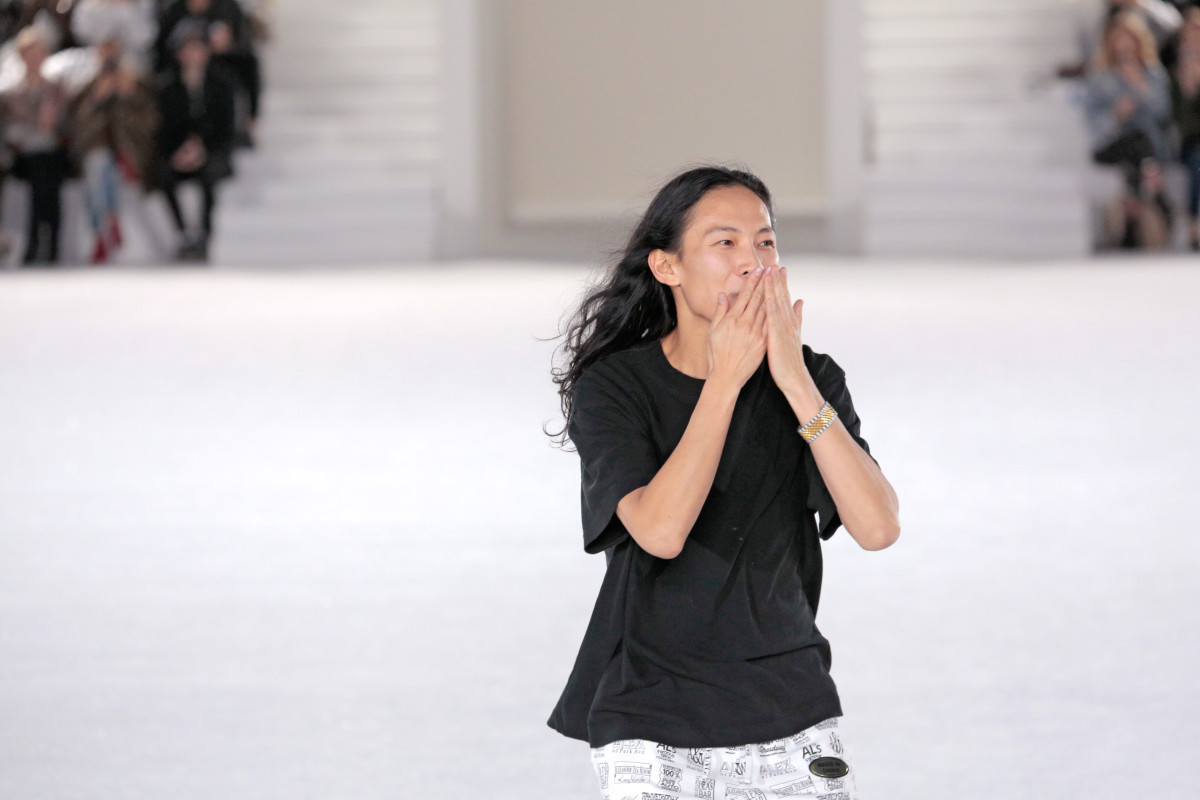 Wang remains a revolutionary in pushing for positive, social change and urges other influential designers to follow suit. Alexander Wang possesses a burning passion to bring style and luxury to the world of sportswear and has forged the Wang name as a staple of modern fashion, embracing the everyday rather than dismissing it.
"There's this idea of elevating the everyday that I've always been attracted to…. When people think of sweatshirt they probably think they're sitting at home, watching TV on their couch and their throwing on their comfiest sweatpants and sweatshirt…but then that idea that you can take that item, and that reference, and apply to something abstract but still have that connotation I think is interesting."
The Wang brand is soaked with relatability and is the driving force to ensure the brand represents its values of solidarity and sensibility.
Alexander Wang is a name of the future and has stamped his name onto not only on the American but also the world's stage. Not only did he revolutionise sportswear, but also championed the idea of young designers who were deprived of opportunities and coverage. Wang proved that the future of fashion is in the hands of the next generation of designers, capable of becoming the prodigies of the next era, the next iteration of the Calvin Kleins and the Ralph Laurens.
As much as Alexander Wang has influenced the world of fashion in his short career thus far, he is only growing in confidence. Currently, the Wang brand produces approximately $150 million in revenue with around 300 employees around the world is steadily becoming one of the largest names in fashion. And it seems like it is only the beginning of WANG NATION.
Discover more of The Alexander Wang's story in Fashion Industry Broadcast's Masters of Fashion Vol. 31 "Americans". Available via Amazon – worldwide!
Subscribe to FIB's Weekly Alchemy Report for your weekly dose of music, fashion and pop culture news!