In the midst of the COVID-19 pandemic and the ongoing fixation with Instagram, questions about the relevancy of street style and street photography have been raised.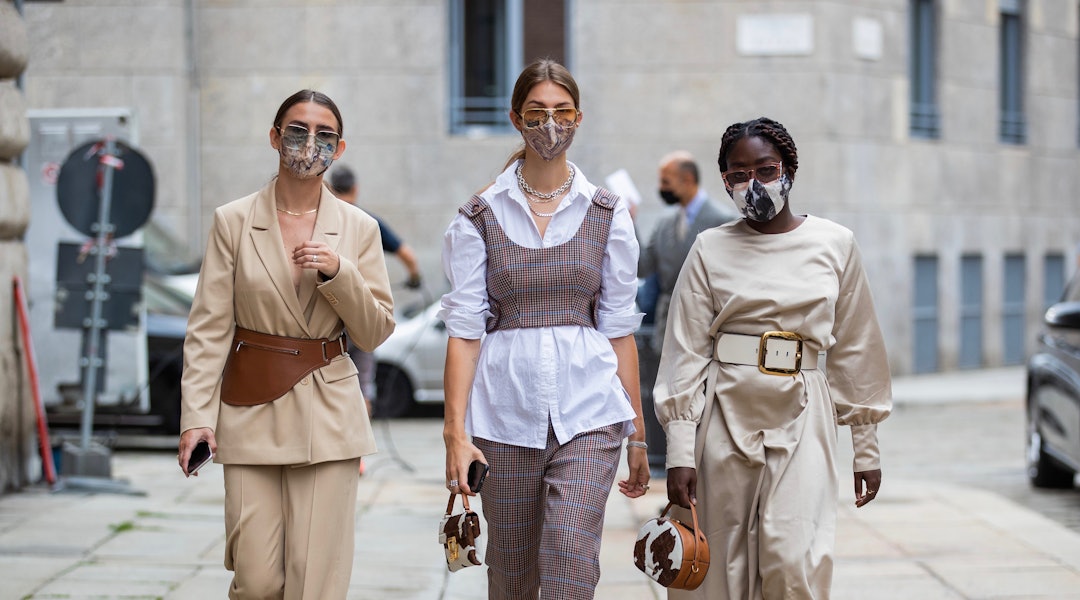 Street style from this year's SS21 Fashion Weeks was at times, repetitive with almost every photo showing someone in a suit or some variation of tailored attire. Now with Instagram, people are increasingly turning towards their favourite influencers to know what's trending and for style inspiration, and COVID-19 has made social media even more invaluable to bored, homebound individuals.
The current state of street style and fashion shows
Street style is defined as "fashion that is considered to have emerged not from studios, but from the grassroots streetwear." Currently, street style mainly consists of models and influencers styled in the latest trends, disregarding its original premise to become an extension of the exclusive bubble that is the fashion industry-high fashion has simply traded the runway for the pavement.
Or at least, that's what it feels like for the general public who see street style looks first on Instagram or other social media. The Instagram algorithm is an enigmatic machine and somehow, we all get suggested people like Chiara Ferragni and Victoria Magrath from 'InTheFrow.' People who are all on the PR list for the same luxury brands who send the same items. It makes for a very homogenous look that if seen enough times (especially if it's in a 'candid' street photo) by potential customers, will boost sales.
Not to say these people aren't fashionable or don't have a sense of style, but digital marketing, 'flex culture' and age of the influencer has truly made for a limited pool of designers and trends donning a limited pool of models and influencers. And who's to say they genuinely want to wear it when they've been gifted it and are pressured to maintain a business relationship? With the attention on celebrities and not well-dressed unknowns, what distinguishes a paparazzi shot from an actual street photograph anymore?
So, the essence of street style shifted a while ago, and now even the street part of street style has shifted. With COVID-19's effect on the various SS21 Fashion Weeks, there was a noticeable lack of physical attendees and therefore, the looks they would be seen in, were also absent.
Are digital fashion shows a viable replacement for physical shows? Perhaps.
Brands like GCDS have pushed the boundaries of creativity to the extreme. In GCDS's show, it took digital to a whole new level: everything was animated including the audience, with animated versions of Dua Lipa and Chiara Ferragni 'present.' If we are continually offered high-calibre experiences like this from the comfort of home, people may truly turn their backs on physical shows. Moreover, access to the live digital shows, recordings on YouTube, and collection photos are being widely given to the public. Street style was once known for democratising fashion, but now it seems that the fashion show itself is being democratised.
So, if street style is no longer grassroots or even physically from the streets, and fashion shows are digital and more accessible, is this the death of street style as we know it?
The dying role of the street style photographer and the currency of street style photos
Of course, if street style is the dying body in question, then street style photographers are the heart that's giving out with it. With the death of street style photographer and legend, Bill Cunningham in 2016, Amy Arbus (daughter of Diane Arbus and iconic photographer in her own right) focusing on teaching portraiture, and Tommy Ton stepping back from street photography to work on his luxury brand Deveaux, it certainly feels as if the Golden Age of street photography is over.
The void left by these icons has been haphazardly filled by the aforementioned Instagram influencers. Again, in regards to the SS21 season, many influencers were sent items from the latest collections and posted pictures of themselves in these outfits in lieu of actual street style photography. Whilst it's a creative and smart marketing move, the art of street photography, with its celebration of individualism and candidness, has taken a backseat to the manufactured posts on Instagram.
Back in the day, a fantastic street photograph of you could have catapulted you into, or supercharged your fame in a more organic, 'word of mouth' way. Now, self-taken images specifically for social media generally feel more like self-promotion than art, which definitely undermines the currency and value of street style photography.
The future of street style 
So where to from here? It's definitely not all terrible and dismal. It's simply a time of significant cultural change that currently has some adverse, painful side effects. With any luck, the over-saturation of the homogenous Instagram aesthetic will bring about greater creativity on the platform-as it is already starting to do.
Meanwhile, something tangible to turn to is Asian street style, which has always felt one step ahead and more daring than Western fashion and street style. Looks from this year's Shanghai Fashion Week ranged from boxier fits inspired by traditional hanfus and cheongsams, to a fresh take on 90s style, deconstructed looks, and brighter, kitschy outfits reminiscent of Harajuku fashion. I'll be looking out for more inspiration from SS21 Seoul Fashion Week (20th-25th October) and Asian fashion as a whole.
But culture tends to snap back as a contrary reaction to current events, so Western street style could very well emerge stronger and more relevant than ever when things resume as normal.
Subscribe to FIB's Weekly Alchemy Report for your weekly dose of music, fashion and pop culture news!