The K-pop girl group sensation have made waves in the global music scene. Now, Blackpink have set their sights onto the high fashion industry, partnering with some of the world's most luxurious brands. 
Blackpink is a 4-member girl group from South Korea. Together, Jisoo, Jennie, Lisa and Rośe debuted in 2016 under YG Entertainment. They are enormously popular with an estimated net worth of approximately $9 million each. 
They're the best charting Korean girl group in history, the first K-pop girl group to perform at Coachella, and their music videos have set records on YouTube. They hold the title for 'Most-viewed music video within 24 hours' and are the first group and Korean artist to have three music videos with a billion views. Currently, they have the highest following on Spotify for the girl group category and on YouTube they have the highest subscriber count for music group, female act and Asian act. 
Their popularity and influence has extended well beyond Korea and Asia in general, breaking into the global music industry and collaborating with Selena Gomez, Lady Gaga and Dua Lipa. So how did the Blackpink journey begin and how did they end up partnering with the biggest French couture brands?
YG Entertainment
The South-Korean entertainment company was founded in 1996 by Yang Hyun-Suk. It is one of the largest entertainment companies in the country with some names like Psy, 2NE1, Big Bang and Treasure as part of its current and past clientele list.
The process of becoming an idol or K-pop star is a complicated one. Korea has a 'trainee system,' also known as idol boot camp. It is a very deliberate system in which young talent is scouted and from there, they go through exhaustive training in dancing, singing, language, appearance and PR. Several trainees live together in dorms where they have extreme working hours like 4am to late into the night.
The system is fiercely competitive. Trainees have described performing songs and dances for the bosses on a regular basis–receiving harsh criticisms, being graded, and then low-graded trainees are expelled. This is repeated for months, even years on end without trainees knowing if they'll ever debut. The system also shuffles trainees around to test various combinations of groups and roles. Typically in K-pop, each member has a role for example, being the designated rapper, key dancer, lead singer.
Several people go through training for years only to never debut simply because the management of these entertainment companies are incredibly selective or the individual quits before debuting is even an option.
Rise of Blackpink
Evidently, Blackpink is one of YG's greatest success stories and the girls went through the grueling training process like many other aspiring idols. The girls have surprisingly diverse backgrounds, which is becoming more and more commonplace in K-pop.
Lisa is originally from Thailand and had a strong background in dance before auditioning for YG Entertainment in 2010. Rosé was born in New Zealand before moving to Australia at the age of seven. She always had an interest in singing and learnt guitar and piano before auditioning for YG in 2012. Jisoo was born and raised in South Korea and joined YG in 2011 by auditioning. Jennie was also born in South Korea but at age eight she move to New Zealand and lived there for five years. She moved back to Korea in 2010 and auditioned then joined YG Entertainment that same year.
After years of training, they finally made their debut in 2016, being the first girl group out of YG since 2NE1 (seven years before). Their debut album Square One was immediately popular, with songs like 'Boombayah' and 'Whistle' charting number one and number two on Billboard's World Digital Song Sales chart respectively.
Popularity 
Blackpink has only been on an upwards trajectory. When their video for 'Ddu-Du Ddu-Du' was released in 2018, it became the second most watched music video of all time with more than 36.2 million views within 24 hours. It currently has 1.3 billion views on their YouTube channel, which has 52.9 million subscribers. The music video for another song 'Kill This Love' was released in 2019 and broke the record for 'Most views within 24 hours' with 56.7 million–it currently has 1.1 billion views.
A highlight in their career was being the first K-pop girl group to perform at Coachella in 2019, garnering positive responses from both critics and fans. In October 2020, their new documentary, Blackpink: Light Up the Sky premiered on Netflix and delved into the group's beginnings, rise to fame and current superstardom. Not to mention their Lady Gaga collaboration 'Sour Candy' has 87 million views on YouTube, the Dua Lipa collaboration 'Kiss and Make Up' has 157 million, and the Selena Gomez collaboration 'Ice Cream' has 400 million views.
Blackpink and High Fashion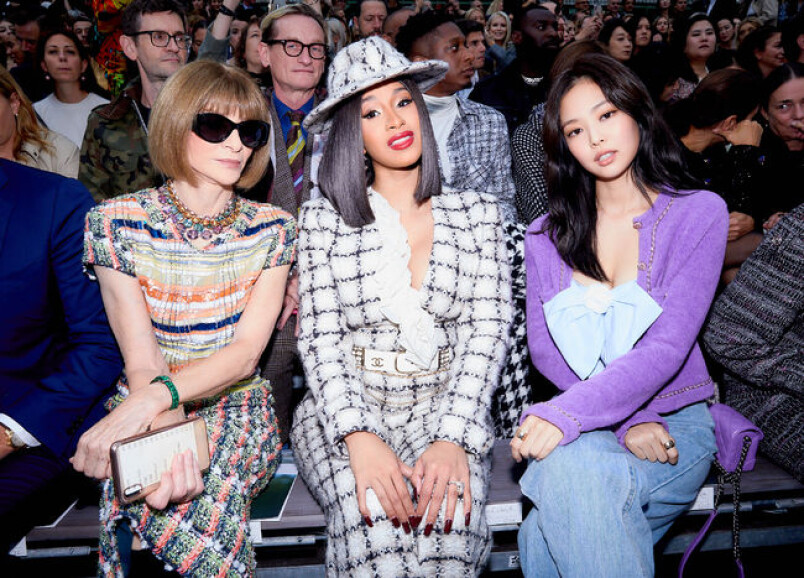 Due to their immense popularity, designer brands have taken notice and reached out to the members for partnership opportunities. The girls have been seen multiple times at the runway shows, sitting in the front row and posing with editors, creative directors and other celebrities.
Lisa is a brand ambassador for the French Maison, Celine. She was the first brand ambassador chosen by the new creative director, Hedi Slimane. Slimane himself took photographs of the Blackpink member, which were used to announce her partnership with the brand.
"To me, Celine is unrivalled, and Hedi Slimane has such a multifaceted talent—from clothing design to photography…He creates this rare, incredible, and desirable world through his vision. I'm always inspired by his work. It's truly an honor and pleasure to be able to work with Hedi as Celine's first ambassador."
If you're familiar with Lisa, Celine might be a surprising choice of brand to partner with considering Lisa's style seems bolder and more daring. Under the direction of Phoebe Philo from 2008 to 2018, the brand was known for more minimalist designs for the working woman. However, Slimane (who was the creative director for Saint Laurent for eight years) has changed up the brand with his edgier aesthetic, making it an appropriate fit for Lisa.
Jennie is hugely popular amongst fans for her fashion sense, and is often referred to as 'Human Chanel.' It was only a matter of time before the Maison noticed her–anything she wears becomes a trend. For example, the Chanel hairpins she wore in her debut single 'Solo' was so popular they were referred to as 'Jennie's hairpins.' In 2018, she became the Chanel Korea ambassador and a spokesperson said:
"Chanel aims for modernity…Young and trendy millennials are our target customers, in addition to our existing consumers. We are very interested in stylish K-pop stars. Jennie's loyalty to the brand as well her trendy style matches well with Chanel's image."
Jisoo is known for her more feminine, dreamy aesthetic which is why Dior made her a brand ambassador in 2020. Although this is one of the most recent partnerships out of the group (Jisoo was previously partnered with Burberry), she has been featured heavily on Dior's social media and YouTube channel, arguably more so than any of the other members with their respective brands. She has had two dedicated videos in the past two months on the official YouTube channel for Christian Dior, garnering a combined view of over 2 million.
Although the relationship between Saint Laurent and Rosé dates back to last year, it was only June of this year when it was announced that she was the new global face of the brand. Rosé definitely has more of a rocker, edgier element to her style and meshes well with the brand, which is now renowned for its effortlessly cool aesthetic thanks to the aforementioned Slimane. In particular, Rosé's bleach blonde hair and penchant for darker, grungier looks makes for some quintessentially Saint Laurent campaign shots.
It's evident that these fashion giants have seen the immense potential of using the Blackpink members as brand ambassadors. With a younger demographic mainly in Asia, these brands target a huge population–undoubtedly increasing sales because of the fans' dedication and love of the members and their wardrobes.
Subscribe to FIB's Weekly Alchemy Report for your weekly dose of music, fashion and pop culture news!