In my book NEXT published way back in 2009 I made the prediction; "NEXT. What to expect from the next 20 years. The key changes in business, technology, and in life. From mating and dating, from appliances to buildings, from communications to shopping, from advertising to education, from medicine to agriculture, your next 20 years is going to see science fiction become reality."
The rise of the 'age of the internet' has long promised us so much. There was the first .com boom followed by the busting of the internet bubble in the1990's, but since then the onward march of things digital has been relentless. All around us in pretty much every facet of our lives we see the far reaching effects of possibilities created through the digital revolution, its growth and far-reaching influence have brought about tremendous disruptions across all industries.
The 'age of the internet' has certainly been a double edged blade, on one hand it has opened up amazing new possibilities. This  is reflected in the fact that seven of the world's top eight companies by market capitalisation have been possible by the digital revolution. Apple, Alphabet, Amazon, Facebook and Alibaba to name just some. And to others the rise of digital has wiped out swathes of industries, companies and jobs.
The World Economic Forum and the Group of Twenty define the digital economy as a broad range of economic activities that use digitised information and knowledge as key factors of production, modern information networks as an important activity space, as well as information and communications technology to drive productivity growth.
To put it simply, the digital economy is organised, enabled and facilitated by technology ranging from computers, Internet to emerging ones like artificial intelligence and the Internet of Things.
Look no further than the brick-and-mortar retailers and taxi operators, which have been upended by the rise of e-commerce and ride-hailing platforms, respectively.
As the relentless march of technology leaves its mark across industries, some jobs have changed. While some became obsolete, others now demand new skills such as programming and data analytics.
The United Nations Conference on Trade and Development also named the emergence of digital platforms as a catalyst. These data-driven platforms, which enable different parties to interact online, have disrupted existing industries over the past decade and will continue to do so.
So we know everything about the new corporate goliaths like Facebook, but there have been many smaller opportunists who have also ridden this digital wave. Think every Social media 'star' or Instagram influencer, right through to Webcam girls, to 'bloggers', to YouTube stars, who all now make their living though digital platforms. And ever since Kim Kardashian was Paris Hilton's PA, and made her first leaked sex tape it was only a matter of time before we had something like 'Only Fans' made its rise.
And right now OnlyFans is big news, being a source of income for users who are raking in cash by sending nude photos to their subscribers. The social media site is similar to Instagram, but users pay to subscribe to creators' feeds.
Some more liberal types have even billed it as a safe, consequence-free way of selling sex and home-grown porn that empowers women. But is it empowerment or exploitation ?
Whichever way you lean, there is no discounting the fact that money is being made. It now has around 17.5 million users worldwide and over 70,000 content creators, who have received over $US150 million since its launch. Content providers keep 80 per cent of their income, while the company takes the remaining 20 per cent.
Megan Barton Hanson, who found fame on Love Island, charges £19 a month – or £53 for three months to watch her steamy content.  This means she can make around £800,000 every month from selling her pictures and videos to fans – and she's not the only one cashing in. The OnlyFans celebrity top earners list was recently revealed by SlotsUp, who have delved into the data to reveal the likes of Black Chyna and Cardi B making millions from the platform. Here's what the top 10 celebrity earners are thought to be making on the site…
Blac Chyna – £15,418,259
Bella Throne – £9,013,128
Cardi B – £7,158,487
Tyga – £5,896,939
Mia Khalifa – £4,920,033
Erica Mena – £3,442,505
Pia Mia – £1,701,040
Safaree Samuels – £1,466,154
Megan Barton-Hanson – £807,559
Casanova – £805,950
However, whilst it can be seen as a portal for individuals to make money through their own content, it can also be a platform for revenge porn and potential underage users. The OnlyFans platform has become a space associated with shaking up the sex industry but it also comes with a set of challenges the internet has long struggled to address.
OnlyFans' subscription-based model has led some to claim that it is somehow empowering women. Outlets like the New York Times say it 'has put X-rated entertainment in the hands of its entertainers' and means content creators perform fewer sex acts. Others think that because OF has reduced physical sexual exploitation, it does not put women in danger. But based on the experiences of women who use OF, it's clear that the service is far from safe.
Many of the women are paid to re-enact the sexual fantasies of male subscribers and are told by private message exactly what they are expecting from each post. 'I have been asked to dress as a schoolgirl and pretend to masturbate myself' says Eloise, who is a content creator on OnlyFans. 'Once I was told to tie a rope around my neck and pretend to choke. There are some real weirdos out there.'
It can also put its content creators in danger. Recently a 4 terabyte dump of videos and images was leaked online, primarily of women who use the site to share pornographic images. Rather than a hack, the leak seemed to be from OF customers accessing photos and videos individually, then sharing them with others and compiling them into a large file for free.
But despite the bad publicity from the data dump, increasing numbers of young, hard-up young woman are drawn to the site as a way to make lots of money.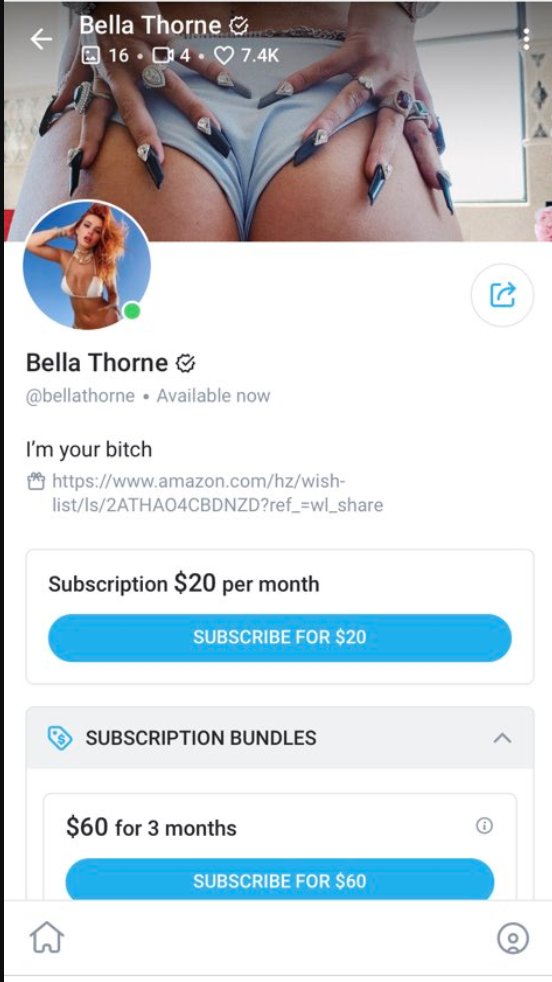 Ironically the platform was originally set up as a space where influencers (who now prefer to be called content creators) could make money by sending exclusive content from cooking videos to comedy and celebrity workouts to "fans" who subscribe to their channels. That's still the case. But as it has gained in popularity, it quickly shifted to a platform for content of a more 'adult' nature, where users share intimate images and videos of themselves naked and having sex.
It has gained a reputation as the "paywall of porn", becoming a key destination for adult content and in the process, providing fresh revenue streams for adult entertainers and sex workers. As is the case with any disruptive technology, OnlyFans is creating new opportunities for some and leaving others behind.
Whilst the money pours in to OF, and young, broke and often vulnerable women are drawn to this sanitised version of prostitution, men that subscribe have found yet another platform to treat women as little more than their own personalised sex toys.
What OnlyFans does is tap into our need to take part in risky behaviour and record that digitally and fulfil our desire to build connections or have some sort of meaning therein. With 30 million subscribers the size of OnlyFans is a drop in the ocean compared to the number of users on Facebook (2.5 billion), Instagram (500 million), Twitter (330 million) and Snapchat (210 million).
But it's growing at a rapid pace. What's happening on the platform is just the tip of the iceberg. If the experts are to be believed, we won't see the impact of how OnlyFans is being used during this time until long after it.
Subscribe to FIB's Weekly Alchemy Report for your weekly dose of music, fashion and pop culture news!