The release of Cardi B and Megan Thee Stallion's hit single "WAP" has pushed female sexuality to the forefront of hip-hop and pop culture alike. But, we take a look at the genre "dirty rap" and discover there is high supply of female rappers craving the same thing…   
Cardi B and Megan Thee Stallion
Cardi B and Megan Thee Stallion have become synonymous with female sexuality. Both rappers' quick and steady rises to fame have given them the stage they needed. Their single "WAP" delves into female sexuality and looks at their sexual desires, not a man's! It is a powerful statement. But, Fashion Industry Broadcast has already had their go at talking about WAP.
The debate of whether the song is empowering or not isn't really my point. What I am interested in, however, is the genre of "dirty rap" (a sub-genre that is all about sex) and all the other female rappers that haven't received the same attention.
Before the release of "WAP", both Cardi B and Megan Thee Stallion had established themselves as fearless artists. Cardi B's 2018 album Invasion of Privacy most notably won Best Rap Album at the Grammy Awards, and 2020 has been the year of Megan Thee Stallion with her two albums Suga and Good News both receiving raving reviews. Her hit single "Captain Hook" thrusts her sexual desires and her self-confidence into mainstream music. Lyrics like "I like to drink and I like to have sex" are pretty simple in their message.
Pop stars in this generation always rave about the importance of artists "being themselves" in a time of corporate control. That is definitely what Cardi B and Megan Thee Stallion are doing! They are forcing female sexuality to the spotlight of mainstream media. Their body, their wants, their desires.
Both artists are powerhouses of dirty rap, however, there is a rabbit-hole of an entire genre and artists that we need to talk about: past, present and future. These are the pioneers of dirty rap and the anthems that got them there.
Salt-N-Pepa
An honourable mention must go out to this influential rap trio who were the first female hip-hop artists to receive a platinum certification. Salt-N-Pepa formed in the mid-'80s and burst onto the scene with their debut album Hot, Cool & Vicious with the steaming hit single "Push It". Even though the trio continuously argue that the song has never been about sex, I think audiences around the world are just used to this kind of music having some sort of sexual undertones. Modern "thang"? Unsure. But, there is something that we really need to talk about. We need to "talk about sex".
Yo, Pep, I don't think they're gonna play this on the radio. And why not? Everybody has sex.
From the title I think it's pretty clear what "Let's Talk About Sex" is about, but it's the tone that people don't expect. The song isn't really presenting sex in the same way that Cardi B and Megan Thee Stallion talk about sex. Salt-N-Pepa are more interested in normalising the conversation about sex in a time when mainstream music censored anything about the *shuffles uncomfortably in chair* topic. It is a song that started the conversation of sex from the female perspective. Not only that, another version of the song, "Let's Talk About AIDs", was released to educate and humanise the people affected by the disease.
Influential? Definitely! Dirty rap? Maybe not. But, we need to recognise the group that inspired a generation of female rappers. Salt-N-Pepa may not be dirty rap but they are the pioneers of the genre.
Lil' Kim
Lil' Kim is one of the only enduring lights from the iconic '90s, East-Coast v West-Coast era of rap music. Starting off as a member of Notorious B.I.G.'s group Junior M.A.F.I.A., Lil' Kim slowly kindled a sexual and, at times, violent relationship with the hip-hop star. In an interview with New York radio station Hot 97, Lil' Kim pounced on the hip-hop scene.
When you're in the industry, it's like, the guys get to do whatever they want, but you can't do shit.
Lil' Kim was sick and tired of women in hip-hop being background noise to the male voice. She was sick and tired of women being the sexual object to their male gangsta-rap counterparts. So, in 1996 she released her debut album Hard Core that delved deep into the female perspective of sex. The hit single "Not Tonight" truly challenges the one-sided nature of sex in hip-hop culture. Lil' Kim is telling men to hear her wants, her needs, her desires, with astounding detail. Women are active in the bedroom too, so it's time they were seen as such.
Hard Core was followed by The Notorious K.I.M. in 2000 and featured the scandalous and seductive single "How Many Licks?", but since then she has toned down the sexuality in her lyrics. She is a versatile entertainer, but she will always be an icon of the dirty rap genre.
Foxy Brown
This mighty rapstress bounded onto the music scene as a teenage artist with a verse on LL Cool J's "I Shot Ya" remix that electrified everyone in the studio. In an interview, Poke, a member of the production duo Trackmasters, opened up about the raw energy that Brown exuded from day one, leading to her debut album Ill Na Na:
 So we did the Def Jam deal and then immediately we started on that record. Everybody knew that we had to seize the opportunity because this was the record that was gonna launch her.
What they didn't know is how controversial Foxy Brown's career would truly be. Ill Na Na was beaten to death with extreme criticism that blamed the rapstress for promoting the setback of female sexual rights. It was an album that exuded an incredible sexual confidence that was definitely loud and confronting, but a setback?
As a male, I get confused about the line between empowerment and suppression in terms of sexuality in music. It's just something that I might never really understand, but what is definitely clear is that the world was watching Foxy Brown.
Her next album Chyna Doll was even more provocative! Critics saw the album as "audio pornography" and her music video "Hot Spot" surely didn't slow criticisms. But, Foxy Brown was never fazed with approval. Her career has always been synonymous with confidence, seduction and controversy: from her sexualised lyrics to her gunfire-shrouded feud with Lil' Kim.
She may "taste just like candy", but there is nothing sweet about this rap icon.
Missy Elliott
Around the late '90s early '00s, rapstresses were solidifying themselves in a male-dominated culture with their sexual openness and loud, in-your-face lyrics. As much as the artists challenged the heteronormative nature of rap culture, many of the rapstresses were presented in a similar way: sexy.
This was now slowly becoming the norm for female rappers: to get into the business you must have sex appeal. The industry had seen Lil' Kim and Foxy Brown dominate the spotlight and they needed more! But one strong-minded, revolutionary rapstress resisted this new trend. In an interview with the New Yorker, Missy Elliott talks about her image in the female rap business:
You either gotta be light-skinned or have long hair. You wouldn't see me in one of those model magazines unless it was, like, Healthy Woman. But I'm cool.
The conversation about female sexuality in rap culture was definitely underway and the world was listening. But, Missy Elliott had the female image in her sights. Her music definitely still talks about female sexuality, especially her singles "Sock It 2 Me", "One Minute Man", and "Toyz", but she paved the way for future feminist rapstresses as she embraced her differences. Over the course of Elliott's 25-year-long career, there is one pivotal rule of thumb: women are equal to men. Whether the artist is conforming to heteronormative looks or not, a woman is still powerful and important. A pioneer of body positivity and sexuality.
Not only did Missy Elliott confront the music industry, she was also rewarded by it. After the release of her 2005 album The Cookbook, Elliott became the very first rapstress to have all her albums (6!) receive platinum certification. She is a staple of the rap genre and revolutionised the modern rapstress.
Nicki Minaj
From the dawn of Nicki's career she was not concerned with the industry's perception of her. In 2010, she released her debut album Pink Friday and was nominated for Best Rap Album at the Grammy Awards, but it was only an entrée to the main course. The Pinkprint was a follow-up to her critically acclaimed debut and it featured a couple of tunes that we need to revisit.
I think the world was used to the Nicki Minaj image by the time Pinkprint was released in 2014. Bright pink hair. Busty. Loud. The fact is though: she knew it. Her singles "Get on Your Knees" and "Feeling Myself" recruited pop icons Ariana Grande and Beyoncé and embraced female power for pop audiences. To be an artist you must keep your self-confidence and, most importantly, self-love. Female sexuality and the female form are things to cherish, not restrict! Then, came another hit "Only" that employed the talents of Drake, Lil' Wayne and Chris Brown to mock the sexist attitudes that are synonymous with rap culture: because Nicki is a female rapper she is surely sleeping with her co-rappers. Her visceral lyrics poke fun at sexism but also bring female sexuality to the limelight.
Then, of course, there was "Anaconda". I remember when this single came out and it was very similar to the backlash "WAP" has experienced. The song samples Sir Mix-A-Lot's hit "Baby Got Back" and thrives in embracing the female form. Everything about this song is sexual, just like "WAP", so are they both equally empowering? Just a thought to reflect on.
Nicki's career has been a successful melding of the different rapstresses before her. Lil' Kim and Foxy Brown's seductive songwriting and sex appeal with Missy Elliott's revolt against sexist attitudes. Even though she has just recently announced her retirement after a decade of music, Nicki Minaj will be remembered for her iconic style and influence on female sexuality.
Young M.A.
We have crossed over three decades of rap music and there is a trend that I assume you have noticed: the top female rappers are generally heterosexual. It wasn't until the mid-'10s that we started to see the LGBTQ community pounce onto the rap scene and rap their story with their voice. A Brooklyn rapper changed the game in terms of sexuality and gender, and that was Young M.A.
In 2017, the rapstress released her debut album Herstory with a hit single that would bring the voiceless to the spotlight. "OOOUUU" pumped into mainstream radio play and received a 4x platinum certification, an incredible feat for any artist of any gender or sexuality. 
Her rapping style is also vastly different to the traditional rapstress voice. Young M.A. employs a much more masculine style in her delivery and lyrics which she says makes her "just one of the guys". Baggy clothes. Grills. Neck tattoos. Sure, Young M.A. is not the rapstress we are used to, but that's the point! But she has never wanted to label herself as one thing, artistically and sexually. In an interview with Time, the rapstress declared:
The LGBTQ community, I love them with my soul. But I'm me. We know who we are, we know what we represent, we know who we love.
Her lyrics have garnered extreme backlash for objectifying women, but the rapstress believes that she is simply sparking a woman's curiosity surrounding her sexuality. Young M.A. has normalised the anti-heteronormative style and it's a refreshing taste to a once stale culture.
CupcakKe
I think when your debut album is titled C*m Cake, everyone knows what is gonna go down…
When a man talks about sex it's like, "Oh wow, this is lit. We're about to f**k to this music". But when it's a female, like me, it's "Oh my god, she's such a hoe!" That's not okay. –Interview excerpt.
If conservatives are criticising the lyrics in "WAP", they clearly have not heard of this outspoken rapstress. CupcakKe's lyrics make every other dirty rap song seem like a PlaySchool sing-a-long. But, there is an obvious point to her visceral, sexualised language. From the quote above, the core focus of her discography is to expose the double standards that fester in the rap scene, as well as just culture in general. In the same interview, CupcakKe points out that sex is just another part of an individual's being, like love. And how many love songs are we flooded with? What's the difference?
CupcakKe is the new and improved version of the feminist rapstress. Brutal. Individualist. Controversial. "Anything guys can do, girls can". Opening her debut album with a song "Vagina" is just another way CupcakKe thrusts female sexuality into normality. I could go into all her sex anthems but, to be honest, I don't think I have the strength to write about her entire discography.
Since 2016, the rapstress has released six albums and is definitely the future of dirty rap. This cupcakke will never be dry!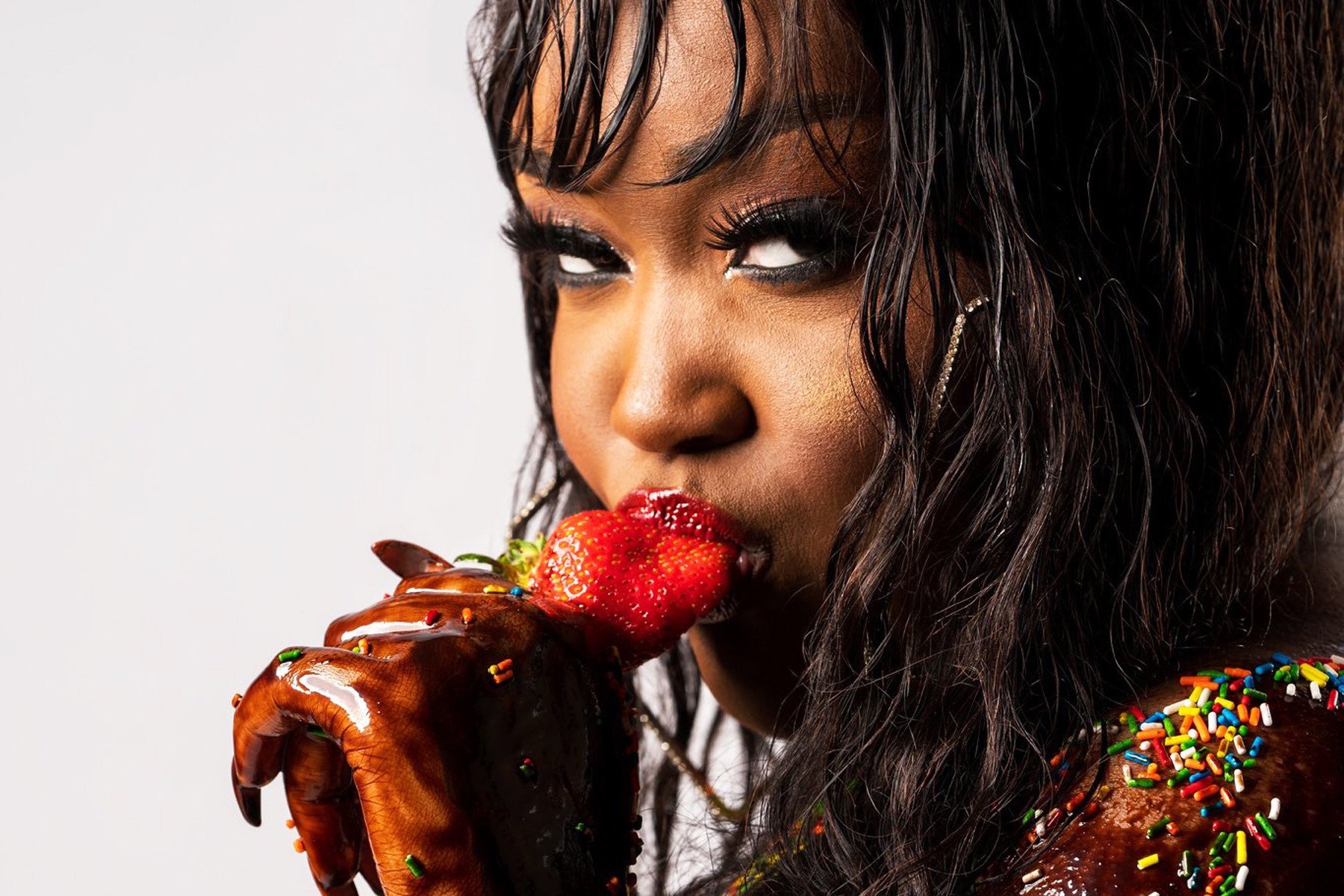 Doja Cat
This is the first time, but not the last, where TikTok plays a massive role in a dirty rapstress' career. "Say So" has taken the social media world by storm, and just like Nicki Minaj before her, Doja Cat is bringing a bubblegum sexuality to mainstream culture. Her 2018 debut album Amala was more of a pop-rap style with a hint of seduction but it was sort of innocent? Like an artist exploring themselves through their music. But, with the release of Hot Pink  last year, Doja Cat sunk her claws into everything sexual. Sex is empowering and Doja Cat is eating it up!
In her "Rules" music video, Doja Cat is in control. There is a really interesting analysis by Laura Mulvey (1999), Visual Pleasure and Narrative Cinema, where she points out that there is immense pleasure in being looked at and maybe that's where empowerment comes from. Obviously Doja Cat isn't the first rapstress to delve into this world because you have scrolled through a few artists by now, but, what Doja Cat has done is bring that ideology to a younger audience. That's where TikTok comes in. Since the release of "Say So", TikTok has been bombarded with girls dancing to the upbeat song that has a hidden seductive flare.
Before Doja Cat, dirty rapstresses dominated out of the mainstream and flickered in and out with "safe" poppy songs. Not anymore. TikTok has given a wider scope for artists that are deemed inappropriate to our younger audiences. Doja Cat is definitely the face of a new genre of music: "sensual media" pop, perhaps?
Ppcocaine
Alrighty, I have made it this far and I would say that none of these rapstresses have really made me feel uncomfortable. I suppose sex talk has never been taboo for me, if anything, I embrace it. But, I think ppcocaine is the first artist that has actually taken me off guard during my dirty rap journey. Just like Doja Cat, this 19-year-old rapstress has taken to extreme fame with the help of TikTok with just over 3 million followers. It's an amazing feat for an artist so young! Her style is so reminiscent of Doja Cat and Nicki Minaj before her and seems like a really innocent, sweet artist.
But, that's really not the case at all. The release of her first single "DDLG" explores a certain sexual fantasy that you can go research yourself, incognito of course! The intro samples "I'm a Little Tea Pot" with a very, very, very different theme with a sing-a-long beat. She is a powerhouse of the new assertive, sexual, powerful rapstresses that have dominated the year 2020.
It has definitely been a year of intense confusion, disarray and boredom. Um. Not anymore. Everything about this artist is NSFW, but her self-confidence and determination to normalise female sexuality is something to admire. In an interview with Los Angeles Times, ppcocaine announced:
I'm an attention seeker, it makes me feel good. I'm going to get a radio hit. It's going to have to be censored, but I'm going to get everything.
I suppose, just because the sex ppcocaine is focused on is not the mainstream perception of sex doesn't make it not normal? Ppcocaine's whole point is to teach us all that our fantasies, sexualities and thoughts should never be shameful. It is a part of us! Just a very intense part of us.
Dirty Rap – A Long-Ass Process
This has been a really intense journey we've gone on. Prior to writing this article, I hadn't really taken the time to actually investigate this sort of rap music, but ever since the release of "WAP" I have found myself obsessed with it. Not because of the attractive rapstresses, but because of the debate of whether it is empowering to women or not.
As a male, I'm always interested to understand women's sides of the argument to try and understand this topic but sometimes it's just not that simple! I have talked to many women who just like these songs because they're fun and catchy, but others have told me that they see 'WAP' as one of the most empowering songs to date. Take the time to listen to some of these artists and see what you think! Just don't forget your bucket and mop.
Subscribe to FIB's Weekly Alchemy Report for your weekly dose of music, fashion and pop culture news!