Fans ask Dua Lipa to remove the "Levitating Remix" featuring DaBaby, after the rapper's homophobic remarks.
On the 25th of July, DaBaby appeared on day three of the Rolling Loud Miami Festival. Several videos shared on social media recorded the artist saying "If you didn't show up today with HIV, AIDS, or any of them deadly sexually transmitted diseases that'll make you die in two to three weeks, then put your cellphone lighter up. Ladies, if your p**** smell like water, put your cellphone lighter up! Fellas, if you ain't sucking d*** in the parking lot, put your cellphone lighter up!". As the event was also streamed live on Youtube, the remarks were easily accessible and made their way to social media.
On the 26th, DaBaby went to his Instagram story to respond to the backlash he was receiving. He said that anyone who wasn't at the show didn't have a right to criticise him, as "what I do at a live show is for the live show. It'll never translate correctly to somebody looking at a little five, six-second clip from their crib on their phone". Rapper T.I. has also defended DaBaby on IGTV, stating that he had the right to express his truth.
The criticism has continued to the present, however, leaving the rapper to post an apology on Twitter.
Anybody who done ever been effected by AIDS/HIV y'all got the right to be upset, what I said was insensitive even though I have no intentions on offending anybody. So my apologies ??

But the LGBT community… I ain't trippin on y'all, do you. y'all business is y'all business.

— DaBaby (@DaBabyDaBaby) July 27, 2021
Dua Lipa's Involvement
Since the video's circulation on social media, Dua Lipa's fans have asked her to change the 2019 "Levitating" remix that features the rapper. While the remix is still available on streaming platforms, she has posted on her Instagram Story with the following:
Reactions to her statement have been mixed. Supporters of the DaBaby have questioned how quick she was to condemn the rapper. She was called a "culture vulture" that actually had little concern for the rapper, as long as her streams continued rising.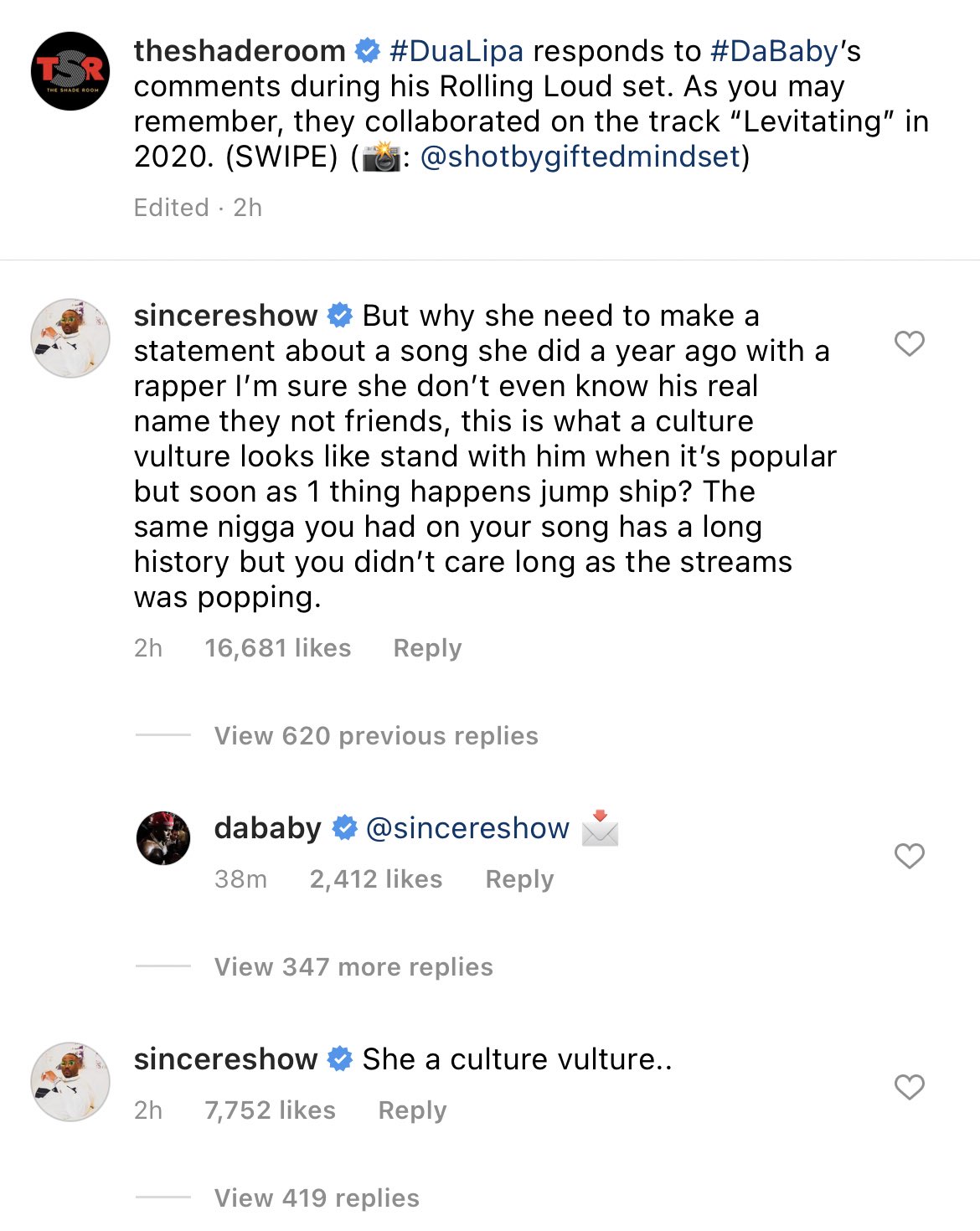 While fans have praised Dua Lipa's disapproval, and Instagam unfollow of the rapper, others have also been quick to question why the singer's involvement was necessary in the first place.
I don't see why y'all made that dua lipa girl apologize on da baby's behave. Y'all always holding women accountable for men choices.

— NATE (@NATERERUN) July 27, 2021
Subscribe to FIB's Weekly Breaking News Report for your weekly dose of music, fashion and pop culture news!