Shoe Company Converse collaborates with brand experience agency Amplify to create retail store Renew Labs Fitzroy. The project will be in Melbourne and focus on using creativity and renewable materials to re-build customers' shoes.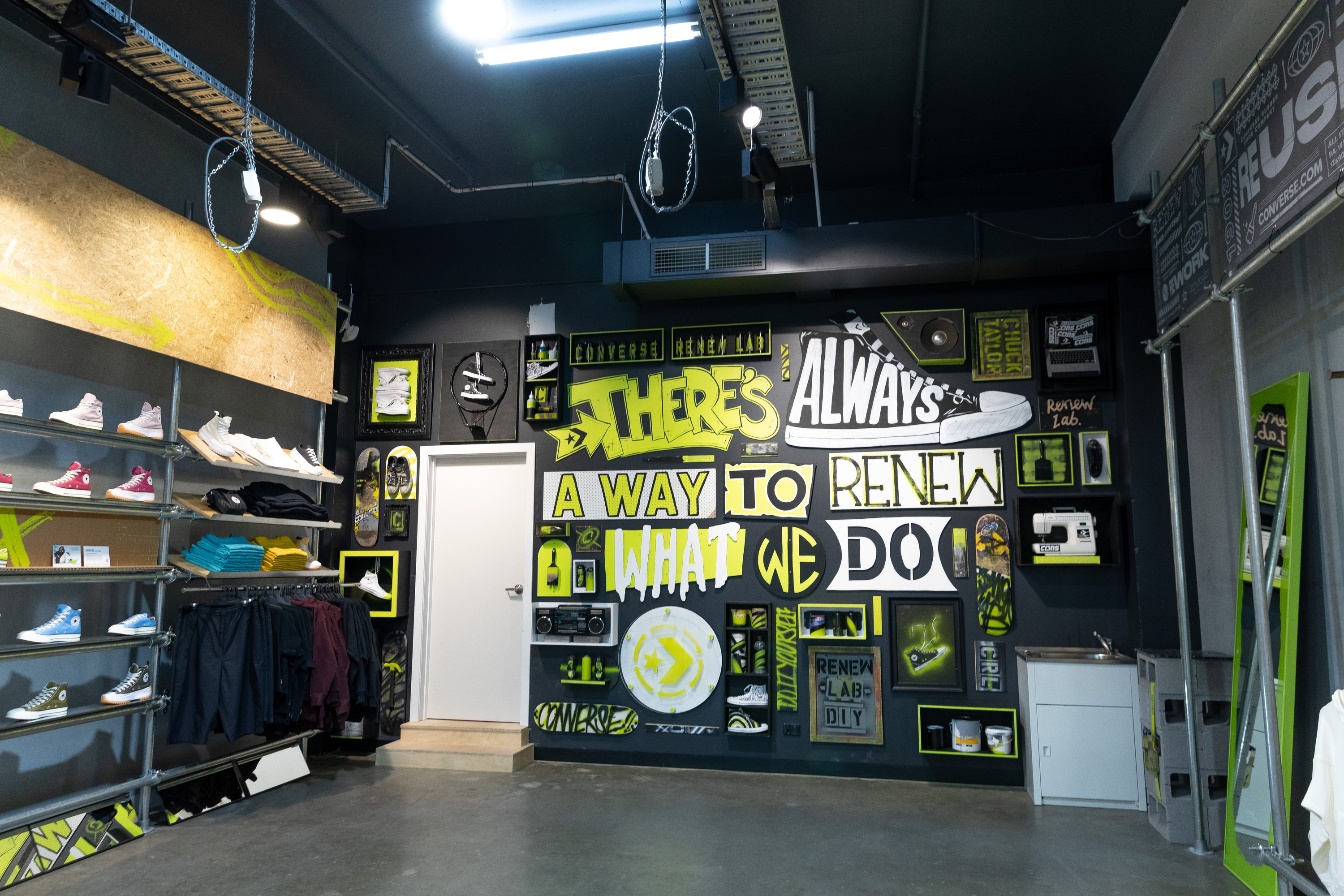 Originally founded in 1908 before being bought out by Nike in 2003, Converse is most famous for its Chuck Taylor All-stars. In late November, the company opened an experimental retail store in Mitcham, Victoria. Beforehand, they used the Renew Labs label for environmental-friendly online stores. They made the project with the 'All-Stars', a collection of innovators and creatives from Converse's community. The All-Stars innovations include dyes made from natural pigments in plants and using a toothbrush to add the dye to the shoe.
The stated principal behind the lab's creation is that,
"Each shoe leads the next in reducing its impact on the planet."
Previously, Converse has shown their passion for the environment in April. The company set up a virtual shop on top of the Pacific Ocean Garbage Patch. Taking items and inspiration from the patch, they created the Chuck 70s model. Similarly, all purchases from the virtual store go towards cleaning up the patch. In addition, Converse had made shoes from 40% recycled material as well.
Recycled with Style
At Renew Labs, consumers will bring in any Converse product for service. These services can include cleaning, repairs, upgrades and breakdowns for better recycling. By the same token, the lab hosts workshops for customers that focus on embroidery and personal stylizing using recycled materials. Converse took the materials used for these changes from locally sourced recyclables. As a result, each shoe will be individually fashionable as well as environmentally conscious. The inside of the lab is designed by Joshua Space, Callum Preston, Tamara Leacock, Precious Plastics and TreadLightly. It was similarly designed with the same renewable practices as the labs' shoes and services. The company hopes to use this model for all future Renew Labs stores.
The purpose behind Renew labs openly defies fast fashion. Because the project hopes to increase the longevity of each shoe, there will be fewer shoes made as a whole. As a result, this will keep more plastic and waste out of the oceans. Hopefully, the project can inspire other companies to follow the same example.
Subscribe to FIB's Weekly Breaking News Report for your weekly dose of music, fashion and pop culture news!