American beauty mogul and socialite, Kim Kardashian, seems to have called out pop princess Ariana Grande in a recent Instagram post. Kim K posted a series of photos in an all black leather ensemble on her Instagram account with the caption "just like magic ?". The caption is a popular lyric from Grande's hugely popular song of the same title.
Many fans of Grande likely picked up on the not-so-subtle nod to the popstar's song and began commenting things like "ARIANA STAN". Some commenters even posted other lyrics from the popular song "just like magic". The latest ensemble from the trendsetter is an all black leather look. It featured a bandeau, wide leg pants with a paper bag waist, and a trench coat. She accessorized with black shades and gloves to match. The socialite had her hair slicked back into a ponytail and nude-matte makeup to complete the matrix-esque look.
Pete Davidson has dated both Ariana and Kim
As most are aware, Kim Kardashian is currently dating Pete Davidson. Ariana and Pete where previously engaged to one another. Grande and Davidson's whirlwind romance came to an end in 2018. Though it still captured the attention of the global public, in part due to Grande's huge hit song "Thank U, Next". In the song she famously mentions Pete and other famous ex's. Ariana hasn't made any comments in regards to Pete and Kim's current dating relationship. However, she has long since confirmed that she has happily moved on with her life. She is now married to real estate broker Dalton Gomez.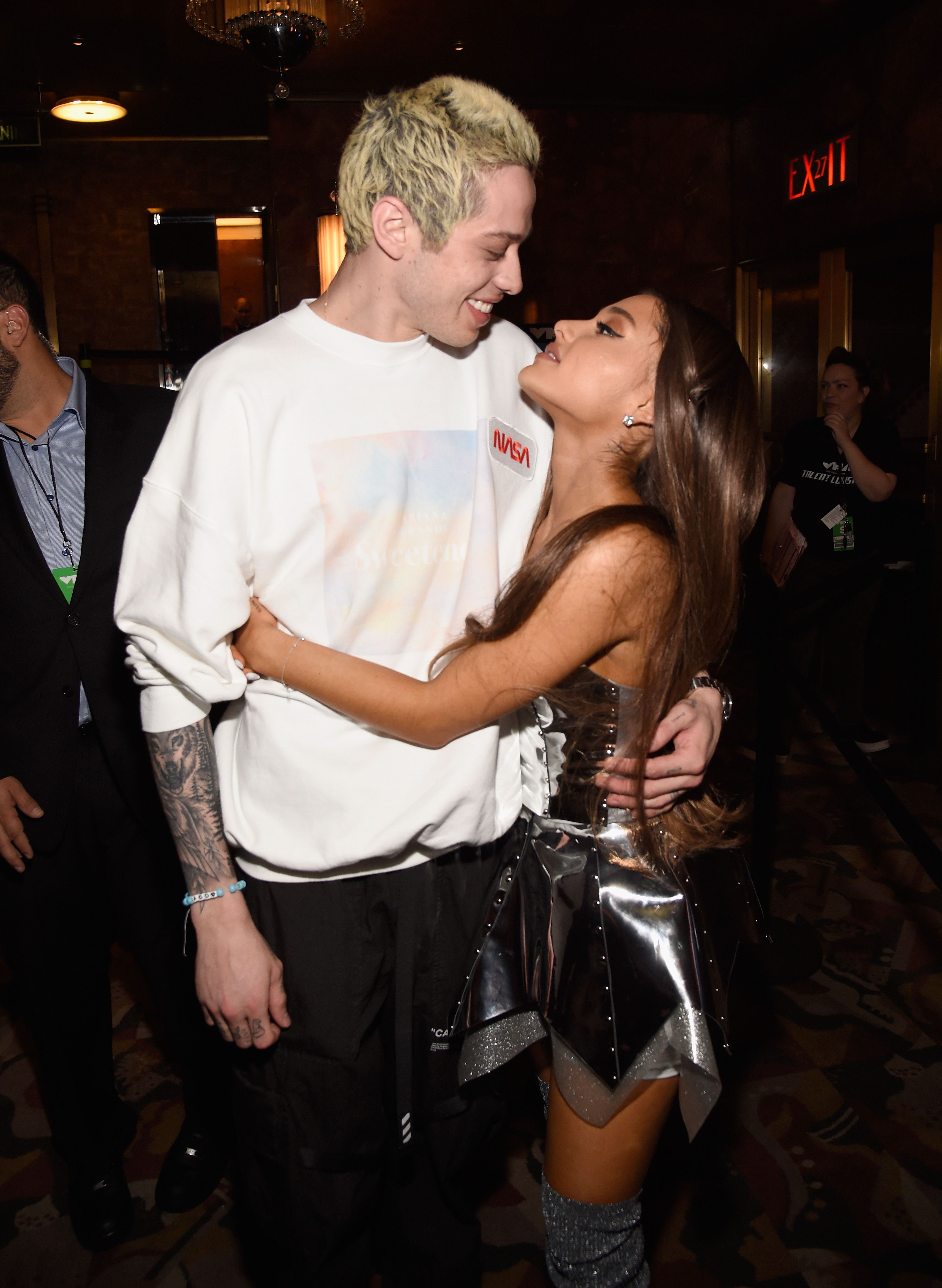 Kim and Ariana brief friendship timeline
It's also interesting to note that Grande has spent a lot of time with Kim and her family. She attended events with Kim while dating Pete and while Kim was still married to Kanye 'Ye' West. Pete has even spoken about attending a, now famous, dinner with West and Timothee Chalamet. Davidson joked about unexpectedly being footed with the huge bill. West has been very transparent in his disdain for Pete Davidson in recent Instagram posts where he refers to him as 'Skete'. He has explicitly expressed disappointment towards both Ariana and Pete for their involvement in rap and hip-hop industry scandals. He has also called out the pop singer and comedian many times in the past for other reasons.
Now, there is much speculation as to why Kim used the caption that she did, but many see it as a call out to Grande. Back in 2016 Grande attended a Kanye west concert with Kardashian sisters, Kim, Kylie and Kendall. Kim and her daughter North attended an Ariana Grande concert back in 2017. Kourtney Kardashian, Kim's sister and owner of modern lifestyle and wellness site Poosh, even dressed up as Ariana Grande for Halloween in 2019. Kourtney also took her daughter Penelope, and her niece North, to Grande's concert back in 2019. As recently as November 2021 Kim gushed over Grande's makeup collection REM in an interview. Fans and media outlets alike are spiraling to try and find a link between the caption and their many shared connections.The most notable connection being Pete Davidson.
Current Status of Kim and Ariana's friendship
There is still no word on if the caption was posted with positive or negative intentions. However, we know they have both dated the same man. We also know there is plenty of history between the two fashionistas. The obvious use of the song's lyric and title has sparked wide-spread interest into the current status of Kim Kardashian and Ariana Grande's friendship. We will keep an eye out for any responses that may be coming.
Subscribe to FIB's Weekly Alchemy Report for your weekly dose of music, fashion and pop culture news!