Saturday Night Live's (SNL) April run of their 47th season features hosts and musical guests, Jerrod Carmichael, Gunna, Jake Gyllenhaal, Camila Cabello and Lizzo.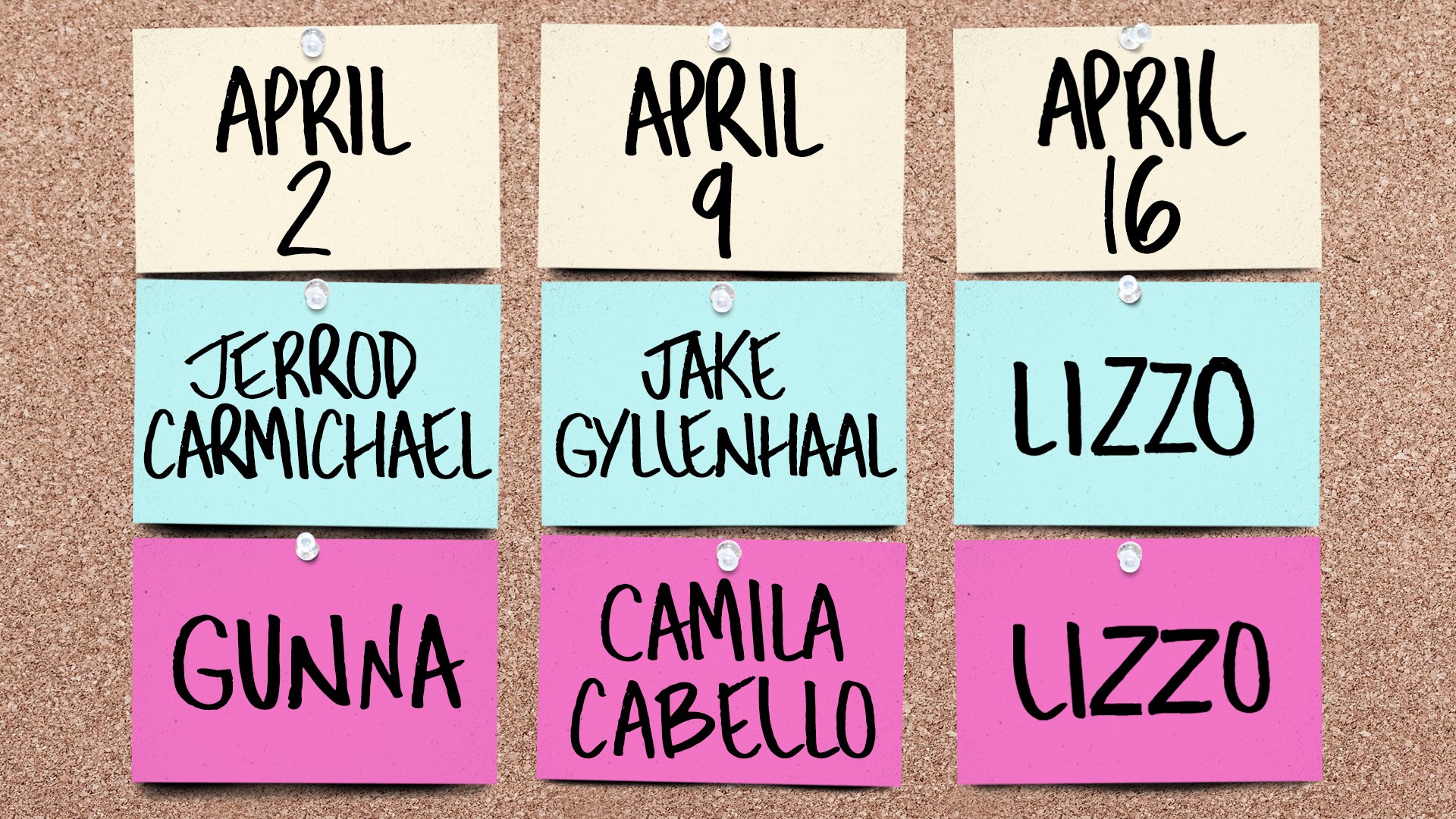 NBC's Emmy award-winning comedy show is in its 47th season. With it, they bring Saturday Night Live favourites. The list includes Kate Mckinnon and Pete Davidson. It also features players Aristotle Athari, James Austin Johnson and Sarah Sherman. Saturday Night Live is host to many famous acts over its famous history. This gives the audience access to iconic moments from their most loved musicians and actors.
On March 22, 2022, Saturday Night Lives' official Twitter account anounces its hosts and musical guests for their April run. It features acts from Jerrod Carmichael, Gunna, Jake Gyllenhaal, Camila Cabello and Lizzo.
?April shows!!!? pic.twitter.com/O00G7sMdE8

— Saturday Night Live – SNL (@nbcsnl) March 21, 2022
The Schedule
April 2nd
Host: On April 2nd American stand up comedian, writer, actor and producer Jerrod Carmichael debuts his Saturday Night Live career as the show's host. Carmichael is known for his work in the "Neighbors" movie franchise. Also, "The Meddler" and his biographical show on NBC, "The Carmichael Show". Carmichael has been nominated for various awards. The most recent, a Grand Jury Prize at the Sundance Film Festival for his film "On the Count of Three" in 2021.
Musical Guest: The Musical act for April 2nd on SNL is American Rapper Sergio Giavanni Kitchens known professionally as Gunna. Gunna debuted in 2016 releasing his debut mixtape Drip season, and is signed to three labels; YSL records, 300 entertainment and Atlantic records. Gunna is best known for his songs, pushin p, P power and Drip too hard and Lemonade. Having played in major music festivals and venues he is the first musical act of April on Saturday Night Live.  
April 9th
Host: April 9th on Saturday Night Live will bring you Jake Gyllenhaal as host. He is controversially appearing in the same season as his famous ex, Taylor Swift. Gyllenhaal first hosted SNL on January 13th 2007, as well as made cameos throughout 2007 and 2011. His most recent stint on SNL was February 29th 2020 appearing in various sketches. Jake Gyllenhaal's role Jack Twist in "Brokeback Mountain" is where he gains most recognition. Most recently, he stars in the 2021 film "The Guilty". 
Musical Guest: The musical act for April 9th on SNL is Senorita singer Camila Cabello. Cabello made her musical guest debut for SNL on October 12th 2019 in the show's 45th season. Camila Cabello dropped her recent single "Bam Bam" featuring Ed Sheeran. Now, it surpasses six million worldwide streams. This single is spearheading her new Album, "Familia" which is set to be released on the 8th of April 2022. 
April 16th
Host and Musical Guest: April 16th on Saturday Night live in the night of music sensation Lizzo who will be hosting the show as well as being the musical guest. Lizzo has been a musical guest on December 21st of 2019 on SNL.
Lizzo first burst onto the scene with her single "Truth Hurts". Via Tiktok, the popular sleeper track rises in popularity throughout 2019. Through various social media platforms such as Tiktok, Lizzo shares her personal values. These include body positivity, vegan lifestyle and her winning personality. It even sparks dating rumours, such as one with with Chris Evans. The rapper, singer, songwriter and flautist is a woman of many talents. It is no surprise that she is getting a whole night on SNL to herself.  
These iconic five acts are also on the SNL roster of the 47th season. They join Owen Wilson, Kacey Musgraves, Kim Kardashian, Halsey, Rami Malek, Young Thug, Jason Sudeikis, Brandi Carlile, Kieran Culkin, Ed Sheeran, Jonathan Majors, Taylor Swift, Simu Lu, Saweetie, Billie Eilish, Paul Rudd, Charli XCX, Ariana Debose, Bleachers, Will Forte, Maneskin, Willam Defoe, Katy Perry, John Mulaney, LCD Soundsystem, Oscar Isaac, Zoe Kravitz and Rosalia. 
Subscribe to FIB's Weekly Alchemy Report for your weekly dose of music, fashion and pop culture news!