The AW22 Runway brings some bangin' new trends to consumers this year – with a healthy selection of new vibes to get you instantly hooked.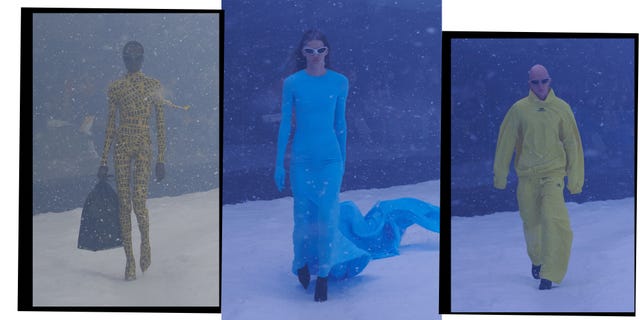 The Autumn/Winter 2022 Runway trends are in and we're already obsessing over them. This Autumn/Winter season has seen brands from all over the world showing their artistic prowess, reminding us that fashion is first and foremost – art. Here's a list of our favourite new styles from the season…
1. Dramatic flair
It's not surprising that this is the most popular trend on the runway this year for the Autumn/Winter 2022 collection. The runway this season, is all about dramatic flair, creativity and high-end ideas. This includes glamourous, fine jewellery, elegancy, faux fur coats, hoods, capes, romanticism and ethereal styles… Basically, anything a powerful queen would wear.
High-Octane Glamour:
Brought to the runway by Versace, these looks are both glamourous and powerful. As pictured above, this style brings glamour to a structured and powerful level, the bold red in this outfit packs a necessary punch.
Pearl Jewellery:
Givenchy brought big pearls to the runway, giving a dramatic and artistic, yet elegant. The pearls are high-fashion elegance and the style of the dress gives us major '20s vibes. 
Faux Fur Coats:
Faux fur coats are making an appearance on the runway once again, now by Saint Laurent. These coats are the most practical addition to the Autumn/Winter 2022 collection but are also a classic, dramatic staple that as shown above, can even be worn alone.
Elegance:
Gucci and Ralph Lauren bring elegance to the runway but in two different ways. Gucci's theme is sporty elegance, featuring wedding-dress-style sportswear; which is both extremely dramatic and a very unique pairing.
Ralph Lauren brings enduring elegance, it's timeless and will always – well – endure. They combined classic silhouettes, with bold complementary colours, topped off with a bow.
Red carpet hood:
Alberta Ferretti brings dramatic flair with a metallic red carpet-worthy hood. This futuristic elegant hooded cape is something from a fairytale or a movie about space royalty.
Dark Romanticism:
Simone Rocha brings Dark Romanticism to the runway. Velvet material finds pairing with sheer dresses and black accessories, hoods and puffed sleeves. This collection draws inspiration from an Irish fable. The story describes various children, turned into swans over the course of 900 years. When they turned back to human form, they pass away. This same sense of magic is brought to the collection, as well as dark and mournful undertones.
Dramatic silhouettes:
Harris Reed's collection, "60 Years a Queen" draws inspiration from the 1897 book of the same title. It's based on the club-kid-style monarchy scene, which builds upon the regal wardrobe. The collection ranges from wide-leg jumpsuits to a sleek mermaid skirt that even Ariel herself would envy.
2. Tailoring and suiting
On the Autumn/Winter runway we saw tailoring and suiting become more popular with brands such as Balenciaga, Saint Laurent, Dior, Tod's, Jil Sander, Prada and Prozena Schauler – showcasing their take on tailored clothing and suiting.
Balenciaga shows off with oversized tailoring that never misses. Dior on the opposite side of the scale brings a feminine touch to suiting – and Jil Sander's classic-styled tailoring flashes us back to the 1950s.
3. Decades
Nostalgia is one hell of a drug, so it's no surprise that brands this Autumn/Winter season are delving into it and reimagining some of our favourite classics from different eras. Erdem brings 30s glamour to the runway, with the pieces showcasing the avant-garde, female artistic scene of the 1930s.
Dolce and Gabanna brings the heat with 80s power dressing, bold colours and broad shoulder pads. It is almost like stepping out of a 1980s caricature. Carolina Herrera designs by Wes Gordon brings the past to the present with the old school elegance presented in their pieces. The bold colours and traditional silhouettes brought a fusion of past and present to the runway.
4. Faux leather
Leather in its many forms was showcased on the Autumn/Winter runway, by the brands Chloe, Isabel Mirant, Bottega Veneta, Roberto Cavalli and Fendi. Gabriela Hearst creative director for Chloe this season is focusing on the theme 'Rewilding' in this collection we see features of buttery faux leather in earthy tones, which effectively reflects the theme's mission of nature regaining its life and healing to its full potential.
5.  Layering
Cecilie Bahnsen (Left) Nanushka (Middle) Louis Vitton (Right) Credit: IMAXTREE
An interesting trend amongst the brands is layering. It's honestly, one of the easiest trends to emulate in your own style. The sub-categories are broad and open for interpretation.
Elegant layering:
This look was brought to the runway by Cecilie Bahnsen and it was the Danish designer's debut at Paris Fashion Week. The act of layering in this way brings dimension to otherwise simply elegant pieces. These pieces also mix the style of a jumpsuit with the top of a fancy/classy dress.
Leather layering:
This look of layering leather is brought to the runway by the brand Nanushka. Through this look, they are celebrating the creative study of fashion that is functional and intuitive, they are mixing the need for a piece to be functional as well as a beautiful work of art.
Unexpected layering:
This category of layering is brought to the runway by Louis Vuitton. These looks combine different styles, materials and patterns into their own unique look. The act of layering unexpected articles of clothing creates a playful and unique outfit that allows for creativity.
6. Cut-out
Cut-out clothing brings mystery, intrigue and sexiness to the Autumn/Winter Runway Collection. Christopher Kane's artistic collections show this trend in full force, the collection is a nod to sexual selection in nature.
The collection features various pieces with cut-outs, the most notable a dress that features a corset style top with cutouts and exposed boning. Nensi Dojaka has also contributed to the cut-out trend but features wearable pieces, which take influence from lingerie, to bring confidence/sexiness to every day going out dress.
7. Sequins
The last but certainly not least, trend to hit the runways for the Autumn/Winter season is Sequins. Brands that embrace sequins this season are, Burberry, Givenchy, Mithridate and Altuzzara.
Along with their all-pearl dress, Givenchy rolls out the sequins. One black piece, features giant sequins, creating a scaley aesthetic. Givenchy is not the only brand to embrace large-and-in-charge sequins. And lastly, Altuzzara features a beautiful selection of pieces that inspire full-on sequin adoration.
Subscribe to FIB's Weekly Alchemy Report for your weekly dose of music, fashion and pop culture news!