Something feels different in the new season of Bridgerton. The sultry exchanges, uncontrollable sexual tension and passionate lovemaking are all identical frame-to-frame as they are in Season 1. However, there is something unique about season 2. The facets connect authentically, with an update on the classic love stories we know and love.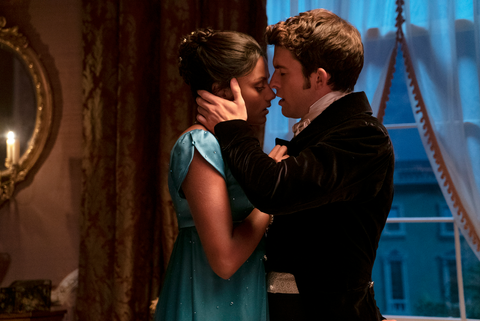 The Bridgerton series captures two people, whose misunderstood love is hard for others to follow. Love is all they ache for, but love doesn't seem to give them a chance.
Identicals Attract Each Other
Kate and Anthony (played by Simone Ashley and Jonathan Bailey respectively), share a similar past. The past somehow probes them to be the sensible ones from a young age; they were deprived of an opportunity to make silly mistakes or even fall in love. Instead, they were, and continue to act as the pillars of their families. This results in a lack of self-acknowledgement over time.
Their actions, choices, and requirement to fulfil societal obligations (like marriage) are not their own, but their families. Hence, it is nothing more than an expectation filled. This is the standard that Anthony the Viscount follows religiously… Until Kate changes the entire narrative of the series by turning away from love.
The Norm
The norm in every love story is – boy meets girl, boy and girl have a minor rift, boy and girl fall in love because they are polar opposite. They complete each other by the end.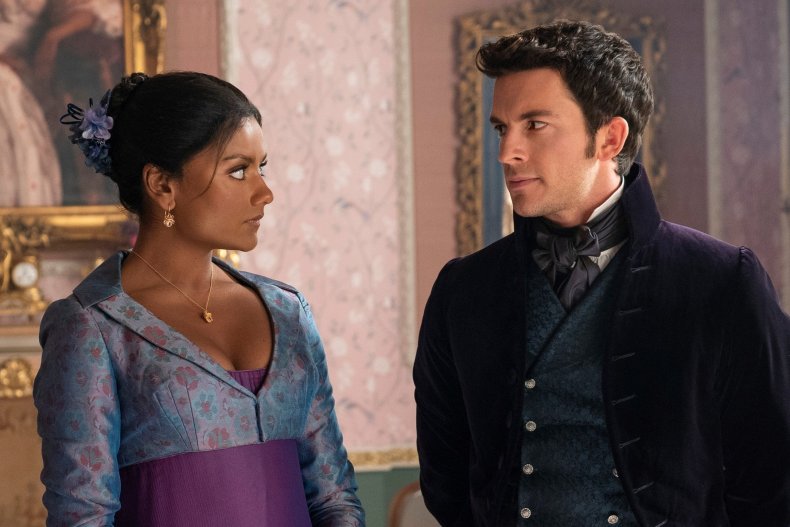 But Bridgerton doesn't follow the typical route, instead detracting from the 'opposites' attract perspective.
In the Bridgerton world, Kate and Anthony face many hardships due to their families' circumstances. Their prior experiences have groomed their personalities today. This also explains Anthony's cold demeanour towards love and Kate's defensive and arrogant nature.
However, these characters don't hide their flaws and flaunt them gracefully in contrast to other TV dramas. These portrayals often depict their leads as 'immoral' individuals, in the beginning. This provides substantial evidence later that they are, in fact, honest, with noble causes.
Kate and Anthony don't justify why they behave the way they do. Instead, they remain competitive, share to-and-fro banters in public gatherings, and are not afraid to share sexual moments without tending to the world.
The Unapologetic Brown Representation
First of all, the aspect that worries many fans, especially myself, was whether this series points out the obvious. The existence of a brown family and their notorious (as one may see it) accent and traditions, may not conform to the Bridgerton's class of society.
Yet, nowhere in the series is there a mention of the brown family as an outsider, and this is a huge step forward in changing the Brown peoples' idea within a 'white-dominated' industry.
The unashamed representation of Brown, glowing skin colours and the casual 'amma' and 'didi', which normalise the daily interactions in the heart of Chennai city in India, is what honestly stole my heart. But in saying that, it is pretty unclear where the Sharma family originated from.
If you dig deeper, 'Bon' is a word from Bengal, whereas 'Amma' is solely dedicated to the southern part of India. This convoluted mixture of Indian cultures makes us question their roots and whether the filmmakers put enough effort into researching the brown culture at all.
But, in saying that, one heartwarming tradition captured beautifully has to be the 'Haldi' ceremony. There was tremendous hope seen in Edwina's eyes (Kate's little sister) and Kate's, despite the latter occurrences in the episode, as they elegantly applied layers of turmeric in its paste form all over their faces. This 'Haldi' symbolises new beginnings and a brighter future in the Indian matrimonial culture.
Finally, Kate's extreme dislike of the English Breakfast tea was the funniest moment. The audacity to neglect it and make her own Indian 'chai' amid London city needs a standing ovation.
High Flying Feminism
Amongst many things, Daphne in Season 1 was loved for many aspects but was widely seen as the submissive one. Her dreams of the perfect home, ideal husband and becoming a mother were all seen as acts of being subservient to her man.
But to quote Emma Watson's character, Amy from the women-centric film Little Women, who, during an open conversation with her sister on marriage, declares, 'Just because my dreams are different from yours, doesn't mean they are unimportant," holds incredible value. Becoming someone's wife is also a worthy goal, and Daphne needs more power for attaining her goal than hatred.
Let's get back on track…
The Women in Brigderton S2!
They are unapologetic, honest, confident, fearless…..and most importantly, independent in their endeavours.
Eloise, Daphne's younger sibling, is rebellious but accepts her mother's directives in public gatherings. She is free-spirited and freestyles her way through life, falls in love with a lower-class boy, and finds 'Lady Whistledown' after countless attempts. Her journey was fascinating to watch.
Lady Whistledown, or the lovely Penelope, has transformed so much. Her mustard gowns may need some toning down, but her personality does not. Her writing, exceptional than ever, her entrepreneurial venture with the local dressmaker, an ace move and finally, her confrontation with her best friend, Eloise, was a side we have never seen before.
All praise this 'Gossip' writer who has so much to offer!
Standing Out from the Crowd
Next, the lady of the series, Kathani (Kate) Sharma, stands out from the crowd for her subtle responses to misogyny, her craftsmanship at shooting and her competitiveness in a world that only allows men to lead the race, making us all hopeful. There is no way one can hate Kate Sharma; she is cool-headed and always looks out for her little sister, driven with pure intentions.
Kate, however, needs to shed some weight off her shoulders and let her sister be her decision-maker. Besides, the show should've actively used 'Kathani' over 'Kate' to emphasise the Indian roots.
Finally, let's talk about Edwina Sharma. The less popular of the Sharma duo is only seen as Kate's puppet to have her iconic moment later when she walks out of her wedding despite falling madly in love with Anthony and wins the queen's heart. Her sparkling eyes are precious, and she deserves a happy ending. Hopefully, we will see her character's development in the future Bridgerton series. Edwina is undeniably the saner of the two Sharma sisters.
Before the piece ends, here's an unpopular opinion – Kate was selfless, but Anthony needed recognition for his 'supposedly' selfless efforts. But overall, every scene featuring Kate and Anothony triggered excitement, and our hearts were pounding.
Also, pounding because the sexual tension in S2 felt illegal and ever so thrilling. It makes you want to break through the screen and act as watch guards to protect them from their families as they explore their sexual desires to the fullest!
Subscribe to FIB's Weekly Alchemy Report for your weekly dose of music, fashion and pop culture news!