Sydney Modern Project expansion of the Art Gallery of New South Wales has an official opening date. The Sydney Modern project expands The Art Gallery of New South Wales, officially opening on the 3rd of December 2022. This exciting project first began in 2017. It's headed by the architecture firm SANAA (Sejima and Nishizawa and Associates) in Japan. SANAA are winners of the international design competition of expansion in 2015.
The Sydney Modern Project is the biggest major cultural development since the opening of the Sydney Opera House in 1973. The New South Wales Government has invested $344 Million into the project. Sydney is a city teeming with artists and creatives and this project marks a major and important investment into the Arts and Culture scene of the city.
New South Wales Premier Dom Perrottet states that,
This is a major investment in art, artists and culture, and sends a strong signal of confidence for a vibrant and exciting future. – Premier Perrottet in reference to the $344 Million Expansion.
What's Instore for the Expansion?
Local architects Tonkin Zulaikha Greer are refreshing the iconic existing sandstone. There are also plans for a public art garden to surround both the old and new structures. Richard Crookes Construction is tasked with building the expansion. The original construction company, Lendlease, was taken off the project in 2019 as they had plans to exceed the hefty budget.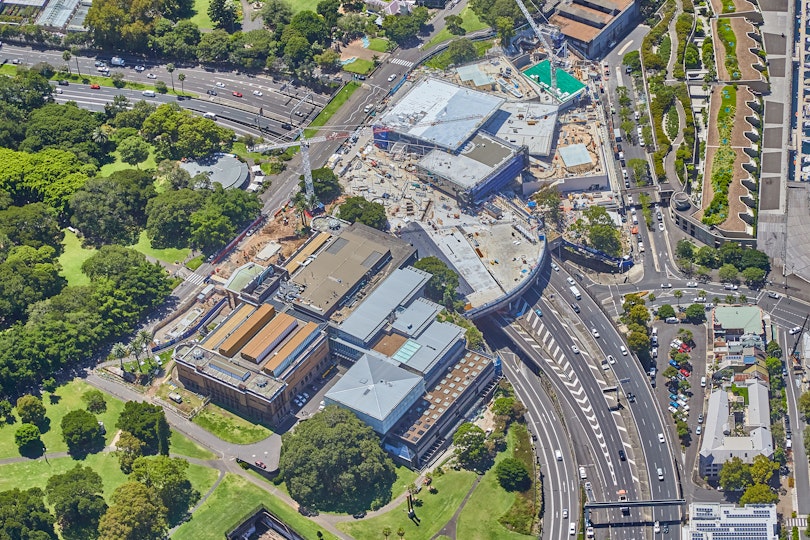 Art and Culture lovers are all wondering what the newly expanded gallery wing is going to hold. The Art Gallery of New South Wales states that the new expansion involves,
A new standalone building, public art garden and revitalized historic building will bring together art, architecture and landscape in spectacular new ways, with dynamic galleries, site-specific works by leading Australian and international artists, and extensive outdoor spaces for everyone to enjoy.
A First Nations Welcome
We also know that a permanent Aboriginal and Torres Strait Islander gallery will welcome visitors into The Sydney Modern Wing. It includes nine commissioned works by Australian and International artists for the space. The contributing artists are Wiradjuri artists Lorraine Connelly-Northy and Karla Dickens, along with Simryn Gill, Johnathan Jones, Japanese artist Yayori Kusama, Lee Mingweir, Richard Lewer, Lisa Reihana and sculptor Francis Upritchard.
A cavernous underground space is being designated for special commissions and performances. The space has made use of a decommissioned naval fuel bunker, built into the eastern side of the Domain to provide fuel for naval fleets at garden Island during WWII.
To learn more have a sneak peek at The Sydney Modern project: Animated fly-through here and get excited for the wings opening on the 3rd of December 2022.
Subscribe to FIB's Weekly Alchemy Report for your weekly dose of music, fashion and pop culture news!