Afterpay Australia Fashion Week (AAFW) kicked off again on the 9th of May 2022. Here are the highlights from day one.

Monday the 9th of May 2022 kicked off the Afterpay Australian fashion week festivities. This year's schedule is jam-packed with all things Australian Fashion. Here are all the highlights from day one.
Welcome to Country Ceremony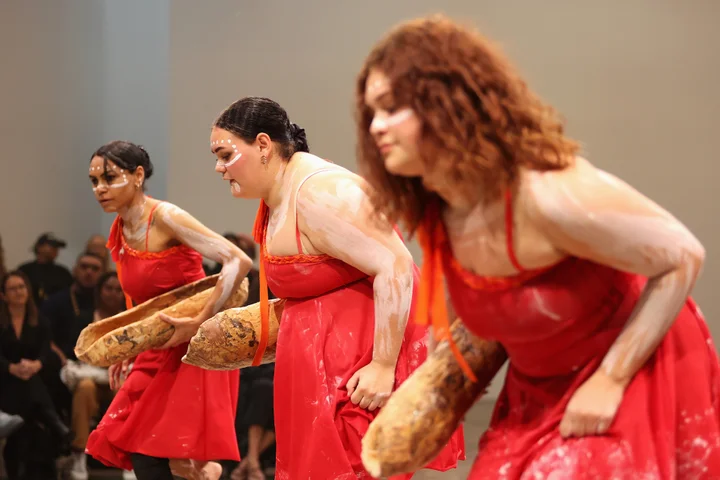 AAFW kicked off with a special, Welcome to Country ceremony, welcoming guests onto Gadigal Land, It was held by First Nations Peoples and produced by First Nations Fashion + Design. It featured a smoking ceremony that burned Eucalyptus leaves and several traditional dances were performed by First Nations dancers.
The First Australian Metaverse Show
Day one features The First Metaverse show in Australia Digital Fashion. The New Frontier is brought to AAFW by design duo Eugene Leung and Caitlin Lomax. The show promotes a collection of NFTs. The show is a three-minute digital showcase, featuring eight virtual avatar models against the backdrop of a fantasy world. The pieces are not only available for purchase as an NFT but also as made-to-order physical pieces. This may just be the future of fashion.
Gary Bigeni Collection
Gary Bigeni proves that his collection is suitable for everyone on day one. He definitely takes the crown for the most diverse casting of the day. The colours within the collection are true to Gary Bigeni's style. The collection is full of bright and bombastic neon hues. With these colours the celebration of diversity lit up the runway, with delicately painte silks were a big highlight.  Bigeni solidifies himself with this collection. He is truly a designer who values diversity and size inclusion.
Bigeni tells ELLE Australia,
"Why is a size 14 labelled as a plus size when it's an average size in Australia? We need to talk about that. My best-selling size is a 14/16 so I want everyone to have a piece to wear."
Romance Was Born, "Watery Grotto" with Ken Done
Romance Was Born was the ticket to score on day one. The exclusive guest list got a peek at the new collaboration between Ken Done, Luke Sales and Anna Plunkett. The Ken Done Gallery event shows a collection that mixes up pop-punk and Done's reef artwork. The collection's nickname is "The Done Zone". The presentation is full of dramatic gowns, ruffles, rainbow sequins and oversized crustacean earrings. The vibrant backdrop is of an underwater disco.
That's it for the highlights of Afterpay Australian Fashion Week day one. Check back later for more highlights and updates. To see the full schedule, go here.
Subscribe to FIB's Weekly Alchemy Report for your weekly dose of music, fashion and pop culture news!