On day four at the prestigious 75th Cannes Film Festival, amidst all the camera flashes and scintillating celebrity looks was the inevitable show-stopper – or what one might call the boldest entries – ever made on a red carpet! This year, a semi-naked activist was the centre of attention at the festival; diverting the world's attention to the horrific plight of women, girls and children in Ukraine.
They say an activist is someone who shows rather than tells, and this activist at Cannes did just that and even more!
'Stop raping us!' with the colours of the Ukrainian flag painted on her breasts, she yelled the same phrase with the most intensity.
She had stripped off her clothes to reveal a white undergarment, covered in bloody palm prints with the word 'SCUM' written on her lower back. The blood was perhaps emblematic of the torturous and sadistic sexual assaults committed by Russian forces on Ukrainian women.
SCUM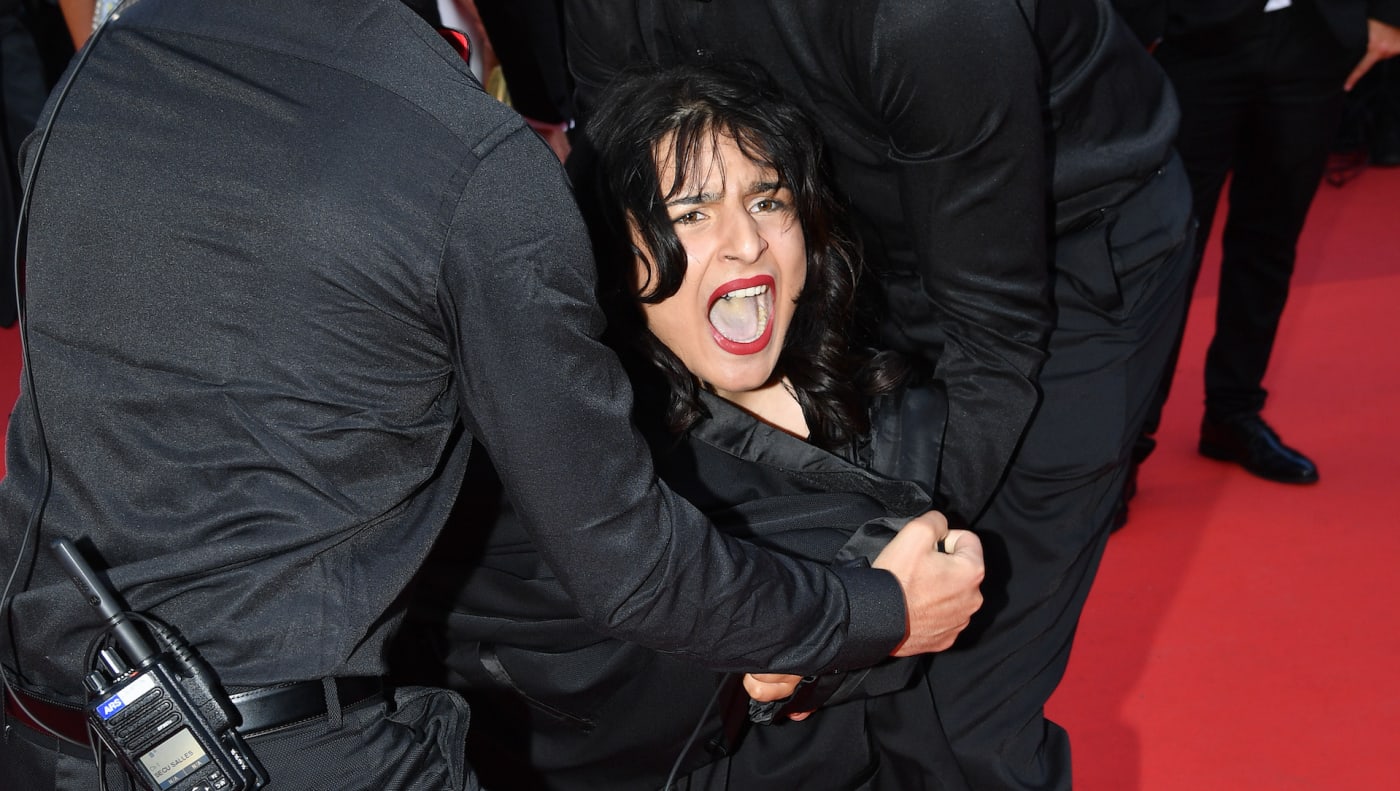 For those of you who may not be aware of SCUM, they are a collective of French feminists whose existence can be traced back to the 60's. They came alive on Twitter just last month!
Despite the fact that much remains to be investigated about the sexual assaults committed by Russian forces, the activist unapologetically storms past the gallivanting crowd and stiff-as-a-rock bodyguards to bravely expose not just her skin; but the brutal infliction of sexual harm caused by Russian soldiers.
The SCUM representative jumped on the red carpet, screaming the phrase 'Stop raping us, stop raping us!' in the moments before the first showing of George Miller's latest, Three Thousand Years of Longing starring Idris Elba and Tilda Swinton.
The security breach at Cannes saw an immediate reaction as the bouncers rushed to cover her topless figure with a coat. However by then, the media and the world had seen the message – this is the gravity of what's happening in Ukraine.
What's Really Happening to Women In Ukraine?
Since Russia invaded Ukraine two months ago, reports of alleged sexual assaults against Ukrainian women continue to surface in the media. Rape and sexual assaults have long been used as a tool to subjugate women in times of combat, but it is often concealed since victims are wrapped in trauma and feel too threatened to speak about it openly.
However, world-renowned organisations such as the United Nations, Human Rights Watch have been in a position of proximity to document human abuse in Ukraine alongside Ukrainian officials to, in reality, find unspeakable sexual assaults perpetrated by Russian soldiers.
Human Abuse Trends
Although Russian officials have deny such heinous allegations against its soldiers. In fact, they believe this to be a 'staged' incident by civilians and Ukrainian forces. Dana Kay Cohen, author of the book Rape During Civil War describes the events with heavy trepidation, worry and horror.
Cohen has been at the forefront of evaluating human abuse trends during wartime and strongly believes that, in retrospect, no commander is ever in the unknown of their soldiers actions.
In reports published by NPR 'Ukraine Invasion – Explained', Cohen declares her observations to be truly disturbing and talks extensively about opportunistic sexual violence that often goes unconfronted.
"About 25 girls and women aged 14 to 24 were systematically raped during the occupation in the basement of one house in Bucha. Nine of them are pregnant. Russian soldiers told them they would rape them to the point where they wouldn't want sexual contact with any man, to prevent them from having Ukrainian children."
The extremity of sexual violence doesn't spread uniformly in war. Some soldiers may have unbridled sexually violent nature while some may have little to nothing. This violent streak in itself is not used as a consistent method of projecting power.
Testimonies of Survivors of Rape
BBC interview a 50 y.o survivor of rape (remaining anonymous for safety purposes). She lives in a rural neighbourhood, west of Kyiv. During the interview, she shared graphic descriptions of the sexual violence enacted on her.
She had been at home with her husband when a young, thin-looking soldier barged in. He allegedly took her at gunpoint to a nearby house. He ordered the woman to take off her clothes and threatened to end her life if she didn't do as told and raped her. During the same time, four soldiers entered the house and dragged him out of the house. Until this moment,  the lady never made eye contact with this soldier. She lost her husband that night to a gunshot in the abdomen.
The woman has tears rolling down her cheeks at all times as she shares the traumatic story. She also discloses that the soldiers who saved her may have been from a separate unit of Russian soldiers. The lack of evidence is hindering confirmation.
As British Ambassador, Melinda Simmons publicly states on Twitter – 'Rape is a weapon of war' and an incredibly vicious form of punishment, that cannot be brought to justice without consistent investigations.
Is Justice a Hope Worth Clinging On To?
The infamous quote 'Justice delayed is justice denied', is true for the most part. Particularly since the Russia-Ukraine war continues with no foreseeable hope for the women, girls and children of Ukraine.
On the flip side, the Ukrainian Ombudsman received 400 reports of rape in the first two weeks of April as Kyiv Independent reports. About 75 allegations have successfully reached the U.N. mission, opening the possibility to hold Russian officials accountable for the rape during wartime.
Cohen believes that accountability is rare during combat, but has a glimmer of hope and said,
"I think that that does not imply, however, that we shouldn't be doing our best to collect all of the documentation that we possibly can in order to potentially hold perpetrators accountable."
The controversy never seems to leave Cannes. While in 2014, the notorious prankster Vitalii Sediuk stuck his head under the dress of America Ferrera as he neatly slipped past the security team, the 2022 breach was mandatory!
This is how one single act of courage – by one activist at the Cannes Film Festival – can communicate the brutal truth that the world needs to know.
Subscribe to FIB's Weekly Breaking News Report for your weekly dose of music, fashion and pop culture news!