The prestigious international Cannes Film Festival is a fashion spectacular. The beauty of the Cannes red carpet is that there is no pattern, no standard look, but a plethora of style resulting in the melting pot of its citizens from around the world. From understated elegance to risque Avante Garde, we take a look at the show-stopping looks setting the Cannes Red Carpet ablaze for it's 75th annual Film Festival.
It's the perfect time to be in Cannes. Mid may, not too hot, but warm to the skin; that time before the summer crowds have descended in droves, but already the month in which the sea glistens the specific shade of blue for which the famed Riviera earned its name, Cote D'azur. After several years of operating in a muted state, the ever regal precinct of Cannes is back to its full force as a milieu of glamorous celebrities, film crew, and spectators descend from all corners of the globe.
The fashion on display is dazzling beyond belief, and the standout looks from the festival, are not necessarily adorned by the biggest names. Cannes, like French culture itself, is an ode to the belief that age does not influence beauty, and show-stopping outfits worn by the likes of Naomi Campbell, Sharon Stone, and Isabelle Huppert to name but a few are true testament to that fact.
Below we have a look at the dresses that simply took our breath away in the Cannes 2022 International Film Festival.
Deepika Padukone in Louis Vuitton
Deepika Padukone imbues the pure glamour of the French Riviera with a mesmerising series of looks. The actor, who is a part of this year's prestigious film festival jury, made her third appearance on the red carpet, wearing a red Louis Vuitton gown, bolstered by barely-there straps and a plunging neckline.
The gown came with peplum detailing around the waist, and a voluminous skirt that glowed with old Hollywood glamour. Her neck was adorned by a mesmerising diamond necklace, a statement piece within itself.
Aishwarya Rai in Gaura Gupta Couture
Regal, in an absolutely stunning lavender sculptured dress made by Indian couturier Gaurav Gupta, Aishwarya Rai stepped out onto the Cannes red carpet for her 20th year at the prestigious festival. Her designer, Gaurav Gupta, describes the goddess-like dress appropriately as 'The Birth of Venus.' The custom look took approximately 3500 man-hours to make. Adorned with thousands of glass beads and crystals, along with intricate embroidery all over, the sculptured and sinewed outfit didn't fail to turn heads. The gown effortlessly imbues the timeless grace Rai Bachchan is known for.
Aamito Lagum in Saint Laurent
Walking the red carpet for the premiere of her movie, "3000 Years of Longing," Uganda's first Supermodel, Aamito Lagum, wore a gorgeous fuschia floor-length dress by Saint Laurent.
Sheila Atim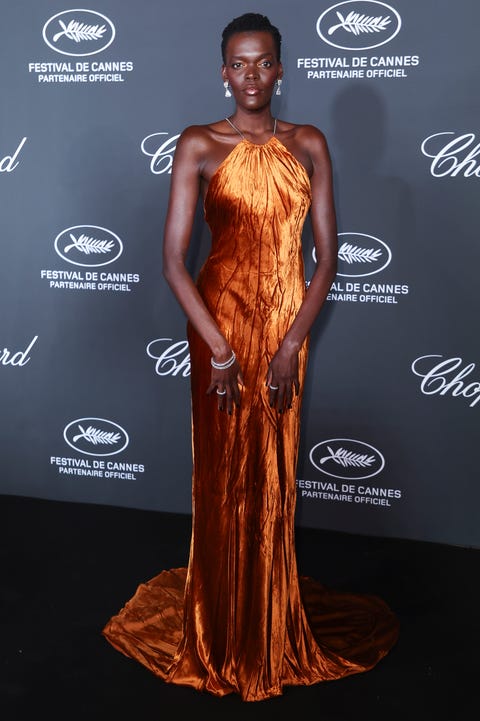 In a simply beautiful, form-fitting smouldering burnt orange Prada dress with Chopard jewellery, Sheila Atim, accept her award, as one of two Trophée Chopard winners.
Jessica Wang in Tony Ward Couture
Tik Tok sensation Jessica Wang made a majestic entrance, wearing a glamorous couture one shoulder beaded, floor-length dress to the premiere of "Armageddon Time".
Frida Aasen
Norwegian model, Frida Aasen evokes timeless images of all things classic Cannes, bringing to mind the famous French ingenue, Brigitte Bardot, when she wore a siren red backless dress with Chopard jewellery, attending the screening of "Forever Young."
Alicia Vikander in Louis Vuitton
Walking the carpet, with dashing husband, Michael Fassbender, for the premiere of her HBO series "Irma Vep," the Oscar-winning actress Alicia Vikander wore a custom Louis Vuitton gown.
Vikander's gown was hand-embroidered with copper metallic sequins and paillettes. She paired the look with Louis Vuitton High Jewelry.
Soo Joo Park in Nensi Dojaka
Walking the Red Carpet to attend George Miller's, "3000 Years of Longing," Soo Joo Park wore a sheer delicate, 'Pearl Heart' dress by Nensi Dojaka.
Alessandra Ambrosio
Credit: Harpers Bazaar
The Brazilian Super Model wore an Elie Saab Couture gown covered in floral appliqué to the Celebration of Women in Cinema Gala at the Hotel du Cap-Eden-Roc.
Naomi Campbell in Valentino
Naomi Campbell stole the show on Monday at the screening of "Decision to Leave" (a film she had nothing to do with), when she walked the red carpet wearing a black feather-embellished gown with a plunging neckline from Valentino's spring 2022 couture collection. The supermodel, who celebrated her 52nd birthday over the weekend, proved the limitless appeal of side boob irrespective of age!
Isabelle Hupert in Balenciaga
A regular star of Balenciaga campaigns, the renowned French character actress, Isabelle Huppert looked to the design house for the Cannes Film Festival. Huppert wore a bright emerald green, draped dress and bodysuit with matching gloves from Balenciaga, looking somewhat like an elegant Forest nymph, as she attended the premiere of "Forever Young" on Sunday,
Sharon Stone in Dolce and Gabbana
Sharon Stone attended the screening of "Forever Young" in a custom Dolce & Gabbana gown wearing a form-fitting white dress with a striking blueprint and a dramatic train. The iconic movie star was well accessorised with two handsome male models flanking her on either side as she cruised down the red carpet. Basic Instinct 3 anyone?
Subscribe to FIB's Weekly Breaking News Report for your weekly dose of music, fashion and pop culture news!