Steve Madden stuns the fashion industry by collaborating with vegan burger company "Slutty Vegan" – a first for the industry.
With a name like Slutty Vegan, who would have guessed they'd team up with a prestigious brand like Steve Madden. However, Steve Madden is known for going above and beyond with its collections. But, vegan-friendly fashion is a first for them.
The two companies crossed paths early in 2021, as they came together for the Fearless Fund during Black History Month. Madden had the pleasure of meeting Slutty Vegan Founder, Pinky Cole.
WHAT IS SLUTTY VEGAN?
The food chain first appeared in 2018 as a lonely street food truck. However, contrary to how competitive the fast food industry is, Slutty Vegan took off without a hitch!
Founder Pinky Cole built her company around provocatively named vegan burgers. They include a large choice of toppings and are completed with vulgarly named sources. Such as the chain's most famous 'Slut Sauce'.
Even if the food wasn't my style, with names like that who wouldn't be curious, right?
Possibly, that was the mission after all. Frisky outlandish meal names could be the winner to converting many individuals to veganism!
Cole has been incredibly lucky as well. It's not every day you get to serve some of society's hottest celebrities. The now-famous joint lured A-listers such as Snoop Dogg, Usher and Tyler Perry to the vegan side!
Cole's franchise has now been established in five physical locations, including one as a bar concept.
Cole is also a highly influential social justice advocate. Most recently she was able to partner with Varo Bank to ensure 800 graduate students from her alma mater could register any LLC of their choosing therefore, in the future they could start their own business.
As well as The Pinky Cole Foundation being an aid for many communities of colour throughout the years. Working towards building their generational wealth.
THE COLLABORATION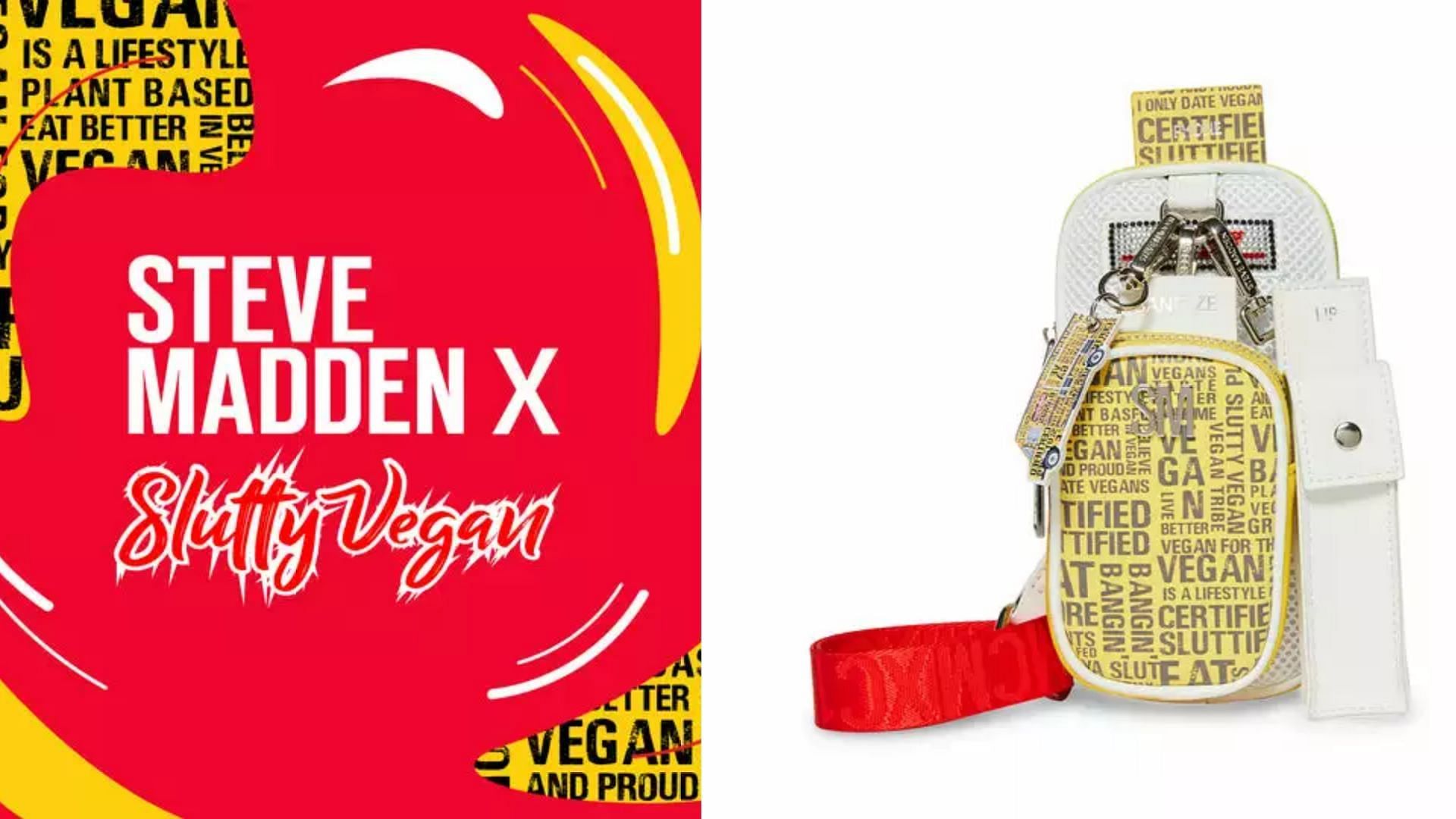 Within the collaboration between the two, there will be a recreated version of both the hottest designs by Steve Madden. Said designs are the "POSSESSION" sneaker and the "BSETTITUP" cross-body bag.
Both of the items will be created with PETA-approved vegan materials.
The sneakers display the traditional colours of Steve Madden, such as white, red and yellow featuring their classic logo print. The cross-body bag includes separate cases for phones, and sanitisers. And any small nick-knacks you can think of. Combined with the original Slutty Vegan food truck emblem, the cross body is set to have people interested.
Cole gushed to VegNews,
"I am thrilled that Slutty Vegan is able to partner with such an amazing company like Steve Madden. When the opportunity presented itself, it was a no-brainer."
Both new releases have sold out on the Steve Madden website!
Subscribe to FIB's Weekly Breaking News Report for your weekly dose of music, fashion and pop culture news!