Humanrace is Pharrel Williams' own wellness-oriented passion company. This season, the label collaborates with Adidas for another movement-inspired drop. It is described with an all-leather and suede offering of Sambas. In addition to the shoe, the talented musician has created an apparel capsule for Fall/Winter 2022 emphasising the iconic legacy of the sneaker silhouette.
Recently, Adidas announced its newest collaboration with Musician Pharrell Wiliams' Humanrace brand. The drop comes in the form of a capsule collection, including shoes and apparel. The FIFA World Cup is currently available on our TV – generating plenty of heat for the sport. And what better way to capitalise on the sports/fashion movement? For years, football-inspired sportswear has become increasingly popular. Adidas is a brand with football heritage and also FIFA's sport-wear to go; playing a decisive role in the trend of sportswear throughout society.
In addition, Humanrace is the place to provide useful products and perspectives with a mission to empower all people in their pursuit of well-being. Humanrance is collaborating with the sports giant to produce a six-piece collection that focuses on Adidas' iconic Samba silhouette. Meanwhile, the collection's apparel offerings are also introduced to paying attribute to Adidas' history in the soccer world, with knit jerseys, shorts, and ripstop jackets.
Not His First Foray
This isn't Williams' Humanrace debut in the world of football, however. He worked with Adidas in 2020 on a special jersey collection, where he interpreted older jerseys from Real Madrid and Manchester United among others.
A Closer Look
This collection gets inspiration from football and the community that surrounds it. It reimagines a version of the popular sneaker in a grey and white colourway. The fabrication is of suede and leather. The sneaker sees updates, including a toungue in moulded leather and zigzag stitching on the iconic three-stripe style. Samba and Humanrace branding feature in gold on the sides. Humanrace describes this as
A nod to sport and the legacy of the Samba, made from premium leather and suede with details in the stitching and overall construction to mimic the original model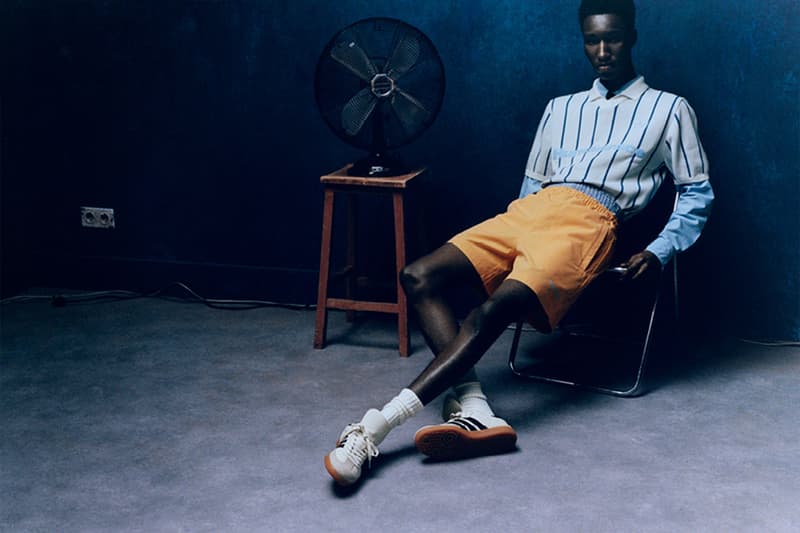 The footwear designs feature football-style apparel pieces. These include knit jerseys, shorts, and ripstop jackets. In detail, one of these jerseys is set to release in three colourways: Night Grey, Semi Screaming Green and Cloud White. The Knit Long Sleeve Jersey is available in Black, Cloud White, and Hazy Orange. The knit jerseys, which come with short and long sleeves, aim to
forge a connection to football culture through an exploration of timeless colours and archival cutline', according to the two brands.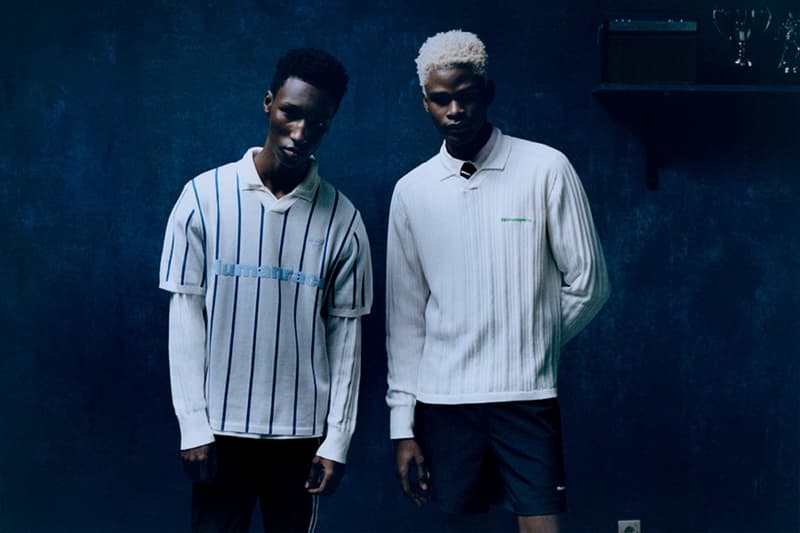 Buyers can wear these tops with the Woven Shorts, made of soft premium materials. The Shell Jacket and Pants come in the colours Night Grey and Yellow.
Where to find the Items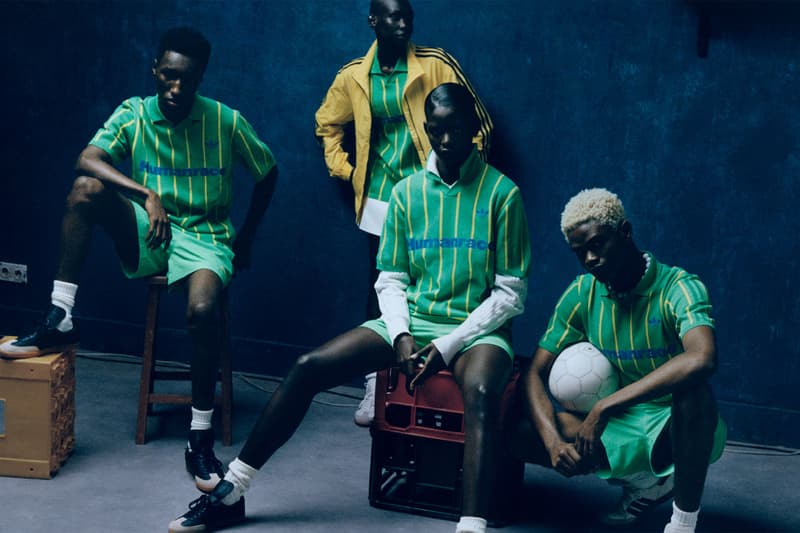 The collection launches globally this week, exploring a nostalgic connection to football culture. According to the Humanrace website, the Sambas are already available. A handful of the items – including the tennis shirts, polo shirts and jerseys – are due to arrive at a later date.
Meanwhile, the collection is fully available via Adidas Australia with more than 30 items including Sambas and apparel. You can access the lookbook and buy items exclusively via Adidas.com.
Subscribe to FIB's Weekly Breaking News Report for your weekly dose of music, fashion and pop culture news!