Being known as a purveyor of natural beauty, Simon Porte Jacquemus consistently proves his status via his yearly collections. Most importantly, Jacquemus brings an incredible new spirit with each collection – whilst following the breathtaking beauty of nature. And this mentality shines throughout the "LE RAPHIA" Spring/Summer 2023 show.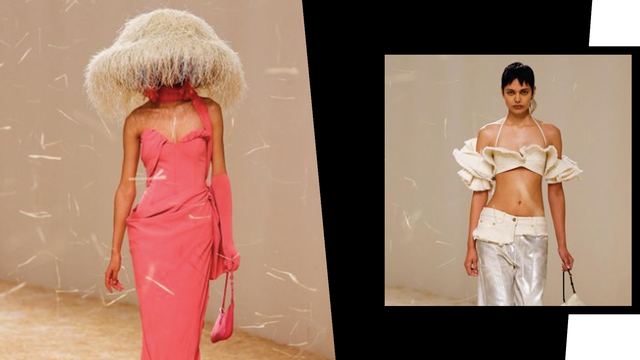 The SS23 fashion season was one included with ultra-glamourous shows, big-name models, and many viral moments (i.e. Bella Hadid being spray-painted in the show) -but there was one thing missing: Jacquemus.
In recent year, 32-year-old Simone Porte Jacquemus has created a storm with the fashion world by the design of micro-mini Chiquito handbags, XXL straw hats, penchant for sultry, naked dressing, and amazing shows held everywhere from lush fields of lavender to Hawaiian beaches.
A Late Appearance
This is a brand that genuinely follows its own path – hence why Jacquemus decided to show his much-anticipated SS23 collection later than usual. In fact, it appeared three months after the end of fashion week. However, it was well worth the wait for spectacular designs inside the collection.
The Jacquemus Spring/Summer 2023 showcase occurred in Le Bourget, just outside of Paris, France. "Le Raphia" successfully packs in the main themes of natural raffia fibres, through an array of delicate menswear and womenswear looks.
Jacquemus shares his aspiration with this collection, explaining that,
"It's the end of summer. All these colours, all the dreams that I saw, that I had, go away. The smell, the beauty, The Raphia rain sweeps everything away as in a dream…Will I see again those big hats, those flower buckles, those prints? I think so"
In detail, "Le Raphia" keeps the earthen colour palette (this time, a tone of wheat) – the brand is famous for, manifesting by way of texture. It draws inspiration from fibres, presented against a striking backdrop – a creamy runaway, with sprinkles of raffia raining down like 'confetti'.
The elements of Jacquemus' designs stand for the combination of natural-coloured pieces, tailored-focused silhouettes and expanded ready-to-wear looks.
A Closer Look
"Le Raphia" focuses on craftsmanship and artisan features; including fusing natural materials along with vivid colours and poetic silhouettes.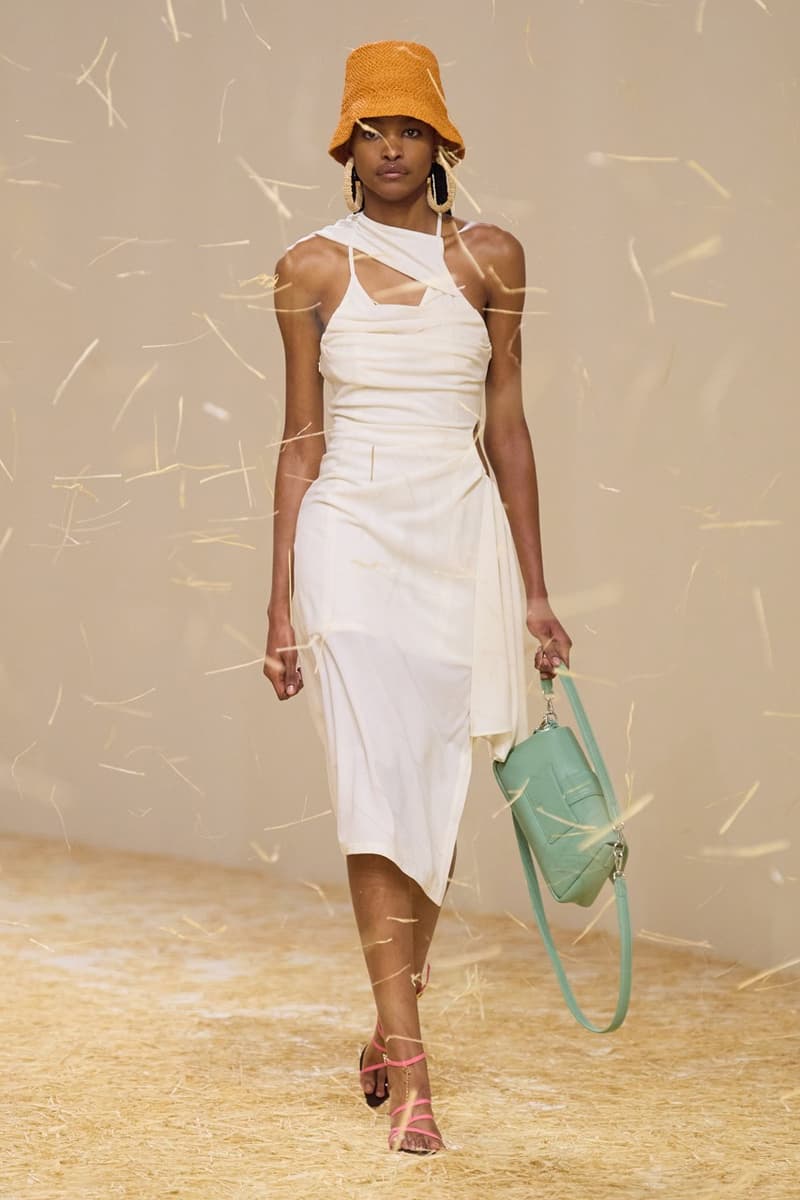 With hand embroidering by Maison Lesage, Raffia transforms into fabric-like garments. These include tailored jackets and movement-laden patterns on tops, suiting skirts,  jeans, shoes and accessories.
This creates an overall provocative and calm aesthetic for the RTW designs; whilst still presenting the brand's signature contemporary silhouettes. Moreover, bags and oversize hats use the Raffia palm impressively.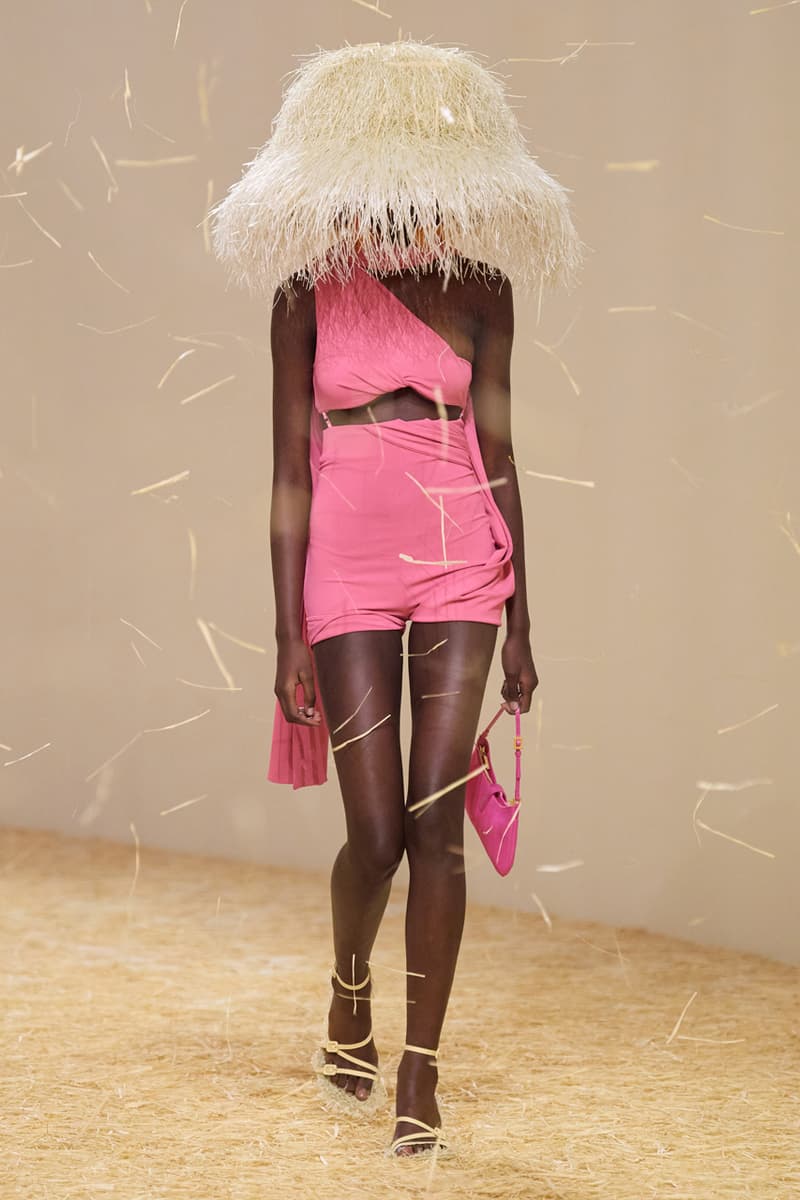 Not only having spectacular designs with Raffia, this new collection also juxtaposes loose tops, relaxed denim with panelled detailing, printed multicoloured pieces and colourful geometric undergarments, sculptural skirts and elongated skirts with trains.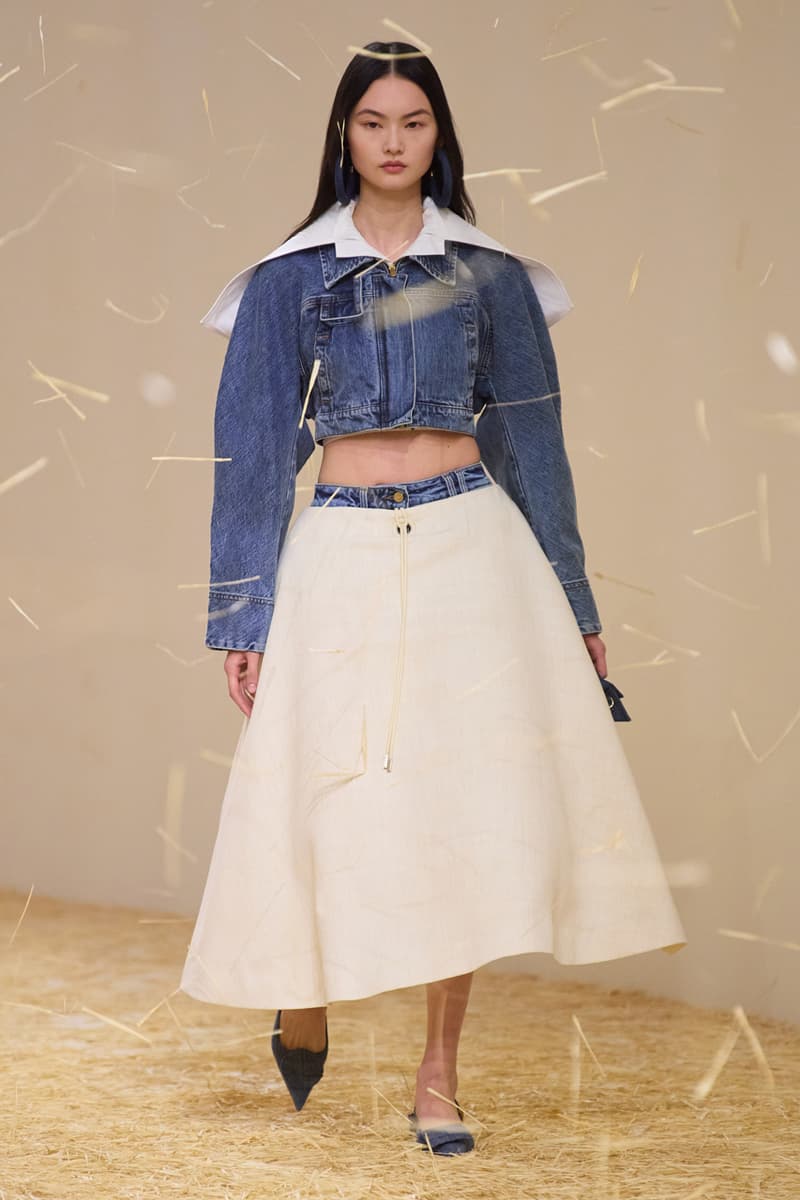 As always following the roots of design, Jacquemus knows exactly the way to highlight the beauty of natural and contemporary enthusiasm.
Subscribe to FIB's Weekly Breaking News Report for your weekly dose of music, fashion and pop culture news!