First Nations representation, both in Australia's political and cultural scene continues to rise. Hope for growing awareness and inclusivity of the historically vulnerable community burns brighter than ever.
Harry Styles Connects with his Indigenous Audience
During the Harry Styles "Love on Tour" concert in Sydney last Friday, a member of the audience handed him an Aboriginal flag.
All of a sudden, Harry Styles was waving an Aboriginal flag. And he continued to wave it in the air as he performed his multitude of hit songs. Whilst Styles has previously waved an Australian and a rainbow flag, an Aboriginal flag is a first for him. The concert was reportedly attended by over 80,000 fans, whereby many posted videos and photographs of the celebratory moment online.
His message, of "Treating People with Kindness" emanates in this show-stopper occurrence. The music icon himself set a precedent by commemorating not only his Indigenous fans but the First Nations community as a whole.
World Pride Illuminates Indigenous Queer Community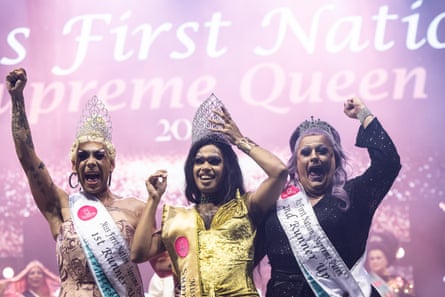 As a part of Sydney World Pride Festival 2023, Aboriginal and Torres Strait Islander drag performers from around the globe came together for a world-altering Miss First Nation drag competition.
Chocolate Boxx, a Dunghutti, Kamilaroi and Bunjalung queen says:
"For the first three or four years I was the only First Nations queen that I knew of in Brisbane, so having that connection to culture and my sisters was very hard to find"
The Indigenous drag scene is growing exponentially, with a lot of new queens emerging. Above all, these young performers are claiming to have been inspired by older drag queens such as Chocolate Boxx. This represents the importance of letting the younger First Nations queer community know that they have a safe space to express themselves.
The Fight for the Protection of Historical Rock Art
On March 2nd, the Indigenous Australian organisation Save our Songlines held a protest against the industrial development in the Burrup Peninsula, Western Australia. These developments are threatening the integrity of ancient Aboriginal rock art.
As a result, Indigenous and non-Indigenous Australians were able to speak up against the demolition of cultural artefacts. These sacred works have defined First Nations peoples for hundreds of thousands of years.
Burrup Peninsula is home to more than a million rock carvings and already contains several industrial plants. If Australia was to pursue its industrial activities here, the traditional art that tells the stories of Indigenous culture will evaporate.
Indigenous pride has taken centre stage in the Australian social and cultural landscape. With a strong sense of community and solidarity, incoming generations of Indigenous Australians may live to see a better picture.
Subscribe to FIB's Weekly Breaking News Report for your weekly dose of music, fashion and pop culture news!