One of the most hotly anticipated moments in fashion has just debuted: Daniel Lee's first collection for Burberry. The English designer created a significant change to Bottega Veneta several years ago. In doing so, he ushered in a new era of luxury for the Italian house. Now, he is updating the storied Burberry brand. His first collection hit the runway recently in London. And it gives us a taste of what he believes is the future of fashion for the British label – and the world.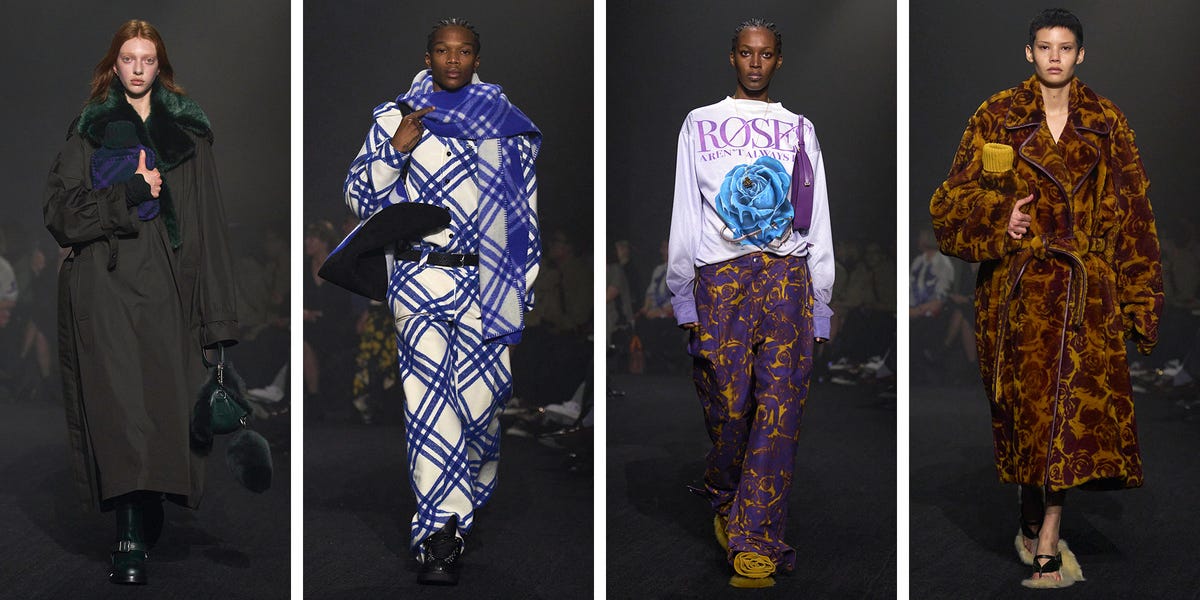 Daniel Lee is enjoying his new appointment as Chief Creative Officer at Burberry. He has been in the position since September. He takes over from Riccardo Tisci, the former head of the brand since March 2018. And the news hit the public just days after Tisci presented the brand's spring/summer 2023 collection – his final for the house.
The designer, who left Bottega Veneta in 2021, is responsible for reviving the latter brand; bringing the archive into the current day with leather goods, boots, and headline-grabbing colour choices to the centre of 21st-century pop culture.
Lee – who most recently found huge commercial success heading up Bottega Veneta – is now responsible for all Burberry collections. At the time of the announcement, the British designer released a statement where he expressed how grateful he was for the opportunity, and voiced his excitement about returning to London. He says [of joining Burberry as chief creative officer]
"Together with the team, we will write the exciting next chapter for this legendary British luxury brand, continuing its historic heritage and building on Riccardo's legacy"
A Collection of Honouring and Reshaping the Past
In his debut collection, Lee flexes his ability to not only move a brand forward but honour its past, which is what made the classic Burberry trend an apt starting point for the collection. It also shows Lee's ability to acknowledge what really sells for Burberry, and has done for many years.
Recreated in a charcoal colour-way and adorned with a faux fur collar and lapel, the trend set the tone for the proceeding collection which combines Burberry's military-inspired roots, with London's style set appetite for dopamine dressing and experimentation.
However, what was noticeably missing from his debut was the legendary Burberry khaki trend and check in its classic tan/white/black iteration. Instead, Lee took on the challenge of contextualising the iconography for the nova check for a new generation. In detail, he did so by changing from the classic beige colour-way and experimenting with royal blues, purples, yellows and greens.
Trenches appear in the opening duo of looks. But they do so in subdued forest green, and, notably, florals on a furry closing look.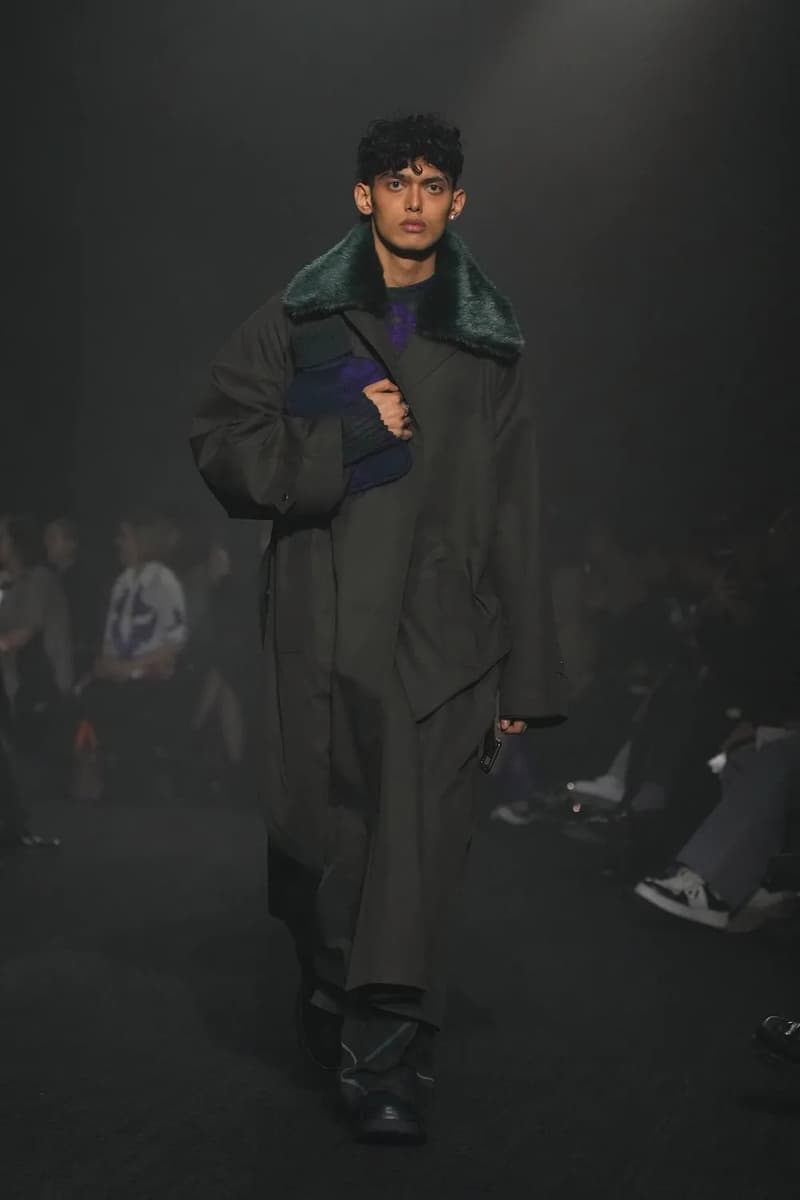 Moreover, roses are one of the new elements of the fashion house. Especially thru Lee's debut collection, "Not All Roses Are Red" – read one graphic tee.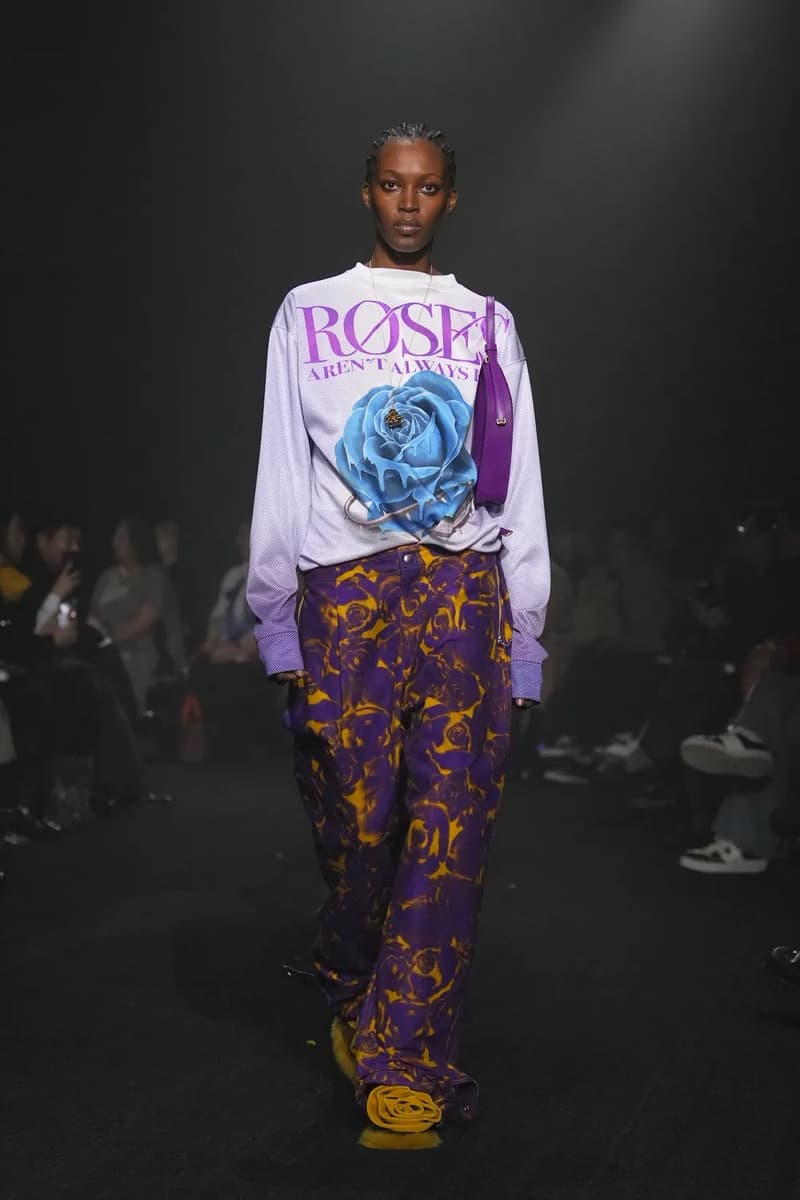 And seldom is there a red rose, as purple and yellow clash on overcoats; merlot and organ mingle on purple leather-trim dressing gowns; and purple and black deepen the effects of dresses that wrap around the body.
The Shoes
In terms of shoes, Lee makes it fuzzy with foxtails for heels and delicate leather straps. The looks find a balance between hard and soft with ease. At times they take the form of otherwise simple wellies or furry chukkas in yellows and tans.
Bags are also replete with foxtails, slung across the body or under the shoulder. The styling, if not a bit overwhelming, speaks to the range Lee envisions for the brand; as it reinvents itself yet again.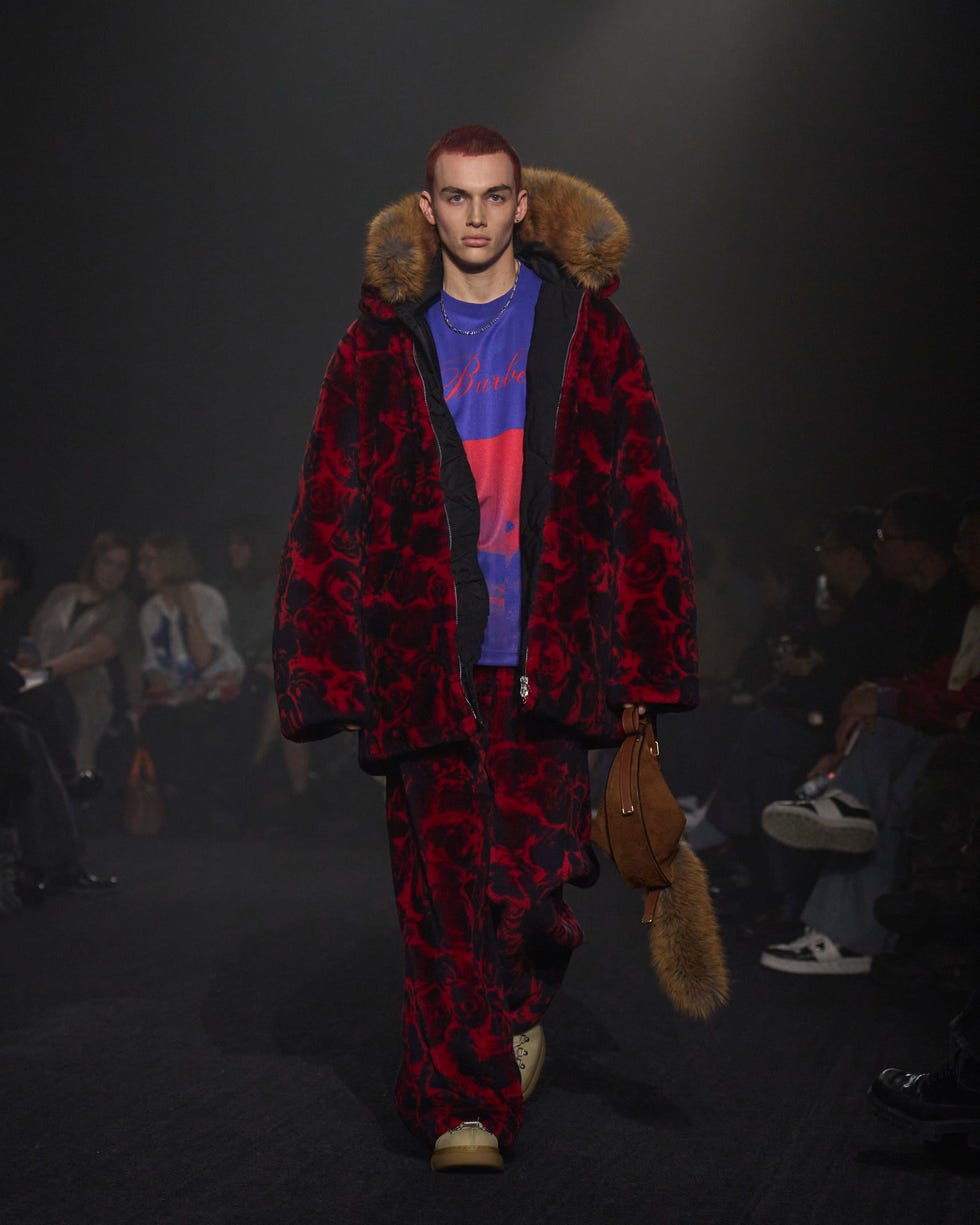 There is a youth in Lee's approach. And it's something not-seen in former creative director Riccardo Tisci; when Lee is not showing a single piece in Burberry's signature beige colourway. It also marks the first time since Christopher Bailey's tenure that a true Englishman is at the helm of the brand. This marks a tru synergy between designer and house; one we can't wait to see evolve as he further defines what Burberry means to him.
Subscribe to FIB's Weekly Breaking News Report for your weekly dose of music, fashion and pop culture news!