Indigenous clothing label Ngali is set to be the first-ever Indigenous line with a standalone show in Australian Fashion Week.
Australian Fashion Week hosts Indigenous Fashion Projects runways that allow Indigenous designers to showcase their creativity, talent, and culture. However, 2023 marks the first year that an Indigenous designer is getting their very own runway.
Denni Francisco, founder of Ngali, will be running her first solo show at the event. A Wiradjuri woman, Francisco has won designer of the year at the National Indigenous Fashion Awards twice. She has also featured her work at Australian Fashion Week in 2021 and 2022.
At a high-profile event like this, Francisco is aware of the high stakes:
"When you're the first at doing something, it comes with a degree of responsibility…it's about ensuring it all comes together in a culturally appropriate way."
Ngali's Vision
Ngali, translating to "we" or "us" in many Indigenous Australian languages, is all about creating a unifying and sustainable fashion line.
Francisco creates womenswear which features the works of First Nations artists in the form of digital prints and hand-embellished details.
As an Indigenous brand, creativity is just one factor to consider. Forming a space to communicate traditional stories to a wider Australian audience is what's really important.
Visibility for Indigenous creatives can improve recognition of the marginalised community's culture and history. In a non-Indigenous-dominated society, normalising Indigenous artistic presence can help culturally integrate Australia.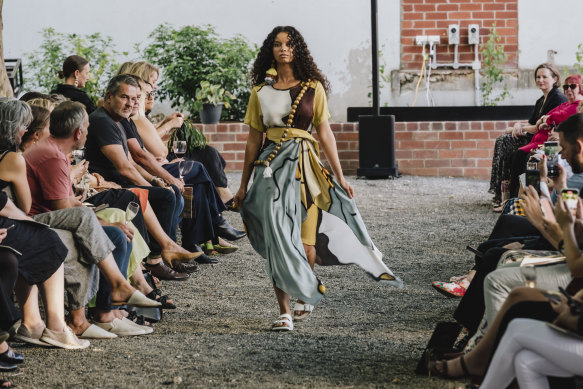 Francisco has a philosophy of "Yindyamarra", meaning fashion that shows "respect, is polite, considered and gentle to Country".
In this upcoming runway, she also wants to look for ways to bring in other Indigenous creatives into the process. Ngali is therefore planning to collaborate with First Nations accessory designers to create more of a sense of community.
Ngali also has a Buy 1 Give 1 Business for Good initiative. Each purchase supports the development of IT and literacy skills for young Aboriginal youth in remote areas.
Australian Fashion Week will be held at Carriageworks, Sydney from May 15 to 19. You can get your tickets to the runways and panels here.
Subscribe to FIB's Weekly Breaking News Report for your weekly dose of music, fashion and pop culture news!