Welcome back to FIB's weekly drop list!
This week we have Selena Gomez's tinted lip oil, Tyler the Creator's new single, Elton John's exclusive candle collection and more.
Rare Beauty Keeps Giving
In 2020, Disney Star, singer, and philanthropist Selena Gomez founded Rare Beauty.
The brand's "Soft Pinch" Tinted Lip Oil transforms from a lip jelly into an oil, designed to add moisture and shine to the lips. The products are infused with jojoba and sunflower seed oils and come in 8 glamorous and accommodating shades.
The global sensation herself gives her take on the lip oil:
"One swipe and your lips look so full and smooth! I love how easily you can build up the colour without it getting sticky."
Rare Beauty commits itself to giving people access to mental health services through the Rare Impact Fund. Accordingly, Gomez's company donates 1% of all sales towards this cause.
Purchase the "Soft Pinch" Tinted Lip Oil here, from March 29.
Tyler the Creator's Fashion Versatility in New Music Video
On March 31, music icon Tyler the Creator's Estate Sale drops. The album is a collection of songs that didn't make it onto his 2021 album Call Me If You Get Lost.
The first single of the album "Dogtooth", along with an impressively self-directed music video is out now.
The video is filmed at a construction site, whereby Tyler showcases his playful attitude towards fashion. He mixes and matches different coloured caps, layers necklaces, and switches between casual and fancy wear.
Tyler elevates the track as an art form by combining it with the flair and creativity of his clothing. Of course, his distinctive rapping style and lyricism shine through as well.
Check out his new song now!
Rick Owens' DRKSHDW Strikes Again
Rick Owen's DRKSHDW spooky label aligns with the fashion legend's dark and peculiar personality.
The brand has just released its newest shoe, "Abstract Sole". The architecture of the shoe is what really defines it as one-of-a-kind. The chunky rubber sole is layered with large and irregular platforms in off-white hues.
As shown above, it features the distinct DRKSHDW's star emblem, which gleams atop the blank canvas uppers.
Buy the supernatural footwear to be apart of the Owen's goth chic clan.
Elton John's Platform Boots Get Waxy
Sir Elton John's platform boots are now in the shape of a luxurious candle.
As promotion for his upcoming Yellow Brick Road Tour, John has collaborated with London-based candle maker cent.ldn. The company is paying homage to the extravagant footwear that defined the singer's image.
The candle is not only scented with divine fragrances chosen by Elton himself, but also doubles as an artwork. Whether you're looking for a unique mantlepiece or an air freshener, this product is for you.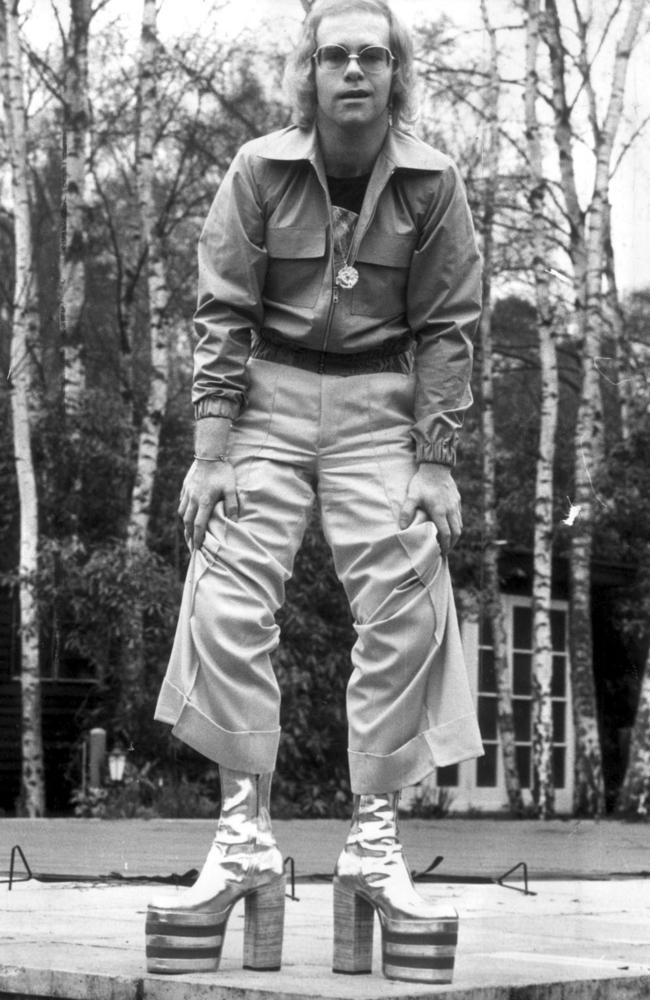 In order to purchase the exclusive candle, you'll need to head to Selfridges London!
Magliano Utilises Upcycled Fabrics in Latest Collection "Surplus"
Luca Magliano's emerging label is upcycling its fundamentally Italian designs.
For his Spring/Summer 2023 collection, Magliano sourced pre-owned Hawaiian shirts, flannel shirts, and bandanas. These fabrics are mostly from the Historical Market of Emilia Romagna in Bologna. The market contains "more than 400 stalls where you can find everything from the most banal to the most extravagant".
With this in mind, Magliano explains the intentions behind "Surplus":
"The Hawaiian shirts are a tribute to faraway places, talismans of joy, shirts made of old shirts that recall memories of an uncertain past. The collection is fluid, rough, crumpled. Inside those garments, someone has dreamt there."
Purchase Magliano's "Surplus" pieces here.
Subscribe to FIB's Weekly Breaking News Report for your weekly dose of music, fashion and pop culture news!