The Eurovision Song Contest presents itself as a non-political event. Yet in the wake of the Russian invasion of Ukraine, things are a little different this year.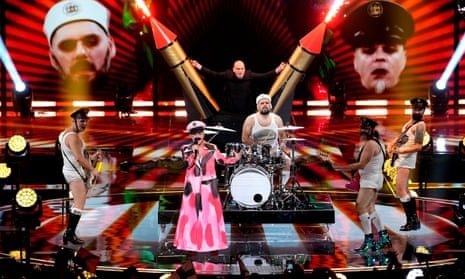 In 2022, Ukraine won the Eurovision in a landslide victory. As per tradition, the winning country is meant to host the event the next year. Due to security issues regarding the ongoing war with Russia, Ukraine was unable to host. This is the first time a winner has not hosted due to war.
The UK, the 2022 runner-ups, stepped in to host the contest in Liverpool.
The European Broadcasting Union (EBU) denied the Ukrainian President the chance to address the Eurovision audience as it would go against their non-political policy. However, Ukraine was not all forgotten.
The EBU reassured its Ukrainian audience that Ukrainian music and culture would feature all throughout the Eurovision. The brand artwork for the event was collaborated on with a Ukrainian design agency. Furthermore, the background music playing in between acts is a collaboration with Ukrainian musicians.
Most notably, the "postcards", which are short films that introduce each performance, feature landmarks in Ukraine, the UK, and the performing country. This was done to reflect this year's theme "United by Music".
Politically Poignant Performances
Fittingly, the interval act included a medley of songs performed by Liverpudlian singers. It ended with 2019 winner Duncan Laurence singing "You'll Never Walk Alone". This emotional performance, accompanied by live footage of Ukrainians singing in Kyiv, represented the power of music in displaying humanity and solidarity.
This year's act from Ukraine was by an electric duo Tyorchi. They gave a politically fuelled performance with a futuristic aesthetic. Air raid sirens constantly interrupted their rehearsals back home, demonstrating just how destructive the war has been on Ukrainian's everyday lives. Tyorchi sang "Heart of Steel", a loud and all-encompassing number with lyrics about a nuclear Armageddon.
Last but not least is Croatia's intense political anthem by Let 3, a surrealist punk band. Their song "Mama ŠČ" is about the "crocodile psychopath", alluding to Vladmir Putin, the President of Russia. They dress in soldier outfits and moustaches, and use enormous rockets as a means of mocking Russian leaders. In all its wacky glory, it is the greatest political statement of the event.
All in all, it is safe to say that the EBU's attempt to make Eurovision non-political was not successful.
Helen Julia Minors, from York St John University in the UK, says that the Eurovision's initial purpose was to bring together European countries after World War II. This essentially makes the event political at its core.
Minors notes that:
"Music speaks across borders and languages – so it is inherently political."
Conclusion: politics is inescapable.
You can watch the rest of the Eurovision acts here.
Subscribe to FIB's Weekly Breaking News Report for your weekly dose of music, fashion and pop culture news!