Nickelodeon stars Nat and Alex Wolff are back and ready to bless the world with their musical genius again. After 12 years, the two brothers have just released their most personal album yet, "Table for Two".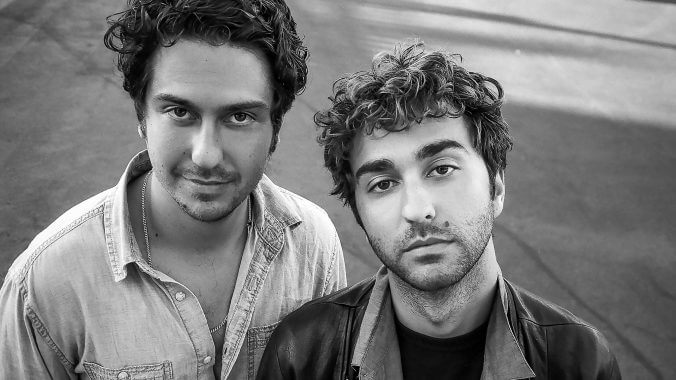 If you think you haven't heard of Nat and Alex Wolff, think again.
The two New York brothers' entrance to stardom was in 2007, on the kid's channel Nickelodeon. Created by their mother, Polly Draper, "The Naked Brothers' Band" is a mockumentary about Nat and Alex's brotherhood, and their band's musical journey.
Alex, aged 10, and Nat, aged 13, wrote AND composed all the songs in the series. And they weren't just silly kids' songs. They were lyrically heartfelt and musically sophisticated. The brothers explored themes of love, family, and growing up in a way that was not done by any other kids their age.
Fast forward a decade or two, and the Wolff brothers found themselves acting in Hollywood hits like "The Fault in Our Stars" and "Hereditary".
They have also remained a musical duo, with the album "Black Sheep" released 12 years ago, and EP "Public Places" released 7 years ago. And now their wildly poetic and personal album "Table for Two" is out.
After spending some time growing into their adult selves and seeking independence, Nat and Alex moved back in together. During lockdown, Nat, Alex, their girlfriends, and their best friend hunkered down in the studio for 11 days.
Reminiscent of Paul and John, Nat and Alex wrote songs individually and then came together to edit and refine. However, unlike The Beatles, they supposedly never fought over the music. Their brotherly bond transcended their musical relationship, allowing each artist's input to shine.
"Table For Two"
The lyrical content of this album is mature and confident and explores previously unseen sides of the artists. All 15 songs represent either an indie-pop, alternative rock, or folky vibe. There are soft acoustic sounds, emotive piano pieces, and punchy guitar riffs. We can see the evolution in the brothers' growth; both musically and emotionally.
Yet, despite the young adult experiences that inform these songs, Alex emphasises a return to their roots:
"I think in some ways, it's lyrically more similar to when we were kids, in that it's very, very, very open."
Family is also a big part of this album. The song "All My Plans (Shake)" is dedicated to Nat and Alex's dad, Michael, who almost died from cancer a few years back. After making a full recovery, he was asked to play the piano for the track. Their whole family wept as they performed the song, but it turned out to be a healing experience for them all.
So, if you're looking for a new band to listen to, check out Nat and Alex Wolff. The musical documentation of their lives is so powerful that even a complete stranger to the duo could become a friend simply through a Spotify visit.
"Table for Two" came out on June 15, Polly's birthday, as a homage to her starting the boys' careers on the Nickelodeon show.
Listen to the album here:
Subscribe to FIB's Weekly Breaking News Report for your weekly dose of music, fashion and pop culture news!