Never has a musician been shrouded in as much controversy and chaos as Marilyn Manson. The singer confronts the world with his growls about politics, religion, capitalism, and rebellion, but we take a look at what inspires the sound leading up to "CHAOS"…
The Marilyn Manson name has been synonymous with shocks and thrills since the founding of Marilyn Manson & the Spooky Kids in 1989. From there, the band gained a strong cult following in the early '90s from their intense, visceral and obscene live performances. Their music stirred audiences and unsettled American culture with lyrics saturated in irreverence and irreligion. The group later dropped the "Spooky Kids" name and united under the name of its eponymous leader: Marilyn Manson. To this day, mainstream media is terrified of their politically-charged music, but it is the imaginative heavy metal that shines through all of their work. Now, let's venture into darkness if you dare…
Portrait of an American Family – 1994
Fear of the beast is calling it near, creating what we're hating, it's only fear that is here.

-From "Wrapped in Plastic"
Childhood trauma. Hidden truths. The hypocrisy of modern culture. The group's debut album was a shocking amalgamation of the innocence of childhood and the evils of the world. By using lyrics inspired by Willy Wonka and Charles Manson, the album is a dark and twisted tale of corruption in mainstream media. The sound echoes this by exuding a haunted house aura. Creaking, moaning, and screaming. It is full of fear. Full of gloomy corners.
Malice dripping from the ceiling. It is a raw and brutal depiction of American culture. Critics saw the album as an "immature" attempt to shock for the sake of shock. However, Rolling Stone featured the album at #68 on their list of Top 100 Metal Albums of All Time. Portrait of an American Family is now a staple of the metal genre alongside the group's next project.
Antichrist Superstar – 1996
       America can not see anything, history was written by the winner.

-From "Irresponsible Hate Anthem"
Now, this is the album that skyrocketed the Marilyn Manson name into music royalty. Antichrist Superstar is a merciless concept album revolving around a demonic figure that takes control of our world. Just like Portrait, Manson confronts American culture, but this time he has the fascist, conservative regime in much more relentless grasp. America had become blind with arrogance. But, where Portrait was more subtle in its messages, Antichrist bludgeons its narrative into our senses.
It is an album that unsettles you in the best way possible. That is inherently Marilyn Manson. At the surface, he is everything we should hate, yet says everything we should hear. But it was his performance of his iconic single "The Beautiful People" at the 1997 MTV Music Awards that left mainstream media speechless. He screamed lyrics dismantling class and privilege to a room of elites.
Antichrist remains one of the most powerful and revolutionary metal albums of all time. Rolling Stone listed it as #84 in the 100 Best Albums of the '90s in 2011, showing that its relevancy has never waned since its epic release.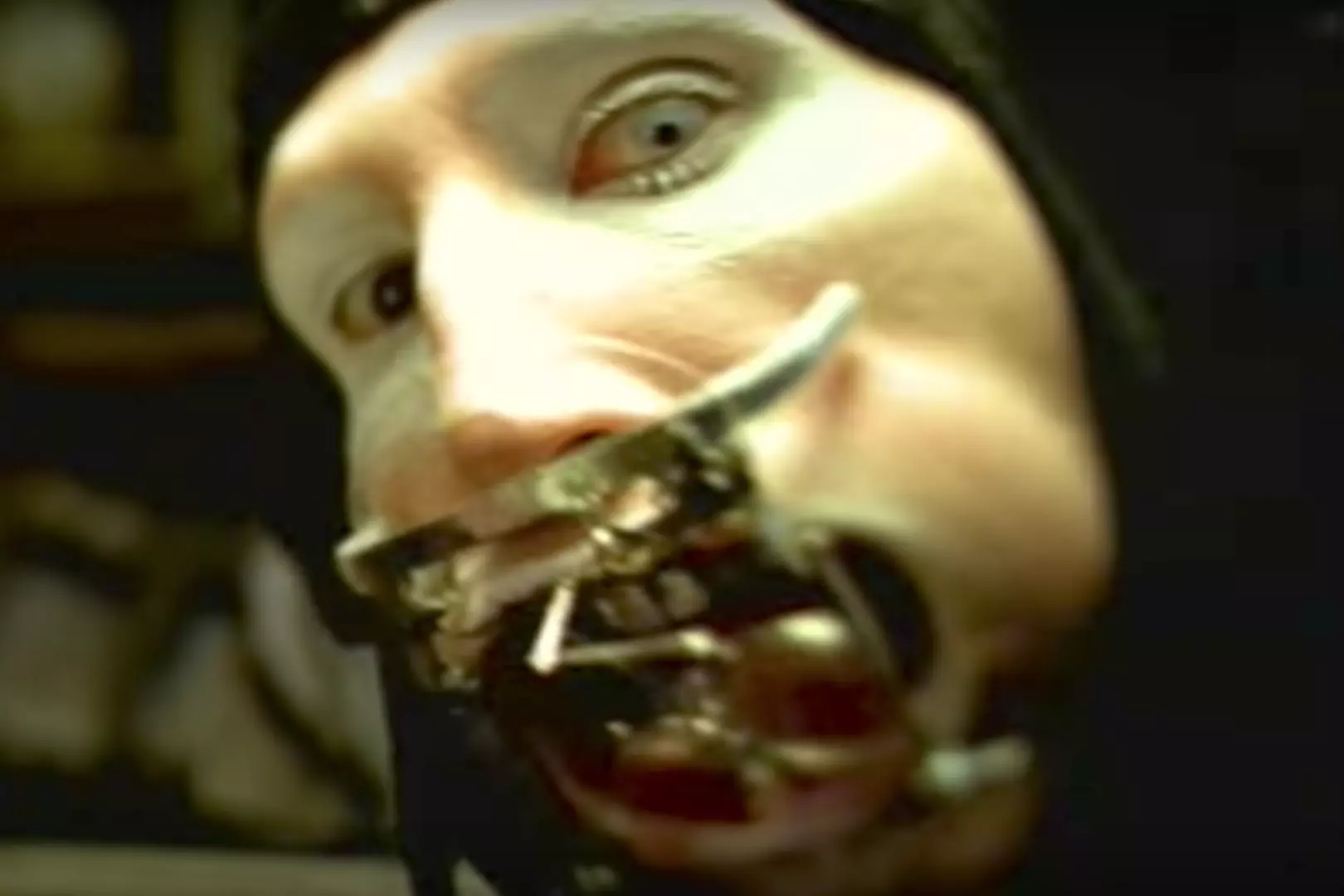 Mechanical Animals – 1998
I'm just a sample of a soul, made to look just like a human being.

-From "I Don't Like the Drugs (But the Drugs Like Me)
This album marks the first drastic departure from Manson's iconic aggression. Instead of brutality, we are greeted with a Placebo/glam-rock, Ziggy Stardust-esque concept album. The story follows Omega, an alien that is captured and turned into a rock star with the band "The Mechanical Animals". However, "he" turns to a life of drugs to cope with the pressures of fame and being a corporate product. By just looking at the eponymous singer, we could tell this was going to be a different album. He had adopted a new, bright red hairstyle with white, feminine fashion: a major shift from his Prince of Darkness persona. Manson had definitely found inspiration from David Bowie and was blurring the socially constructed gender line. The album had also retired the dark and gritty sound of Manson's past. It was no longer dominated with intense and heavy guitars, but intense honesty and imagination.
Mechanical Animals is essentially a self-reflection of Manson post-Antichrist Superstar fame. It is a science-fiction, glam-rock diary entry. But even with the shift in tone, sound and style, the album was a massive success. It was the group's first album to debut at #1 on the Billboard 200 and its legacy has never dwindled. To this day, Mechanical Animals is one of the group's finest moments and one of my favourite albums.
Holy Wood (In the Shadow of the Valley of Death) – 2000
Some children died the other day, we fed machines and then we prayed, puked up and down in morbid faith, you should have seen the ratings that day.

-From "The Nobodies"
April 20, 1999. The day of the Columbine High School shooting in Littleton, Colorado. Two teenagers went on a devastating shooting spree killing 13 classmates, injuring a further 20, and fatally shooting themselves. It was the worst high school shooting in American history. The country was calling for stricter gun control. But the media had found their alibi: Marilyn Manson. They had waged war, but Manson was not backing down.
The release of Michael Mann's documentary Bowling for Columbine showed the world Manson's eloquence and social intellect. It was a punchy but peaceful interview. Holy Wood was not going to be peaceful. This entire album is a declaration of war against those that pitted themselves against the group. The quintessential Marilyn Manson anger and brutality was back, and it demanded our attention. Songs like "The Love Song" and "The Fight Song" point the finger back to the ones responsible for the extreme violence dominating American culture: guns, God, and the government. The Marilyn Manson sound might be erratic, chaotic and insane, but it always represents what it means to be a modern American.
The Golden Age of Grotesque – 2003
-The entirety of "Thaeter"
What is it to be an artist? Is it simply creating, or is there more to it?
Change and growth are synonymous with artistry. An artist is always looking to better themselves and their art. Marilyn Manson's last three albums had delved into the deepest corners of American culture, but he wanted to explore something else entirely. In an interview with Revolver Magazine, Manson shared that Golden Age closed the door on the style of his past albums and opened new possibilities and freedom for future projects. The album flirts a burlesque, cabaret-style quirkiness from the instrumental "Thaeter" to the off-key piano 'Obsequey". Of course, Manson's marriage to burlesque performer Dita Von Teese inspired this sound, but there was something more.
Golden Age is Marilyn Manson at his most unhinged, creatively. The album is guided by Dadaism, or the anti-art aesthetic, to create a provocative and surreal experience. In no way does Manson want to conform because, in his eyes, it is the golden age to be different, bold, and "grotesque".
EAT ME, DRINK ME – 2007
Love is a fire, burns down all that it sees, burns down everything.

-From "Just a Car Crash Away"
EAT ME, DRINK ME sparked a sudden change in Marilyn Manson's sound. In this time, Manson was struggling with the disintegration of his marriage to Von Teese, and it was at the foreground of his lyrics. Pains of love, despair, depression, anger. If Golden Age was Manson at his most creative, EAT ME sees Manson at his most personal. His marriage with Von Teese crippled him and took everything so, as the title says, she may as well eat and drink what is left of him. Marilyn Manson was no longer a gothic character of shock, but a man.
A man cloaked in emotional darkness. As much as the album did not reach the heights of the group's past albums, EAT ME gave the world a taste of Manson's vulnerabilities and showed the emotional depth of his songwriting. A depth that was only intensified in the next album.
The High End of Low – 2009
Sometimes I dream I'm an exterminating angel, a travelling executioner from heaven, sent to give you the prettiest death I know, call the grave and make our reservations.

-From "Unkillable Monster"
If Mechanical Animals was Manson's diary, this album was the darkest and scariest thoughts of a defeated artist. Tormented by his divorce with Von Teese and break-up with girlfriend Evan Rachel Wood, Manson embarks on a deeply personal and treacherous journey. Violent, intense, visceral. The High End of Low is a grim representation of the sinister fantasies torturing the singer's untameable mind that led to extreme criticism.
During the music video for the single "Running to the Edge of the World", Manson's character is depicted beating a bloodied woman over and over again. Manson has always ignited controversy but was he actually glorifying violence and sexual assault as critics suggested? Along with resurfaced testimonies from Wood, this entire album screams distress and torture that lingers long after the last word: "loss".
Born Villain – 2012
When I undo my belt, you melt and you walk away, with a red, red, red, red welt, or so they say.

-From "Pistol Whipped"
By 2012, Marilyn Manson had been shocking the world for almost two decades, but Born Villain was different. In an interview with CNN, Manson explains the last two albums were written to make audiences feel what he was feeling rather than make them feel something. But this album was not about what Manson was feeling; it was about how the world saw him. Two decades of Marilyn Manson and the world had much to say.
Columbine, sexual assault, publicity. It was all the inspiration for Born Villain. Just like the title, Marilyn Manson has always been synonymous with chaos, controversy and anarchy, but that does not equal an artist or a person. Born Villain was met with mixed to poor reviews, but songs like "Murders are Getting Prettier Every Day" and "Pistol Whipped" showed that Manson was once again waging war against the ones pitted against him.
The Pale Emperor – 2015
Blow us a kiss, and we'll blow you to pieces.

-From "Killing Strangers"
Marilyn Manson has always been a provocateur for chaos with his powerful concept albums, but The Pale Emperor was something else entirely. The Manson sound is synonymous with an ominous ambience and always creates another world; a world of despair, distress, and shadow. But over his career he has shown his talents in front of the camera in many acting roles for film and television. Most notably, he has featured in Sons of Anarchy, The New Pope, Salem, and The New Mutants, and that's just in the last few years! In an interview with Billboard, the singer pointed out that he has always tried to create cinematic albums, so it was no surprise that he would partner with a cinematic mind for The Pale Emperor.
Tyler Bates is a leading film composer, famous for his work in 300, Dawn of the Dead, and Guardians of the Galaxy. So, with two extraordinaires of atmosphere, we were going to hear something unique. Gritty, bluesy, Jim Morrison-esque. It was an edgy, mysterious country album that forced us down dark and dangerous alleyways to the "Continental Hotel". The album was met with generally positive reviews and the song "Deep Six" was the highest charting single in the group's history. We were all players in Manson's cinematic world, we just didn't know where we would go next.
Heaven Upside Down – 2017
You got something to say, now? This is the time for US.

-From "Revelation #12"
Manson's fans were getting whiplash from his changing style; scars of a loyal fanbase. Heaven Upside Down returned to the politically-charged, brutal world of Holy Wood. He was not holding back against American culture once again and, from the promotional video, we knew we were in for a crazy ride.
As much as Manson is not subtle in his message, he is adamant that the album is not based on Trump's election but, rather, the cyclical nature of American culture. In an interview with Revolver Magazine, Heaven Upside Down does not focus on any President of the past or future because the album does not care what is happening now, it is concerned about what continues to happen. Much of the album was written before Trump's election but the singer could always see the path America was going to take. In the same interview, Manson explains:
And I could have seen that coming, because it points out the stupidity of Americans being mad about something that they did themselves.
Hard-hitting. Political. Merciless. The '90s Manson was back to his unapologetic best.
WE ARE CHAOS – 2020
Are you alright? 'Cause I'm not okay, all of these lies, are not worth fighting for.

-From "BROKEN NEEDLE"
Wow. Ok. Hmm.
For everyone, this year has been a totally confusing, scary, and frustrating year. Lockdowns, loss of jobs, mental breakdowns. Everyone has been hit differently. It is a year of chaos.
As much as the title wants you to think that the group's eleventh album is going to be chaotic and ferocious, it really isn't. In an emotionally-charged interview with Sara Taylor, Manson defines this album as more of a rebirth and a cleansing of his past. At times this album is brutal, but it's not an Antichrist Superstar or Holy Wood brutality. It is an emotional brutality. The singer goes on to say that the album was inspired by much of Elton John/Bernie Taupin's music, and you can definitely hear it. CHAOS is dominated by acoustic guitars and piano melodies that show a beautiful depth to Manson's music mastery, aided by the country icon Shooter Jennings' writing. Powerful and, at times, inspirational. I had no expectations for this album, but it has been a shining light amidst a tough year.
Generally, by the time an artist reaches almost 30 years of music you expect them to dwindle in creativity and quality. Not Manson. CHAOS only proves that Marilyn Manson is an immovable metal icon. He is a force to be reckoned with and forever will be the prince of chaos.
We are chaos, we can't be cured.
I implore you to take the journey I did. Open Spotify. Pour a generous glass of whiskey. Experience Manson.
But as always…
Subscribe to FIB's Weekly Alchemy Report for your weekly dose of music, fashion and pop culture news!